I have a youtube channel with over 700 Videos!


Hi, Thanks for visiting my website. My name is Will and if you have questions
or would like to
contribute projects or ideas you can contact me

John Staehle - Hobbies in a Barn

I was born into an Eastman Kodak family as my father was one of a hand full of inventors of the color film processing and many other inventions that propelled EK into the modern film market.

My mother was a expert water color artist that never sold a piece but did her painting strictly for her own satisfaction of accomplishment. All of their work represents literally the four corners of the world as they sought out many backwater places and took many photos with my mother keeping a huge amount of paintings of everywhere as her own interpretation of our world. I went along on many of these trips and created my sense of accomplishment within the scale modeling world over time as I visited many historic sites where conflict and good had prevailed. One example would be that the rivers and canals of South Vietnam are not a favorite modeling subject of mine however I have chosen World War Two as it changed more lives than any other period so far. Nothing like a real visit to a battlefield.

I am fortunate in that everything I learned about art, science and most of all the appreciation of how those apply in everyday life has brought me to the many pages of published work in my own forming of artistic and historic expression.

I have created a website, two Facebook pages and in fact have become an invited member of numerous pages with the modeling theme. My name and Facebook pages are followed on the international level with many inquires of "how-tos". I am a firm believer in encouragement to the novice and accolades for the experts but never ceasing to promote learning what is going behind the scenes with techniques for all to share. My mastering the hobby to a certain extent has been rewarding and worthy of my efforts and as shown on many websites, primarily Stormthecastle, where it has been brought to my attention that more work is wanted! That my friends is the greatest award to everyone who has strived for the best. Will Kalif shall always be the best promoter of my work and for that I am thankful to no end.

So, everyone grab the PC, laptop, Ipad, what have you, read more right here, go to Facebook for even more and start building!
---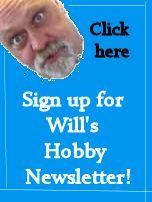 Do you like making projects and exploring a variety of hobbies?
Sign up for my free newsletter. I give you regular updates on hobbies and projects you can make. it is totally free and I don't share your email with anybody.