How to make the Daedric Sword from Skyrim
The Daedric Sword is one of the most powerful swords in Skyrim. And to make this one you just need a few basic supplies and one sheet of foamboard. Pretty much as simple as that and it looks great.

To make this project I have a template that you can download and print out. This way you don't have to draw out the shape of the sword.

The Daedric sword template is here (pdf)

Video tutorial: I also have a video tutorial of this project. You can watch it near the bottom of this page.
Here is a look at the completed sword.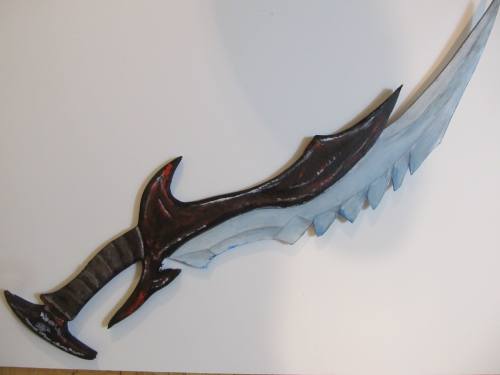 Daedric Sword Made by Web Visitors
| | |
| --- | --- |
| Can you make this Daedric Sword? You sure can! Here is a picture sent in by a web visitor (Thomas) He downloaded the template and made the sword! My thanks to him for sending in the pic. | And here is the Daedric Sword Made by Daniel. He has also made a whole bunch of other terrific weapons! Thanks Daniel! |
And here is the Daedric Sword made by Dominic. My thanks to him for sending in the pic. It came out great!

And here is a daedric sword made by Kyle:

And here is a Daedric sword made by Lemonz247 and AlyssaDoggyDog

What you need to make this project:
1 sheet of foamboard (the size that is 30 inches in one length)
some kind of knife to cut the foamboard with
White glue like elmers
Paints, red, black, silver and blue (silver is optional, you can use white instead)
The template I have right here
Download and print out the template. It has the pattern of the sword. Cut out the four pieces and tape them together to make the sword. This is your template. Trace three of those onto your foam board and cut them out.
Leave one of those the full sword shape and for the other two cut away the blade section. You will end up with three pieces that look like this: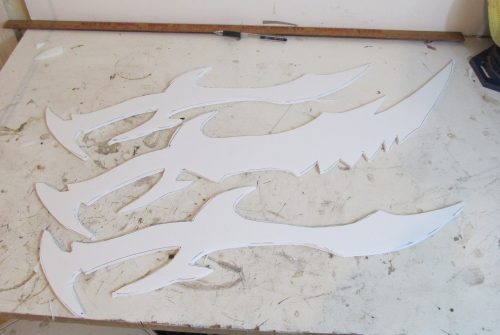 Apply white glue to the two smaller pieces and glue them to the large piece. It ends up looking like the next picture. Let it dry. And once it is dried you can sand the edges with some sand paper or a file. Round the edges around the handle and keep the edges of the blade nice and sharp.

All you have to do now is paint it! Here is how I did it.
First paint the blade silverish white and once you have it all that color you add a little bit of light blue to it. Add it while the silverish white is still wet. This way you can spread it around and get the differences in color. Add a little bit of darker blue around the teeth of the blade to get a nice look. And once the paint is dry you should use a pencil to add some details.

To paint the large black handle section you do a similar thing. Paint the whole thing black and while the black is still wet you should add some streaks of a bright red. Once the handle is dry you can paint on some small details like the thin streaks of white. You can even add a little silver and gold if you want.
The sword is done but if you want it to have a bit of a shiny look to it you can use some kind of a spray on sealer. It will make it shiny and protect the colors, keep them crisp.
The Video Tutorial
---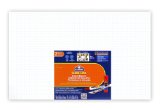 Elmer's Guide-Line Foam Board 20 Inches x 30 Inches, White, 2 Foam Boards per pack
I love elmers foam board, and this has light grid lines on it .
I have other Weapons and armor projects too.
You can check them all out right here. And here is a sample

Uruk Hai Scimitar
This is the sword that the Uruk Hai wielded in the Lord of the Rings Movies. Easy to make and all you need is a sheet of foam board or cardboard. Download the package and print it up. Make an Uruk Hai Scimitar
Make the Zelda Sword -Ocarina of Time

Fun project that you can make with just a single sheet of foam board. Or you can use cardboard. I have a complete template that you can download, print up and put together. Make the Zelda Sword
How to Forge a Knife

Ever want to make a real knife? I have a complete tutorial here that shows you how from raw piece of steel to completed knife. Everything is covered. How to forge a knife
---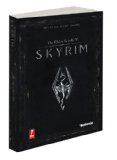 Elder Scrolls V: Skyrim: Prima Official Game Guide
Large map Poster inside
Labeled with important locations, major roads, and hold capitals

A Champion for Skyrim
Multiple character builds based on hundreds of hours of playtesting reveal exactly what Skills, Perks, equipment, and other items to pick, and how to advance through the game, no matter the type of character you want to be.

All Collectibles Gathered
If you're searching Skyrim for Skill Books, Unique Items and Weapons, every single Shout, Dragon Priest Masks, Treasure Maps, Unusual Gems, or even Captured Critters, we show you where every rare item is.
The next chapter in the highly anticipated Elder Scrolls saga arrives from the makers of the 2006 and 2008 Games of the Year, Bethesda Game Studios. Skyrim reimagines and revolutionizes the open-world fantasy epic, bringing to life a complete virtual world open for you to explore any way you choose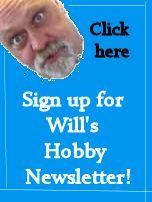 Do you like making projects and exploring a variety of hobbies?
Sign up for my free newsletter. I give you regular updates on hobbies and projects you can make. it is totally free and I don't share your email with anybody.