Here is a picture of the diorama we will be making in this tutorial: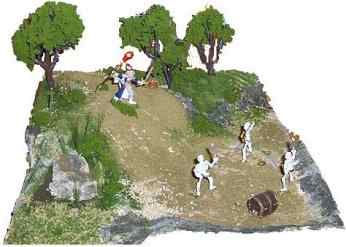 I will teach you all the tricks and techniques you need to build a landscape just like this one. But I encourage you to be creative! Don't just copy this landscape. Use these tips and techniques to design and build your own landscape.
Many of the materials used in this tutorial were purchased in a hobby shop. They are the same materials that amateur train landscape builders use. You can purchase and use these materials but I also offer many alternative solutions that you can employ. This will increase your creativity, increase your skill and decrease the cost of the diorama.
We will go step by step through the whole process from design, landscape building and creating the rocks and foliage.