I have a youtube channel with over 700 Videos!


Hi, Thanks for visiting my website. My name is Will and if you have questions
or would like to
contribute projects or ideas you can contact me

Genesis3d The Free game Development Software
Genesis 3d is a free game development program. With it you can make your own video games. It makes Three dimensional games that are pretty sophisticated.. Here on this website I have a lot of stuff related to the Genesis 3D game engine including a tutorial and the software to download.
If you want to make a video game the Genesis 3D game engine is a good choice because you don't have to learn how to program and you can build a beginner game in the matter of a couple of hours. You can get a single room with a player character completed in just a few minutes once you know how to do it.
What does the Genesis 3d Software look like?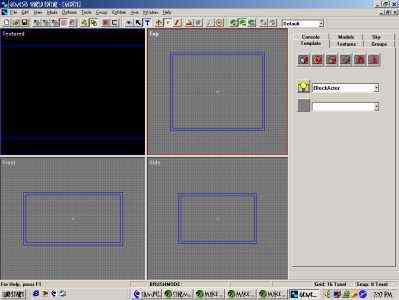 The Game Development Screen - It is actually quite easy to use. Here is a screenshot. You can see the four squares show different views of a world we are building. Right now we only have a single square room in our world. The three views of the room are top, front, and side. The black square would be where we see a three dimensional view once we start applying textures.
So What would you do?
You would build rooms with lines and walls just like you see above. Then you would apply textures to these surfaces. Think of it as building a house all out of plain wood. Then you paint textures on all the surfaces. For the walls you paint one texture for the floor another texture and on and on. This painting of textures is very easy because you get a selection of premade textures that you simply select from. You click it and it applies the texture to the whole surface.
Of course you would get pretty fancy and make some complicated worlds if you wanted to.
Then after are done designing the world you put a character into it. And just like textures you have a complete selection of premade characters to choose from. Just pop one in and the game is ready to run.
You can make your own characters too of course.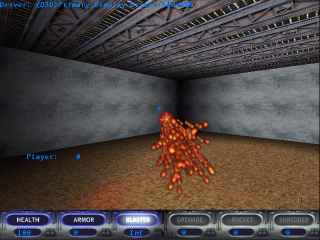 So, here is a picture of a single room game that I built. You can build this same game in about one hour by following along with the tutorial. the bright orange flare in the middle of the screen is your characters blaster firing off. You don't currently see your player because it is in first person mode. But a simple press of an F key and you are in third person mode.
Think you want to start developing your own video game using the Genesis 3d game Engine? Here is a link to the free tutorial and software with everything you need. Genesis 3d Make Video Game Tutorial