Two Handed Swords
First a little bit about two handed swords.

There is a little bit of discrepancy in what exactly defines what a two-handed sword but I will give you some basic guidelines that will help.

At the bottom of the page I also have a video where we take a look at an inexpensive two handed sword. And I take it apart so you can get a look under the handle. The sword in the first picture is the sword in the video.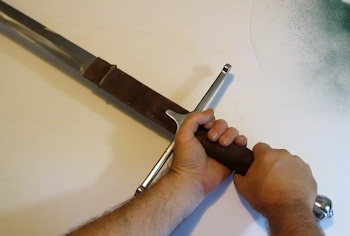 The first thing that determines a two handed sword is obvious but important. It it made with a large enough handle so it actually can be held with two hands comfortably. This picture shows a grip on a two handed sword.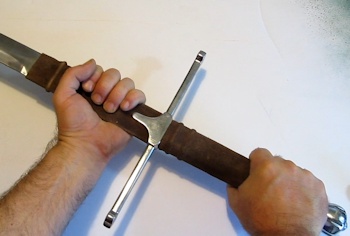 Sometimes that two handed grip is confused with something like this. The section above the guard is called the Ricasso. It is leather wrapped and with a large sword one hand can be moved up to that position. This gives the wielder more control over the sword, particular in close combat where smaller swings are desired.
But this two handed grip isn't what defines this as a two handed sword. It is just that larger swords will sometimes have this ricasso.
On some of the swords I have here on this page some swords have a ricasso and some swords don't.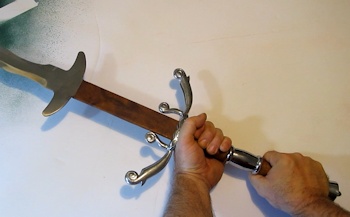 This sword makes it very easy to identify as a two-hander. There are two distinct sections on the handle for you hands. And these sections are separated by a metal section.
Length and weight of a two - handed sword
This can vary quite a bit because there is no real rule for it. Some blacksmith somewhere didn't establish a set rule for what determines a two hander but here is a guideline. A typical two handed sword will have a blade of around 35 inches in length.
And a two hander typically weighs between 5 and 6 pounds.
Remember though that the rule can be relaxed quite a bit and the body weight and size of the wielder is important to the function and size of the sword. A smaller person would potentially be more effective with a smaller two hander. While a larger person could wield a larger one more effectively.
Various Names
Some are simply called a "two-handed" sword. You will also sometimes see the term of "Zweihander" which is the German word for two-hander. And sometimes the term GreatSword is used. Or the word "Claymore" is used. These terms all pretty much refer to the two-hander although there are some differences that single each out. For example the claymore does have a well defined and uniform look.
Two-handed swords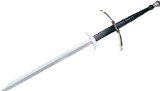 Cold Steel Two Handed Great Sword -
Our Two Handed Great Sword is the biggest sword we make. But don't let its size fool you, as there is nothing awkward or clumsy about this awesome sword. Sure it's big and meant to be carried over the shoulder in its scabbard, but it's extremely well balanced and easily wielded by people of larger stature and physical strength. Weighing 6 lbs. 13.5 oz. with a 39 7/8" high carbon steel blade, it will make short work of pikemen or swordsmen and will prove equally effective against modern rifle butts and bayonets. To protect the hands from opposing weapons, it features a large guard with side rings plus integral parrying hooks that allow the blade to be shortened for close range slashing and stabbing attacks. The handle is made of wood and covered with leather and is extra long to afford a full two handed grip. What's more, it's capped by a heavy steel pommel that helps counter balance its long blade and serves as an effective weapon in its own right. The Two Handed Great Sword is sturdy, strong and battle ready. If you're looking for the ultimate in big performance oriented swords, your search is over.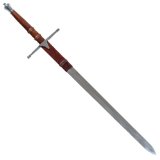 Whetstone Cutlery William Wallace Medieval Sword with Sheath, Silver
Reclaim your FREEDOM from the tyrannical English king with this authentic William Wallace sword! This sword is a replica of the sword William Wallace wielded in the movie Braveheart. The blade is made of polished stainless steel and is double edged. The hilt and pommel are composed of polished metal and the handle is wrapped in leather. The sword comes complete with an authentic rough leather sheath that includes a strap to attach this 40.75 inch sword to your belt.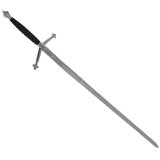 Whetstone Cutlery Black Knight Claymore Sword
If Size Matters Then This Is Your Sword!This is the largest sword in our inventory. Get it now! At 52 inches long, this sword boasts an extra long black spiral handle for double gripping action.The black handle is offset with a polished silver hilt and pommel.This is the Bad Boy sword of the Black KnightA full size leather sheath is included with this sword.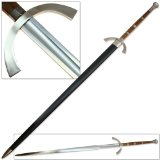 Two Handed Great Sword Functional 1060 Forged Steel Claymore by Sugoi Steel
Our Cold Two Handed Great Sword is extra long, even longer than others on the market, and is extra sturdy with a heated and tempered blade forged 1060 high carbon steel. Balanced like a cat, with the striking power of a sledge hammer, and cutting like a surgeon, you can bet the enormous size is quite easy and nimble to wield. An extra long handle gives you the leverage you need to place the blade spot on target, quickly, multiplying your strength several fold more than shorter swords.

Solid Walnut hardwood makes up the seamless 18.5 inch long handle grip, with steel wire wrap to secure even the wet and sweat. Even the winged hilt is 1060 high carbon steel, 8.5 inches long and very thick. Balance is pinpoint at the hilt end, which is perfect, thanks the the solid 1060 steel pommel. The tang is full length and literally forged to the pommel, so you can see where it is fixed. This is an oversized item and will have shipping costs accordingly to the carriers going rate to your location.

Specifications
Overall Length: 65.5 Inches
Blade Length: 43 Inches
BladesUSA KS-8149 Brave Heart Medieval Sword 44-1/2 Inch Overall
The Medieval swords were primarily used by knights, a fighter worth ten ordinary soldiers. Their power and skill bring terror to their opponents. The KS-8149 legendary sword, a reproduction of the knights' weapon, incites fear not only because of its wielder but the power the sword can inflict on its enemy. This 44.5" in overall length and 32.25" stainless steel blade can wield a formidable force; especially with its simple yet durable, thick, brown, leather wrapped handle.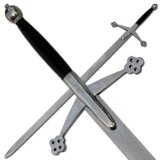 Medieval Scottish Claymore Highland High Carbon Handmade Sword
Overall Length: 54 Inches
Blade Length: 42.375 Inches
Handle Length: 15 Inches (Including Guard), Guard Width: 11.25 Inches
Blade Material: Carbon Steel (Unsharpened)
Handle Material: Wood Wrapped with Black Leather
Watch the Video Here:
---
---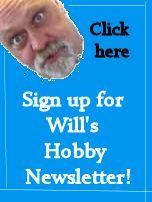 Do you like making projects and exploring a variety of hobbies?
Sign up for my free newsletter. I give you regular updates on hobbies and projects you can make. it is totally free and I don't share your email with anybody.