If you haven't already done so, create a folder somewhere on your computer and name it Myfirstwebsite . I put this folder on my desktop so it is easy to find. You are going to save all your website files into this folder.
Open up the folder and create a new folder inside it called: Images. This folder is where you will keep all the artwork and pictures for your website.
Now save the page you created in this Myfirstwebsite folder as: index.htm.
In the Toobar pull down the menu item "File" and select "New". This is how you create a new page. After the new page opens pull down the file menu again and select Save As... Now save this new page you created as: Aboutme. htm. Make sure you save it i the Myfirstwebsite folder.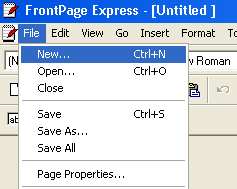 Now you have two pages in this same folder. We are going to link them together.
Now add some information to this aboutme page. I have added a title, an image and some text to my about me page. At the very bottom is some text that we will be creating a link with.
(Notice at the very top of the screen this page is saved in the \Mywebsite folder and is called aboutme.htm.)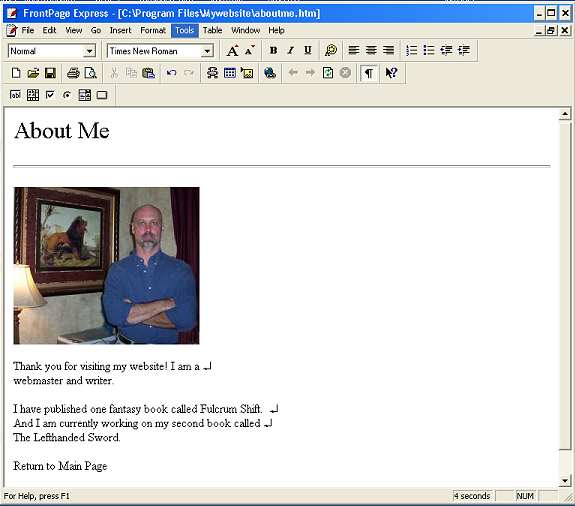 Now to link this page to your home page (We named it index.htm) Make sure the index.htm page is open in your Frontpage application. You now have both pages open.
Highlight the text you want to be a link by clicking and dragging over it with your cursor.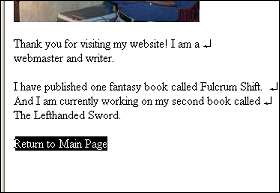 Now click on the hyperlink button in the toolbar


In the menu that pops up select index.htm. That is your main page. If index.htm doesn't show in the list it is because you closed this page. Open it up with File|Open and return to the aboutme.htm page.
Now click ok. and the hyperlink is created.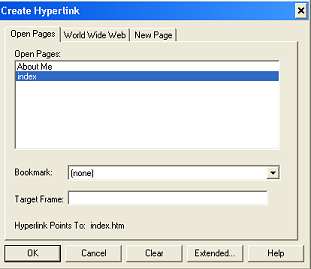 It is now blue

This is how you link to pages within your website. You can now go back to the index page and create a link called About Me and link that to your Aboutme.htm page.
If you want to link to pages outside of your website you select the world wide web tab in the hyperlink dialog box and type in the full address such as http://www.stormthecastle.com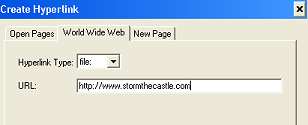 This is the end of the tutorial. I hope I have got you started on a great adventure in the world of web design.
---

Amazon.com has lots of great books on Web Design and almost all of them come with free and trial software that will help you design great looking websites.This one-click link will take you directly to the selection.
---

Web Design For Dummies
(This is a great book for beginners.)
---

Let's FTP our website up to the Internet now