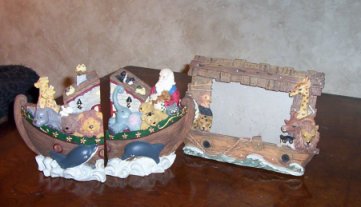 I paid one dollar for this Noah's Ark bookends and picture frame. I would like to get Five dollars for the set. If you are interested in buying them send me an email.
This item is currently for sale on Ebay. If you would like to check it out or bid on it please go to Noah's ark bookends and picture frame.
If you buy these items, which continues my quest. I will add your name and photo to my quest pages. Of course that is if you want me to. You can even send me a picture of you with the items and I will post that!
Thanks, Will