If you haven't already downloaded and opened the program you should do it now:

Download FrontPage Express here
Locate the FrontPage Express file you downloaded and unzip it.
Open the unzipped file and open the program by double clicking the executablel file called FPEXPRESS
FrontPage Express is now open and ready for you to use. It looks like this: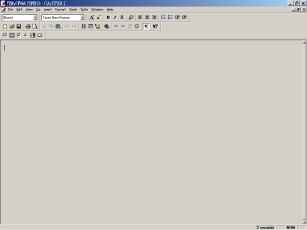 The program is very similar to many other computer programs. You can see along the top all of the various tool bars and the large empty gray area below it is the working area. This area is your webpage. This area looks exactly the way your webpage will look. Right now the area has a gray color. This is the color of your page. I will show you how to change this.
1. The image below is a closeup of the toolbars.

First let's change the background of your webpage. Select the menu item called 'Format'. A drop down menu appears. Select 'Background'. Now a pop-up menu appears. Choose the color you want your webpage to be. I have chosen white as a background color. This is how it looks.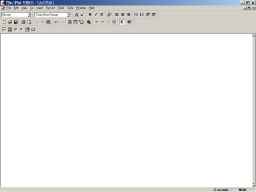 You have completed your first task. This background color is what will show up on your webpage. Experiment with the colors and get a look that you like. I prefer white because it is simple and crisp.