Telling a story is a powerful thing. There is magic in stories and people are eager to participate in a story. I knew this was easy when the stake was only a dollar but this isn't going be of any help when the total gets higher. For now it is enough. Let's see what happened next.
I was a little bit flush with excitement. My penny quest had now taken another step and I had done a lot of walking so I head for home.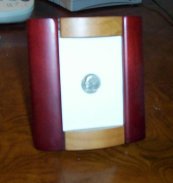 When I got home I Found a small frame for the dime that I had found with the penny and now I keep it on my desk as a reminder of my goal. Here is a picture of it:
I opened the sunday newspaper looking for another yard sale. I now had a dollar and I had to make good use of it. Let's see where this took me. I found an advertisement for a huge yard sale so I jumped in the car and went. Sure enough it was huge. I rummaged through the stuff looking for items that were a dollar. I found a cute set of Noah's ark bookends that were marked two dollars and right next to it was a cute Noah's ark frame marked one dollars.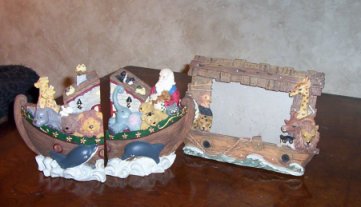 I paid one dollar for this Noah's Ark bookends and picture frame. I would like to get Five dollars for the set. If you are interested in buying them send me an email.
If you buy these items, which continues my quest. I will add your name and photo to my quest pages. Of course that is if you want me to. You can even send me a picture of you with the items and I will post that!
Thanks, Will