Make a Video Game Tutorial: Mirrors and Windows in your game
The Game engine makes it real easy to add windows and even mirrors.
Add Windows to your video game -
Create an object and place it where you want. I am assuming you are cutting a hole between two rooms just like you did with the doorway. You place a solid object in the hole, sized like a window and then click on the face/attributes button. It looks like a little wrench.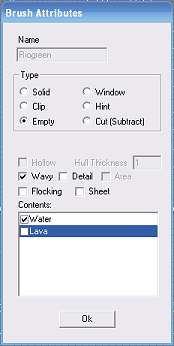 This brings up the brush attributes dialog box. Sselect "Window" Then switch to face mode by pressing the pagedown key on your keyboard.
Now click the face/attributes button

And a new dialog box pops up.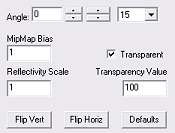 This is the lower part of the dialog that popped up. Check the Transparent button then enter a Transparency value of 100. This will make it see through. You could of course tinker with this!
Add Mirrors to your game world
Mirrors are very similiar to windows. You select the object, pagedown into face mode, Select the face you want to become a mirror then hit the face/attributes button.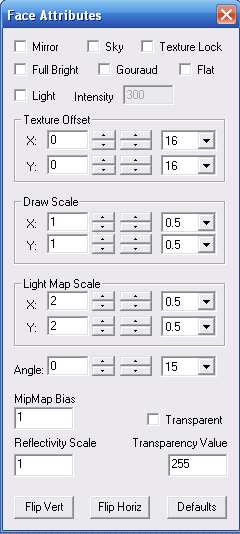 The face attributes dialog pops up and you just select Mirror then enter a value of 20 in the Transparency Value box.
Remember that you can be creative with this and experiment. Do whole walls with this or even whole rooms. Why not make the elevator or the door into a mirror.
Okay, I have given you quite a few tutorials on a lot of different stuff. It is time to look at modeling. I am pretty much done with all the stuff on Genesis 3d. We are going to slip into lessons on another software product called Milkshape. This is the program you use to make 3d models. We will return to Genesis 3d to tie it all together but only lightly. It is up to you to really dig in and learn how to make games.

Let's Continue on and Learn about Modeling and Milkshape (I have started this tutorial!)
For now, if you are really interested in making video games you might want to check out my new website devoted to game making: www.make-video-games.com
. Let's dig in.