Everyone who surfs the internet knows what this page looks like. It is a default page that shows up when your browser can't find the exact page it is looking for. What happens when this page comes up? Most of the time the user just clicks the back button and goes to another site. This means you just lost a browser that was interested in your site.
How do you fix this? You custom make a fault page in the same format as the rest of your website. A custom page that has links on it and possibly even a search engine. Now the user is inside your website and has the ability to easily look for the information he or she needs.
On this page you should put links to some of the more popular pages on your site. This way the customer is only one click away from what he needs.
So How do we do it?
There are a few different ways to do this and different server companies have different requirements for this. You should contact your hosting company and ask them what is required.
But here is the most common method that works with most hosting servers.
Step 1: Create your custom 404 page in the same way you create all your other pages, using Dreamweaver, Frontpage or any other software you use. Be sure to make it complete. Add direct links to the major aspects of your website. Make the page look like the rest of your site.
Heres an example of the fault page for this website: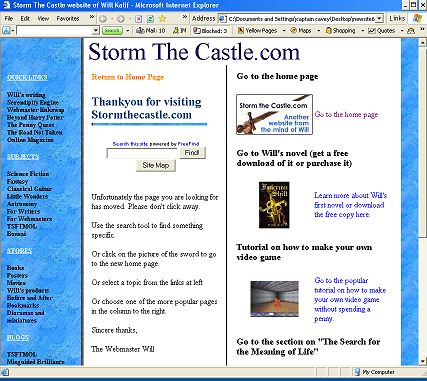 Can you see what I have done here? Your web visitor doesn't even realize he is in a fault page. And it has lots of information about all the important points in the website and it also has a search engine. So the visitor accepts this as normal, rather than a fault, and chooses what he came looking for.