You can build a great looking website for free just like the one located at this link
Check out the free website that goes with this tutorial.
This link goes to the site I made for this tutorial. I will take you step by step through the proces.
Note before starting I have placed these directions onto a printer friendy page. You may want to go to that page and print it out so you can follow along while you build your website.
Printer friendly page for building your first website.
We are going to use a company called Bravenet. They have been around for a long time and they have great free services for the aspiring webmaster. You can set up your site for free. And you can get all kinds of extras for free like counters, bulletin boards, email, forms, and a whole lot more.
Step 1: Sign up at Bravenet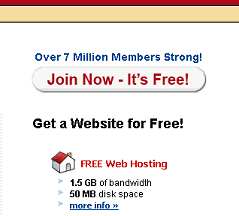 Go to Bravenet and sign up for an account. (It's free) You will have to verify your email address by checking your email and confirming the link. Then you are ready to start buiilding your free website by clicking on the more info link. Click on the image above to go to Bravenet.
You will go through a process where you log in with your new password then are asked to change your password then you are made several offers. Click through to the main page and select Hosting and Domains.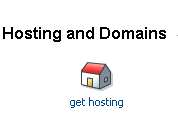 and follow the process for creating your website. It asks you what name you want I entered here myAwesomefreewebsite.