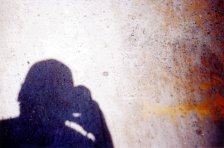 I hadn't continued much further when I saw it. A bright shiny penny just lying in the dirt waiting for me. It was accompanied by a dime. Before I touched it I snapped several pictures. Could this be the magical moment I was looking for? Only time will tell.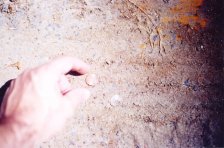 I picked up the penny and the dime and so my quest has begun. I found myself wondering if this is the easiest part of the quest or the hardest part.
I continued on with my quest winding my way through small side streets and I saw a sign on a telephone pole that said "Yard Sale". Ah ha this might be a way for me to transform my penny into something else.
I found the Yard Sale and started looking around hoping to find something for only a penny but there was nothing. I found a pyramind shaped candle and picking it up I went to the lady that was overseeing the yard sale. "Can I buy this for a penny?" I said. She shot me a look like I was crazy. "That's two dollars" she said.
"Can I tell you a story?" She nodded her head. So I launched into my story. "I had a dream that I found a penny and I turned it into a million dollars." I held out my hand and showed her the penny. She looked at it and I continued. "This is the penny and I was hoping that with it I could buy this candle." A look of shock and wonderment came over her. I think that there is real power in stories.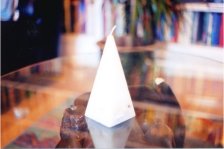 With no hesitation and without a word she shot out her hand with her palm up. She wanted the penny. It was a deal. So with a little bit of hesitation I gently placed the penny in her hand and said thankyou. She never said a word. She just looked at the penny maybe hoping to see that it was special in some way. Maybe it is special, I don't know. And I wonder if she still has it. Maybe it is special. Here is a picture of the candle