I have a youtube channel with over 700 Videos!


Hi, Thanks for visiting my website. My name is Will and if you have questions
or would like to
contribute projects or ideas you can contact me

Make a Video Game For Free
Making Video Games for Free
When I say this is the no-cost way to get it done what I mean is that it will cost you zero dollars but there is a cost involved with making a video game. You have got to invest the time and do the work. Nothing is free! This tutorial covers the mechanics of making a video game. What I mean is that I am not going to help you with the story-line or plot or character building in a video game. That will come up in a future tutorial. This tutorial is all about the programming of a video game. (Don't get scared by the term 'programming'. It isn't real programming It is all drag and drop stuff. You don't have to know any programming at all. Let's get started!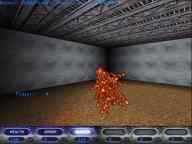 This screen shot shows a single room that you will create in this chapter of the tutorial. Once you have the program downloaded it will take you less that an hour to get this result!
The red-orange burst you see on the screen is a blast from your blaster!
Step 1: Download the software you need.
I have the program right here for you to download. It is about 30Meg so if you are on a dial up modem it is going to take a while. Right click and select "Save As"
Note about this software: There has been a lot of reported problems about this software and Windows XP If you have trouble loading this developer kit, it won't run, or errors out. I recommend you do my reality factory game making tutorial instead. That tutorial is just as good as this one and runs smoother. Here is the first page of that tutorial. Reality factory Tutorial
Download Here:

Genesis 3D Developer Kit
Note: This is a big download (About 30Meg) so you may want to go through the tutorial first and see if it is something you might want to try.
For More comprehensive software, updates and other tools by Genesis 3d go to their home page and then proceed to the download page.

Step 2: Install It
After you have downloaded the file to your computer install it into the recommended folder. Remember to read the users agreement and license carefully.
Step 3: Run the program
Simply double click on the icon, be sure to read the license agreement and if you agree then continue with the installation. And before installing it I recommend you run a virus check on it just as a precaution.

Continue on to page 3