How to Make a Video Game with Reality Factory
Lesson 1 Introduction The "No Cost" Way to make great video games.
The Reality Factory is a complete (and free) system for making your own video games. You are free to make your own games, pass them along to other people and even sell them without paying a royalty. There is a user license that you will have to read before using it though.
About the "No-Cost"
When I say this is a no-cost way to get it done what I mean is that it will cost you zero dollars. But it will cost you time and effort. You have got to invest the time and do the work. Nothing is really free!
What this tutorial is and is not
This tutorial covers the mechanics of making a video game. It shows you how to use the Reality Factory software to create games. What it doesn't show you is how to build a story line or a game plot or how to build characters. These things will come up in a future tutorial. This tutorial is all about the making of a video game world.
Programming?
Don't worry about this, you don't need to have any programming skills to use this software. It is all drag and drop stuff.
Lets get started!
This is the link that will take you to the Reality Factory Software. bookmark this page then go to that site, follow the download link and download the program called RealityFactory 0.75A. It is about 24 Meg so if you are on a 56k modem it is going to take you a while.
Reality Factory Software Download Page
Welcome back! Open the program and install it. If you see an option for desktop icons select yes.
Reality factory is a suite of a variety of tools. Right now we are going to be using the tool that allows us to create a game world. This tool is called RFeditPro. Open up this program. It is located in your windows toolbar like this:
The Reality Factory workspace opens up. It looks like this: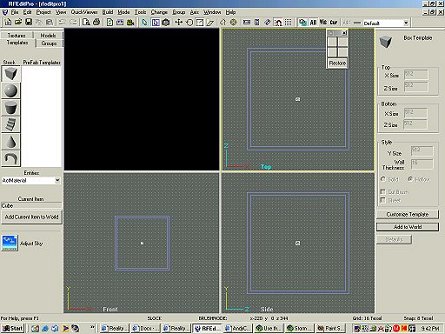 This is the place where you will spend most of your time building your new world. So let's roll up our sleeves and get cracking.
You can see a lot of stuff here and it might look confusing but don't worry about it. In no time at all you will be using this like a pro.
The major thing that first comes to your eye is the four big screens. One of them is black and the other three have purple squares in them. These four boxes are views of the world you will be building.
The black square is a place where you will see three-dimensional views of your world complete with applied textures. The other three views are the top, bottom, and side of what you are building.
Hang in there. It seems like a lot but in no time we will have built a room that you can actually walk around it.

Continue with the tutorial