Sharpen your powers of observation. Being a good game designer means thinking, and seeing, like an artist
| | |
| --- | --- |
| | There are things that you wouldn't even think of that artists know and see. Do you look at a building and realize the design of it? Do you see the play of light on the house next door. Do you realize how it changes through the day. You can start to look at the world the way an artist does. And it will dramatically increase how good you are at video games. |
Awaken the artist within you and look at the world around you. There is much to be learned that you can apply to the world of video games.
Look at the design and layout of the house you live in. Look at the way the yard is shaped or the neighborhood. How do the buildings sit in comparison to each other? What are the spaces between buildings like?
If you are beginning with the quest to make a video game and you are looking for practice then I recommend you take these three steps:
Step 1: Do a copy of the room your computer is in. Make it as realistic as possible.Add the furniture and windows. Even add the computer. This exercise is terrific because it develops your video game making skills and it also helps you to r eally look at things. You look at a chair in a whole new way when you have to redesign it for the game world.
Step 2: Now do your whole house or apartment. Do all the rooms and put the doorways and windows in. You don't have to do all the furniture -just get a feel for the design of your hourse or apartment. Where are the stairs? How do the windows change the feel of a room. How high are the ceilings? Are the ceilings all the same height? See what I mean? When you look at the world as an artist you start to see and learn new things.
Step 3: Now do a mock up of your neighborhood. Design all the buildings, place them on the street. You don't have to get real detailed. The point is to get a feel for the desing and layout on a larger scale. Wouldn't it be great to make a character that could walk around in your neighborhood in a video game? Make sure you go outside and look. You have to look. If you do it from memory you are not getting the full experience. When you look at the neighborhood with the intent of putting it into a video game you will see things you never saw before. Take a sketch book with you or a digital camera
If you want to shop around. Amazon.com has a spectacular selection of cameras. They have anything you could want, in the price range you want.
Awesome deals on Digital Cameras
Amazon.com has a tremendous variety of stuff for artists; books, videos, sketch pads, oil paints. Everything you could want. And they drive down to the lowest prices.
Stuff for Artists at Amazon.com
---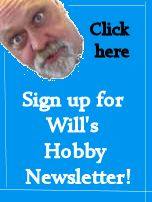 Do you like making projects and exploring a variety of hobbies?
Sign up for my free newsletter. I give you regular updates on hobbies and projects you can make. it is totally free and I don't share your email with anybody.