Writing a script for a video game
There are two components to writing a script for a video game.There is a Flowchart that lays out the decision making of the game and shows the various logical paths the user can take and there is the prose script that describes what happens.
Let me show you a small example of each. I have written the script for a video game called "The Book of the Dead"..
Writing the Flowchart
Here is an example of the flowchart that lays out the decision making for part of the first chapter: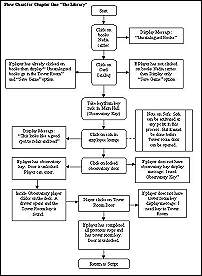 Let's take a closer look at the flowchart: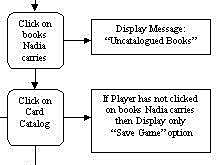 The flowchart helps the designer understand what happens in the game and what decisions need to be made. See the box in the upper left? "Click on Books Nadia carries"
A Message is displayed "Uncatalogued Books"
The next action available is "Click on Card Catalogue" From here several more options are available.
There is a standard for making flow charts complete with rules for decision making and different kinds of boxes for the different kinds of information. You can just make up your own flow chart. But if you want to learn more there are some great books on the subject of flowcharting.
Writing the script
The script for a video game is very similar to that of a movie. You describe the scenes, plan the dialogue, describe the mood and set the background music. Here is an example of the script from the video game "The Book of the Dead.".Go to sample page for script
There are three main points to the written script.
1. Describe the environment; what does everything look like -and what does it feel like?
"Opening Scene: Aerial long shot, dusk
Camera is looking across a river at an old New England city built on the hill along the bank of the river. One building is prominent in view. It is an old granite building with a bell tower on one end and an observatory on the other end. It is large as far as old New England buildings go: four stories high, and the size of a Newport mansion. Camera slowly moves in toward the building as if on a slow moving airplane. An open skylight can be seen in the top of the building. The camera heads directly toward this then enters.."

2. What is the accompanying material? Is there music? Sound effects?
"Soft background music starts at the moment we see Nadia. ("Chopin's Piano Concerto #2")"
"Writers note: We will refer to Chopin's Piano Concerto #2 as Nadia's theme."

3. What are the things that are going to happen? What decisions will be made? What rooms or areas are the decisions tied to?
"This chapter allows the player to get familiar with the library and how the game operates.Goal to completing Chapter: Shelf the uncatalogued books in the Tower Room
Programmers notes:There are five important rooms in this chapter:
The Main Hall
The Card Catalog room
The Tower Room
The Observatory
The Employee Lounge
Important Items in this chapter:
Key rack in Main Hall
Key to Observatory
Key to Tower Room
Sofa in Employee lounge
Books that Nadia Carries
Locked door to basement
Desk in Observatory
Card Catalog
Video Game Writing Resources
Video Game Storytelling: What Every Developer Needs to Know about Narrative Techniques
With increasingly sophisticated video games being consumed by an enthusiastic and expanding audience, the pressure is on game developers like never before to deliver exciting stories and engaging characters. With Video Game Storytelling , game writer and producer Evan Skolnick provides a comprehensive yet easy-to-follow guide to storytelling basics and how they can be applied at every stage of the development process-by all members of the team. This clear, concise reference pairs relevant examples from top games and other media with a breakdown of the key roles in game development, showing how a team's shared understanding and application of core storytelling principles can deepen the player experience. Understanding story and why it matters is no longer just for writers or narrative designers. From team leadership to game design and beyond, Skolnick reveals how each member of the development team can do his or her part to help produce gripping, truly memorable narratives that will enhance gameplay and bring today's savvy gamers back time and time again.
Professional Techniques for Video Game Writing
This book by the International Game Developers Association (IGDA) Game Writing Special Interest Group focuses on various aspects of working as a professional game writer, including how to break in to game writing, writing manuals, narrative design, writing in a team, working as a freelancer, working with new intellectual property, and more. It includes exercises and writing samples; additional writing samples are available from the book's website.
Writing for Video Games
- Video games are a lucrative market for scriptwriters, but writing for video games is complex and very different from traditional media such as television or film. This practical guide shows how you can adapt your writing skills to this exciting medium. Written by an award-winning games writer, the book provides a realistic picture of how companies work, how the writer fits into the development process, and the skills required: storytelling; developing interactive narrative, characters, and viewpoints; dialogue comedy; and professional practice.
The Ultimate Guide to Video Game Writing and Design
-
. Authors are top game designers
. Aspiring game writers and designers must have this complete bible
There are other books about creating video games out there. Sure, they cover the basics. But The Ultimate Guide to Video Game Writing and Design goes way beyond the basics. The authors, top game designers, focus on creating games that are an involving, emotional experience for the gamer. Topics include integrating story into the game, writing the game script, putting together the game bible, creating the design document, and working on original intellectual property versus working with licenses. Finally, there's complete information on how to present a visionary new idea to developers and publishers. Got game? Get The Ultimate Guide to Video Game Writing and Design.
Writing for Video Game Genres: From FPS to RPG
This book delivers practical advice from seasoned veterans on the special challenges of writing for first-person shooter games (FPS), role-playing games (RPG), and everything in between, including massively multiplayer online games, real-time strategy games, sports games, horror games, serious games, casual games, handheld games, and more.
---