I have a youtube channel with over 700 Videos!


Hi, Thanks for visiting my website. My name is Will and if you have questions
or would like to
contribute projects or ideas you can contact me

Books on Creating Textures for your Games
What are Textures?
Textures are exactly what they sound like: Textures. Let me show you. This is a room built with game design software.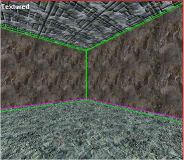 The room has a texture applied to the ceiling, a different texture applied to the floor and a third texture applied to the walls. When you texture a surface, whether it be a wall or a person. You apply a small patch of a certain texture to the surface and it is repeated over and over again until the surface is full.
Now you can get into trouble here. See the brown texture of the walls? You can tell the texture repeats so the walls don't look good. The floor on the other hand doesn't look like a bunch of repeating textures. It has a nice flow to it.Getting a small texture to repeat on a surface and look good is one of the tricks of good texturing.Conversely the ceiling has a texture that repeats but it looks like its supposed to repeat. As if the ceiling is made of distinct panels.
So you can see that Texturing is very important and you can learn lots of tricks and techniques. And this will make your video games much better looking.
---
Want To learn how to tile textures for even flow and pleasing appearance?
I have a tutorial on Tiling textures
3D Game Art
I own this book and it is simply fantastic. Clear and well written. Perfect for beginners and still takes you all the way into getting game art that looks right.
Digital Texturing and Painting
This book takes you outside the studio and walks you through the museum of life. This full color book combines traditional texture creation principles with digital texturing techniques to enhance your scenes and animations. In the first half of the book, you will learn about the history of textures in fine art and in the second half, how to apply these principles to your 2D and 3D digital scenes.
The Dark Side of Game TexturingCharred ruins, bullet holes, rusted metal?if you ?re a fan of 3D first-person-shooter games, then you ?re familiar with those amazing, ominous textures that draw you into your character?s surroundings. Get ready to analyze?and re-create?the textures and graphics used in these games. All you need is a decent PC, Photoshop, and a digital camera.
Creating the Art of the Game
The key word here is art: the dynamic 3D art that defines the world of computer games. This book teaches you everything you need to know about the planning, modeling, texturing, lighting, effects creation, and interface design that go into creating today's most advanced and stunning video games.

Want To learn how to tile textures for even flow and pleasing appearance?

---




Amazon.com has lots of great books on programming video games. Check it out. This link will take you directly to their section on Programming.Books on Programming

Amazon.com Best selling books on Game Develoment. Go directly to the list of top sellers.Top Selling Game Development Books