2009 Fantasy and Medieval Calendars
Fantasy Calendars for 2009
Or you can visit: Amazon.com 2009 Calendar Store
for more great calendars
Boris Vallejo & Julie Bell's Fantasy Calendar 2009 (Wall Calendars)
Twisted landscapes, ominously swirling skies, creatures plucked from myth and nightmare. And women-passionate, strong, rendered with extraordinary anatomical detail, who captivate with their beauty and fierceness. Born of the heated imaginations of husband-and-wife artists Boris Vallejo and Julie Bell, the Fantasy Calendar for 2009 features thirteen all-new paintings that plunge the viewer into a world that is dark, dynamic, and mysterious, ruled by magic and roamed by fearsome beasts. A priestess sleeps among the tangled roots of a tree, oblivious to the menacing robot looming over her. Two sensuous maidens lull a colorful dragon into submission. A woman battles to stay astride her powerful white steed, her eyes steely and intense. Weaving the dramatic images together is "The Stones of Thay'mir," an original story by C.J. Henderson.

The Romantic Fantasy Art 2009 Nene Thomas 12 Month Wall Calendar
Nene Thomas 2009 12 Month Wall Calendar The Romantic Fantasy Art. Measures approximately 12 x 11.25.Great Time to get 12 prints that can be cut out and framed.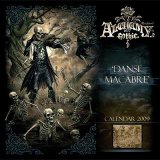 2009 ALCHEMY DANSE MACABRE WALL CALENDAR
The Haunted Realm 2009 Wall Calendar
The Haunted Realm Wall Calendar: From the very beginning of recorded time all the great civilizations of our world have believed in the supernatural in some form or other. Simon Marsdens startlingly atmospheric black and white infrared photographs reveal this hidden world and his ghostly and beguiling images transport the reader to a different realm; a haunted realm. Accompanying the photographs is text which describes the apparitions that have been reported at each site, and the strange and often macabre real-life events which are said to lie behind them.

Faeryland 2009 Wall Calendar
Faeryland Wall Calendar: The mysterious and magical world of faeries has captivated artists and writers for centuries. This enchanting calendar brings together twelve stunning interpretations of faeryland by contemporary artists, and the inspiring words of writers from Dante Gabriel Rossetti to Gerard Manley Hopkins.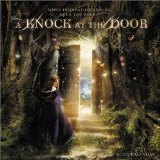 A Knock at the Door 2009 Wall Calendar
Crossing into the land of remembering your magical self requires only one thing. When Inspiration knocks, open the door. In 2004, Duirwaigh president Angi Sullins sat down to write a poem for the artists who inspire her. Setting the poem to music and paintings, the short film A Knock at the Door was born. Posted to the Internet in December of that year, it caused an international sensation, and has since been seen by over a million viewers. Between these pages lies an invitation to follow your dreams through the door of Possibility to an enchanted land half-dreamed, half-remembered, wholly adored. Angi Sullins is the founder of Duirwaigh, Inc., a multimedia entertainment group in Atlanta, Georgia. Angi creates inspirational cards, books and films with her partner Silas Toball. A Knock at the Door, based on Angi's first film, is now a book published by Amber Lotus.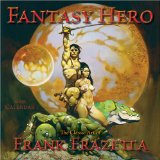 Fantasy Hero 2009 Wall Calendar 12" X 12"
The Classic art of Frank Frazetta.
Dragons
Or you can visit: Amazon.com 2009 Calendar Store
for More Great Calendars
2009 Fantasy Calendars Based on Books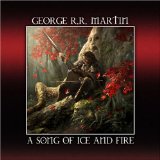 A Song of Ice and Fire 2009 Calendar
The first ever-illustrated calendar from the epic fantasy series, A Song of Ice and Fire, written by George R. R. Martin has been created! The incomparable Michael Komarck, an artist who has amazed fans with his faithful, detailed artwork inspired by A Song of Ice and Fire, illustrates the twelve images in the calendar. His renderings for the calendar are immaculately executed depictions of some of the most popular characters of the series and bring to vivid life some of the most memorable scenes in the epic that's taken the publishing world by storm. As the only calendar sanctioned by Martin, Dabel Brothers Publishing's A Song of Ice and Fire 2009 Calendar is unarguably a rare treat.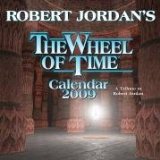 Robert Jordan's Wheel of Time 2009 Calendar
"Robert Jordan has come to dominate the world Tolkien began to reveal. The evil laced into the forces of good, the dangers latent in any promised salvation bears the marks of the American national experience during the last three decades."--"The New York Times" on The Wheel Of Time(R)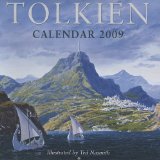 Tolkien Calendar 2009
Tolkien Wall Calendar: The official Tolkien calendar, this year containing 12 magnificent paintings by renowned artist Ted Nasmith, selected from The Silmarillion by J.R.R. Tolkien. Also includes a 24 x 12 pull-out poster!
Medieval and Fantasy Castles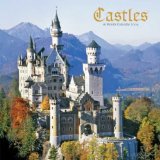 Castles 2009 Wall Calendar

Castles 2009 Wall Calendar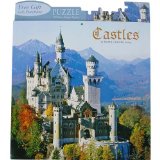 Castles of Europe, 16-month 2009 Wall Calendar with free puzzle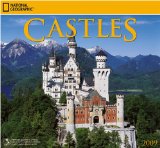 Castles 2009 National Geographic Wall Calendar
National Geographic Castles 2009 takes you to a time and place that glorified pomp and majesty. Some have been restored to a state of grandeur; others stand as a memory of a romantic period in time. This twelve month calendar features spacious grids with moon phases, international holidays and informational text on the history of each castle. Castles featured this year are: Burg Hohenzollern, Germany. Chateau Chambord, France, Leeds Castle, England, Kylemore Abbey, Ireland, Alcazar, Spain, Dunrobin Castle, UK, Mortzburg Castle, Germany, Mosna Castle, Poland, Belfast Castle, Northern Ireland, Bodiam Castle, UK, Eilean Donan Castle, Scotland, Neuschwanstein Castle, Germany. National Geographic's net proceeds support vital exploration, conservation, research, and education programs.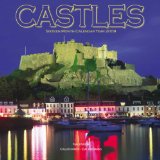 Castles 2009 Wall Calendar 12" X 12"
Or you can visit: Amazon.com 2009 Calendar Store
for More Great Calendars
2009 Fantasy Calendars Based on Games