Origami, Tatebanko and Japanese Paper Projects
| | |
| --- | --- |
| | Origami is a fascinating and fun hobby. I have a collection of projects here for you to try and enjoy. Most of them come with videos that show you exactly how to make the origami project. I also have lots more projects coming. And, if you do Origami I would love to see your work! Send me pictures or videos and I might put them on my website. |
THE LATEST FOLDING PROJECTS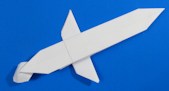 Make an Origami Sword
All you need is a single sheet of paper to make this origami sword. I show you how. You will be ready to fight origami dragons! Make an Origami Sword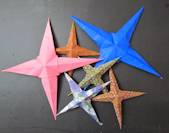 Make an Origami Star
Fun project and easy to make. Just a series of folds to make these 3D stars. All you need is a piece of paper Make an Origami Star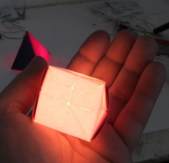 Light up Origami
Fun little project that just needs a few parts like an LED. And Voila you have some spectacular origami. How to make Light-up Origami
Origami Jumping Frog
This is a classic fold where you press on the frog and it jumps. Pretty easy to make. I have instructions and a video right here: Make the Origami Jumping Frog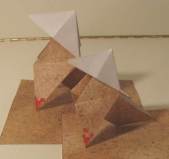 Heavy Rain Origami Bird (Pajarita)
This is a very old fold. It has been around a long time but is experienced a resurgence because of the Video Game Heavy Rain. How to fold the Heavy Rain Origami Bird Pajarita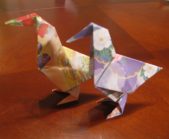 Simple Origami Bird
This is a simple bird fold. It is a crow and a nice place to start if you have never done origami before. All you need is a square of paper. And it stands up which makes it rather unique. Simple Origami Bird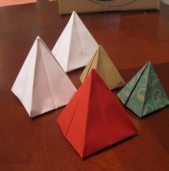 Make an Origami Pyramid
This is an easy beginner fold and you can have it done in about two minutes. And it looks really neat. There is something about the filled shape of it. Fold an Origami Pyramid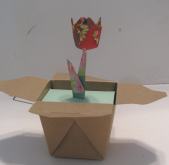 Make an Origami Tulip
This is an easy beginner fold that comes in two parts - the flower and the stem. You just need two equal size squares of paper. I recommend you add a little pizazz to the project like I have shown here. Fold an Origami Tulip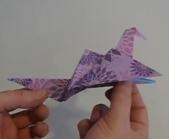 The Flapping Bird
This is a neat little project. You pull on the tail and the wings flap. I have a video showing it flapping and how to make it. How to Make an origami flapping bird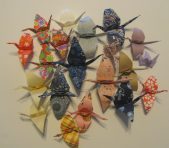 The 1,000 Crane project
According to an ancient legend if you make 1,000 Origami Cranes you will have a wish granted, and you will have good luck. I am doing 1,000 cranes and started the project on April 19, 2010. You can see pictures and check on my progress here: The 1,000 Crane Project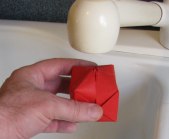 Make an Origami Water Bomb
This is a medium easy fold that makes a paper bomb that you can fill with water and throw. Good for some summertime fun. All you need is a square of paper and some water. How to Make an origami water bomb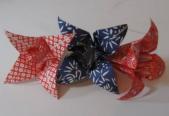 Make an Origami Iris
This is a bit of a more challenging project but it comes out really beautiful and is worth the extra challenge. Make an Origami Iris
Make an Origami Swan
This is a tutorial for the absolute beginner. I show you, step by step, how to make a traditional origami swan. If you never did Origami before this is a nice place to start. All you need is a square of paper.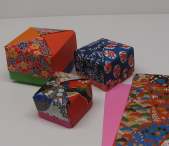 Make an Origami Gift Box
Nice beginner project on how to make a Japanese Origami Gift box. All you need is eight squares of paper. I have a video tutorial that shows you step by step how to make these great looking gift boxes. How to make an Origami Gift Box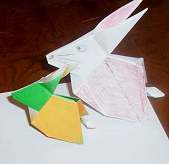 Make an Origami Rabbit
This is a pretty easy project that shows you how to make a paper rabbit. I have this tutorial both web page based with step by step pictures and as a video.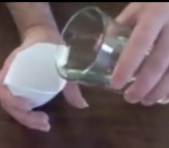 Make a Paper Cup that holds Water
This is a nice beginners project. I show you how to make a paper cup out of a single sheet of paper and it really holds water. Nice in a water cooler emergency :) How to Make a Paper Cup It also includes a video of how to do it.
Make a Traditional Origami Paper Crane
This is a nice beginners project and a standard origami fold of a crane. Make an Origami Crane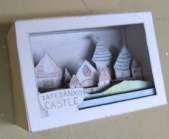 Make a Tatebanko Castle
Tatebanko is the Japanese art of paper dioramas. I have a complete project here with download that you can print up and make. It is a tatebanko castle. Make a Japanese Tatebanko Castle

I also have an empty tatebanko box that you can download and assemble if you want to make your own project. This is a fun way to get started in the hobby. The Empty Tatebanko Box
I also have a selection of Tatebanko Paper Dioramas that you can purchase of Amazon.com