Catapult Crazy!
| | |
| --- | --- |
| | You want to make a catapult? I have them all right here! Torsion, rubber bands, popsicle stick, mousetrap, even multiple fire catapults! |
Everything you want to know about catapults. Because you are Catapult Crazy!
Catapults were engineering feats of the Middle Ages and maybe you can't build an actual catapult that can take down the walls of a castle but you can build a miniature just for fun and to show your friends. Here are projects and information about catapults.
Here is your ultimate resource to learning everything about catapults. Want to make a catapult? Want to learn the history of a catapult. Want to see a video of a catapult? Everything is here.
I also have a whole bunch of pictures of catapults made by web visitors. Some of these are based on my plans and others are new designs or improvements. You can see them here: Catapults made by web visitors
Quick guide to my catapult making tutorials

Lots more catapult and catapult project! Just scroll down the page. Including history of the catapult, upside down catapult and more.

And I also have a whole section of Trebuchet projects including a behemoth ten foot trebuchet

Note From Will: If you are looking to buy a Siege Engine kit that you can make yourself you should check out my siege engine store. I have all kinds of trebuchets, catapults and more all available from Amazon.com - The Siege Engine Store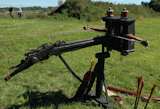 A Real Roman Ballista
This is a full sized roman ballista that really fires. Lots of pictures, an explanation of the parts and a video showing it being fired. It can penetrate shields easily. A Roman Ballista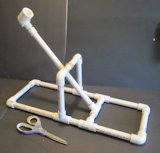 Make a Tabletop size PVC Catapult
Pvc is plastic pipe and it is readily available and very cheap at every home improvement store. I give you the parts list and show you how to make this easy to make catapult. Make a PVC Catapult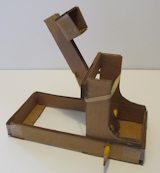 Make a Cardboard Catapult
This is an easy project for a powerful catapult. You need almost nothing to make it. I give you the template. Cut out the pieces and glue it together. Make a Cardboard Catapult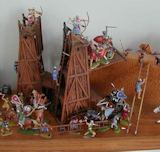 A look at miniature siege towers
You can buy some really fun miniature siege engines other than catapults. Siege Towers are popular. A web visitors has bought, tinkered with and upgraded several different models and he gives us a look at them. Check it out here: Storming the Castle with Miniature siege towers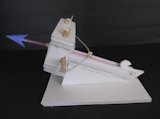 Make a Ballista out of foam board
It's an ancient Roman and Greek siege engine and you can make one out of foamboard. I have the template for you. Cut out the pieces, trace onto foamboard and put it together. Make a Ballista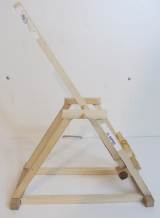 The Underpult - Upside down firing Catapult
This is an interesting little project that shows some creativity when it comes to making projects and making catapults. It fires from the bottom rather than the top. And it posed a nice little engineering problem.
Check it out here: The Underpult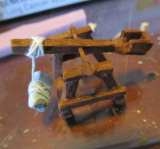 The very tiny catapult. - It's only about an inch in size and well... it doesn't really work but I thought you might like to see it! I made this as part of my cigar box castle project.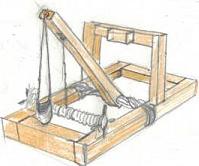 : The Developmental History of the Catapult - Explanation with Drawings of how catapults developed. Starting with the Crossbow and evolving into bigger and more powerful siege engines. The development of the Catapult

The Popsicle Stick Catapult - This is a fun catapult project that shows the strength of the triangle. The triangle is a shape that is often used in architecture because of its strength. Geodesic domes like the EPCOT center use the geodesic triangle shape. 30 minutes and 32 popsicle sticks.

Looking for Free Plans to Build A Catapult? Here is a complete drawing that shows you how to build a small catapult. It is the plans for the Table Top Troll. You can print out these plans and use them. free plans to build a catapult
How not to build a catapult - I attempted to build a mangonel style catapult that uses twisted rope as a way to store the kinetic energy. It didn't work out well but still has potential. Here is a bit more about the project.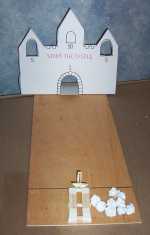 Use the Teeny-Tiny popsicle stick catapult to make this game called Storm The Castle ! See the Project here
That is one big Catapult!
This is one big catapult built by a web visitor. You can see that is on a trailer so it can be transported. This thing generatesa lot of power. In the next picture you can see that it has split a 4x4. But the builder (Jerry) is looking to improve it. Check out this project and how it has developed. And maybe you can offer some advice on how to improve it! That is One BIG catapult.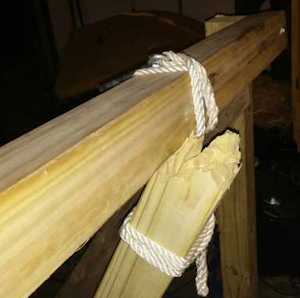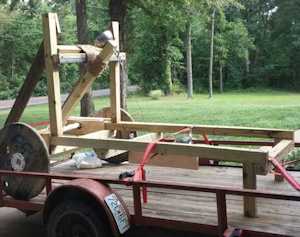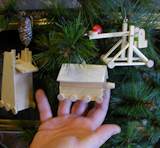 Siege Engines are not just for the holidays anymore
Here is a hilarious tongue in cheek article written by the Thomas family :) Siege Engines are not just for the holidays anymore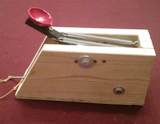 The Katypult!
This is a terrific little catapult that is easy to make, very inexpensive and is very powerful! Want to make one? Todd and Katy tell us more about it right here: Make the Katypult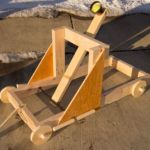 CJ's Torsion Catapult - This is a variation of my Wyvern catapult tutorial and CJ made some excellent improvements. Check it out here CJ's Torsion Catapult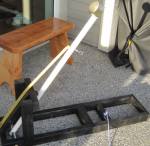 The Black Widow Catapult - This is a terrific little catapult built by a web visitor. It is a variation of the OGRE catapult. Check it out and see a bigger picture here: The Black Widow Catapult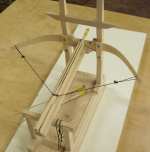 The Table Top Crossbow - This is an amazing little crossbow made and submitted by a web visitor. You have to check this out. More pics and information here: The Table Top Crossbow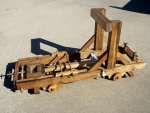 The Caddy-Pult - This is a Cadillac of catapults. You have got to take a look at this one. It was built by Bob and my thanks to him for telling us about it and sending the pics The Caddy-Pult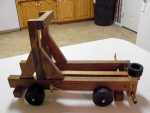 New: A mangonel style catapult built by a web visitor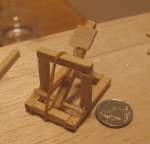 The One Inch Catapult - well, technically its one and a half inches in length and one inch tall. And it works pretty good! See it here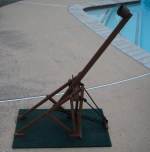 The Sixty foot catapult - Yup, this little catapult launches a ball 60 feet! It was designed and built by Nick and his dad and it is an upgrade on the Reverse Power Catapult - Get the tips, and tricks on how this catapult is made so powerful. The Sixty foot catapult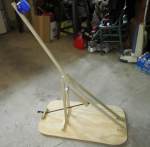 The Reverse Power Catapult - This is a fantastic catapult that gets its power from a bungee cord in the opposite direction of most catapults. And it works really well. Nick and his dad built this for Nick's 8th grade science project. It needed to fire thirty feet and it fires 45 feet! You may want to take a look at this one! they built it in only two hours. The Reverse Power Catapult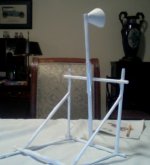 The Paper Catapult (Submitted by a web visitor (Ken Z.) This catapult is made completely out of rolled pieces of paper! After that you need a rubber band and some tape! Fun and easy project. The Paper Catapult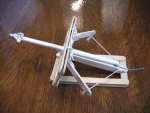 A Popsicle Stick Ballista! This is a terrific little project and it was submitted by a web visitor (Jesse L.) Complete instructions with pics here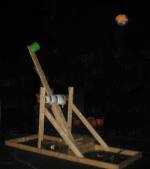 The Big Eight foot Pumpkin Chunkin Catapult! This project and pic was submitted by a web vistitor. He tells us a bit about the projec and gives us some dimensions. The base of this catapult is eight feet long! The Pumpkin Chunker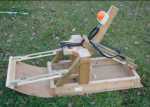 A web visitor (Caleb) has submitted pictures and information about his new catapult that I call the Sled-a-Pult ! It uses two bands for additional power and has a sled platform on the bottom so it slides easily over land and snow! Now we can siege castles in Winter!! See more here: Caleb's Sled-a-Pult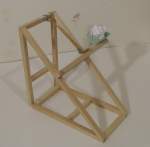 The Sideways Catapult - I thought it would be interesting to build a small catapult with the swing arm coming off the side. It works pretty good and is easy to build. Rather unique little design. Check it out here: The Sideways catapult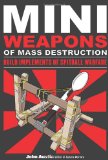 Mini Weapons of Mass Destruction: Build Implements of Spitball Warfare

PopularMechanics.com selection for one of The Best DIY and Home Improvement Books of 2009

We've come a long way from the Peashooter Era: with the advent of modern household products and office supplies—binder clips, clothespins, rubber bands, ballpoint pens, toothpicks, paper clips, plastic utensils, and (of course) matches and barbeque lighters—troublemakers of all stripes have the components needed to build an impressive, if somewhat miniaturized, arsenal.

New Article: Catapults and Cupcakes - an interesting look at a free little catapult project.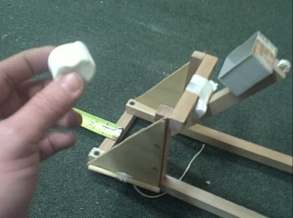 So how far does this torsion catapult fire? I show you by firing it off and use a measuring tape. I also give you tips and tricks for making your catapult even better. This includes a video that shows everything. Firing Off a Catapult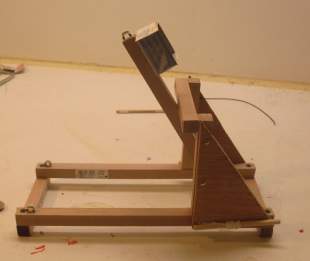 New Catapult Project The Torsion Powered Mangonel. A mangonel is a type of catapult that is true to the real catapults they made in the Middle Ages and Medieval Times because they didn't have rubber bands! They used twisted rope for power and this table top Mangonel does the same. It is more historically accurate. It is also easy to build and pretty powerful for such a little catapult. How to build the Torsion Powered Mangonel Catapult
---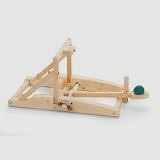 Catapult Kit
Lay Siege To The Doghouse! Right after you build your own working medieval catapult. All you'll need is glue, scissors and a steady hand to construct this wooden, Canadian-made siege engine kit. The finished catapult stands 6" tall x 5" wide x 10" long and will toss assorted stuff (meatballs?) 15 feet or further, depending upon the stuff. Comes with detailed instructions.
NOVA: Medieval Siege
- The Scots inside Stirling Castle must have felt untouchable. Protected by a massive stone fortress, they prepared for a long drawn-out siege against the army of England's Edward the First. Fifty carpenters worked day and night to create the fourteenth century version of the atom bomb: the trebuchet-a fearsome, gravity-powered catapult dubbed "Warwolf" that was capable of hurling boulders, bee hives and plague-infected corpses long distances. Travel back to the Middle Ages and relive a fascinating turning point in warfare and medieval history.
- Enter the battlefield and experience the chaos of medieval warfare-200 years before the invention of the cannon
- Discover how the mechanized catapult sent English history and warfare in different directions
- Enter gigantic medieval castles and explore why these mighty fortresses became vulnerable to the "Warwolf"
- See how the medieval manuscripts provided clues in the trebuchet mystery
- See medieval experts create two competing full-scale catapults
- Travel to the banks of Loch Ness as newly designed catapults attempt to destroy a castle wall with 250 pound stone balls
---
Catapults Submitted by Web Visitors Lots more of these here
Here are some catapults built by people who have sent me the pictures.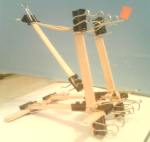 The Easy catapult. This is a great example of making a catapult without using any nails or glue and creating a neat little catapult to have fun with! The Easy Catapult
The Engineering of Catapults - The basic concept of the catapult is not an arm that fires a rock. The basic concept of the catapult is using any means available to store a lot of energy then in one quick release of that energy to fire a heavy projectile a long distance.
Catapult Kits to build your own Catapult
Books about Catapults, and Making Catapults
Web Resources for Making Catapults
Web Links to All sorts of Catapult Stuff
Unusual and Unique Catapult Stuff
Want to build a bigger, better, more powerful or fancier siege engine? There are some great books available to you. These books, available at Amazon.com, will help take your trebuchet or catapult building to new heights! Pun intended!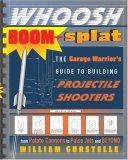 Whoosh Boom Splat: The Garage Warrior's Guide to Building Projectile Shooters

The Art of the Catapult: Build Greek Ballistae, Roman Onagers, English Trebuchets, and More Ancient Artillery
- Nice book that shows you how to build ten different catapult projects, moderate wood working and pvc piping kind of stuff. Good book with complete instructions and materials lists.

Backyard Ballistics: Build Potato Cannons, Paper Match Rockets, Cincinnati Fire Kites, Tennis Ball Mortars, and More Dynamite Devices
Want to get a little more creative? This book is off the hook!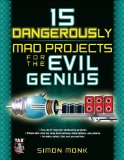 15 Dangerously Mad Projects for the Evil Genius
This wickedly inventive guide explains how to design and build 15 fiendishly fun electronics projects. Filled with photos and illustrations, 15 Dangerously Mad Projects for the Evil Genius includes step-by-step directions, as well as a construction primer for those who are new to electronics projects.
Using easy-to-find components and equipment, this do-it-yourself book shows you how to create a variety of mischievous gadgets, such as a remote-controlled laser, motorized multicolored LEDs that write in the air, and a surveillance robot. You'll also learn to use the highly popular Arduino microcontroller board with three of the projects.
What good is a catapult if you don't have a castle to attack!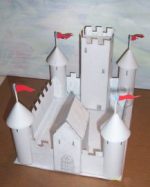 I have another project you might like. It is the Paper Castle and it has everything you could want in a castle making project including all the art work you can download. You just follow the instructions and make it yourself with some glue and cereal boxes. Build a Paper and Cardboard Castle It also has a learning sheet that helps to learn about castles when you are building it.