Free Catapult Plan
| | |
| --- | --- |
| | The Free Catapult Plan - this plan shows the layout and design of the Table Top Troll Catapult. It is an easy to make catapult that is powered by rubber bands and has a base that is twelve inches (12") in length. This is a pretty easy project to make and you can do it in a couple of hours. It is quite poweful and of course the power is dependent on the rubber bands you use. I recommend you screw and glue all the parts together for maximum strength. Of course everything is just recommended and you should feel free to modify anything you like and substitute anything for the parts you have available. |
The Catapult Plan is located at the bottom of this page:

If you came to this webpage directly from a link or a search engine: This Catapult Plan is the plan that accompanies the tutorial on how to make a catapult. The tutorial takes you through all the steps, complete with lots of pictures, on how to make the table top troll catapult. You can find the assembly tutorial here: The Table Top Troll Catapult. (There is also a video of the table top troll catapult firing off)
I have also put a larger version of this catapult plan on a clean webpage so you can easily print it out. Here
About the Catapult Plan
There are a couple of things I want to point out about the plan:
The Red Marks are screws or nails and glue. This shows how the different parts of the catapult are affixed to each other
Dotted Lines - if you are not familiar with blueprints the dotted lines represent parts that are behind other parts.
The Stopping bar - There is a wooden cross piece on the catapult where the arm hits up against after you release it. This bar affects the trajectory of the projectile you fire. If you want your projectile to go in a higher arc then move this stop bar down; and of course if you want a lower trajectory on your projectile then bring the stop bar up.
The Pivot Bar - I used the axle from a toy car and it worked great. When installing the pivot bar insure it is high enough up so the swinging arm does not touch the table or floor.
Here is the Catapult Plan: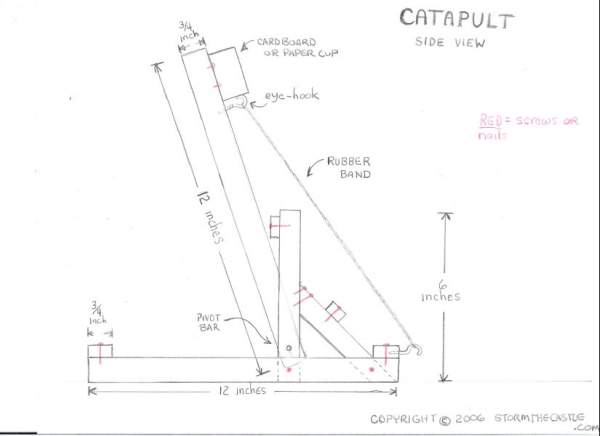 Want to build a bigger, better, more powerful or fancier siege engine? There are some great books available to you. These books, available at Amazon.com, will help take your trebuchet or catapult building to new heights! Pun intended!

The Art of the Catapult: Build Greek Ballistae, Roman Onagers, English Trebuchets, and More Ancient Artillery
- Nice book that shows you how to build ten different catapult projects, moderate wood working and pvc piping kind of stuff. Good book with complete instructions and materials lists.

Backyard Ballistics: Build Potato Cannons, Paper Match Rockets, Cincinnati Fire Kites, Tennis Ball Mortars, and More Dynamite Devices
Want to get a little more creative? This book is off the hook!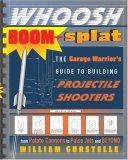 Whoosh Boom Splat: The Garage Warrior's Guide to Building Projectile Shooters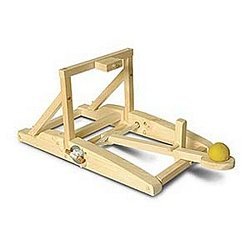 Working Wood Catapult Diy Kit, 6" X 5" X 10"
Expand your kingdom one cubicle at a time with this working replica of one of the most infamous and powerful siege engines... the catapult. When completed, the catapult can shoot a ball of soft clay more than 15 feet! Lay seige to your entire department with this formidable weapon and mercilessly crush cubicle uprisings. Includes all needed parts and soft modeling clay for projectiles. Requires knife and wood or white glue for assembly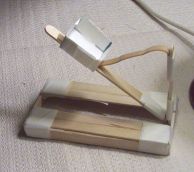 If you are looking for something easier to make you might want to try my project on making a popsicle stick catapult. Fast, easy and fun project! Goes great with the paper medieval castle. Make a popsicle stick catapult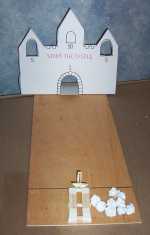 Storm The Castle Catapult Game - Build a Popsicle stick catapult and hurl paper balls at the castle. How to make the Game and the catapult are here