The Backyard Ogre Catapult
The base of this catapult is two feet long and the throw arm is about three feet long. It is made from 2x3's but you can make it from 2x4's also. It took me about two hours to make it.

This page is all about this catapult and how you can make one yourself.
Safety Note: This is a powerful catapult that uses a bungee cord as its power source. You must use safety precautions when building and using it! And you must absolutely wear safety glasses when firing it off. This is in case the bungee cord breaks. And never fire any type of solid object with it. I use balls of aluminum foil and it works just as well with a tennis ball.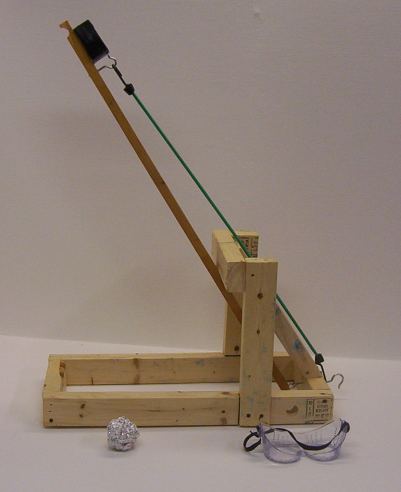 How far does it shoot? Quick Answer: A lot of people email me and ask how far this catapult fires. And to be honest its not a very powerful catapult. You may be able to get about ten yards out of it in the current configuration. It is just an easy to build catapult with no hassle. You can get a lot more out of it though if you use several bungee cords or surgical tubing. And if you change the wooden broomstick and hole configuration to something more efficient like a bearing or some kind of a set up with less friction like a teflon rod.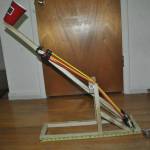 Want to make the OGRE catapult stronger, lighter and with a much farther throw? Two students did just that and they give us instructions with pictures on how they did it. The Steamlined/high-powered OGRE! This one shoots over 85 feet!
Modifying the Ogre for better performance
Have other people Made the Ogre Catapult? Or do you want to make one just a little bit smaller? Here is a user submitted version of the Ogre.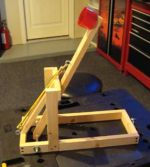 Like the Ogre Catapult but want to make one a little smaller? This is called
"The Little Ogre" and it was made by a web visitor (John L. and his son.) They made it 75% the size of the original Ogre and also added some nice improvements like a better pivot for the swing arm and a locking mechanism to release it with. More information and pics here. The Little Ogre Catapult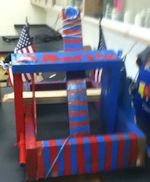 And here is a patriotic ogre catapult made by a web visitor! The Red, White and Blue catapult! It was made by Brent and Daniel. And it throws a tennis ball about 25 meters. It can send a water balloon around 6.8 meters.
---
See this catapult in action and learn more about it
How to Build the OGRE Catapult

A Note about Safety Before Starting! Please use all safety equipment when building and using this catapult! It is very powerful. Wear Safety Glasses and follow all safety rules if you are using tools and power tools. This project should not be done by minors without the supervision of an adult. Please be safe and never fire the catapult at a person or at someones personal property. Never fire any hard projectiles from the catapult.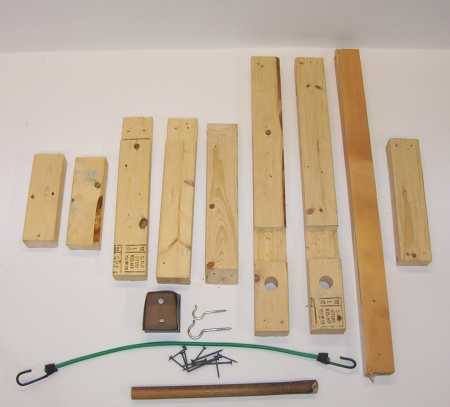 Above is a picture showing all the parts needed to build the OGRE Catapult. I will describe them and tell you a little bit about them. Lets start at the left. You can see that there are some cut notches and some holes drilled in the wood. I will explain what these are and how to do them.
From Left to Right the wood: (All wood is 2x3) The longest one is not quite 2x3 because I used a scrap of wood that I had but you can use a 2x3.
2 pieces each 7 1/2 inches long
3 pieces 14 inches long
2 pieces 24 inches long
1 piece 28 inches long
1 piece 10 1/2 inches long
The extra stuff along the bottom:
a cardboard cup (this holds your projectile)
2 large and strong eye hooks
a bunch of long screws (you can use nails but screws are better)
a bungee cord that is 24 inches long
a broom handle, dowel or pipe that is about one inch thick and 12 inches long
Okay, once you have these pieces of wood cut to length lets modify a few of them. This is the hardest part and once you have this done the rest of the catapult goes together very quickly and easily. We are going to cut two of the pieces of wood so we can form them into a joint like that shown below. It's not that hard. All you need is a handsaw, a chisel and some safety glasses and gloves. Making this joint is important because it will make your catapult much stronger.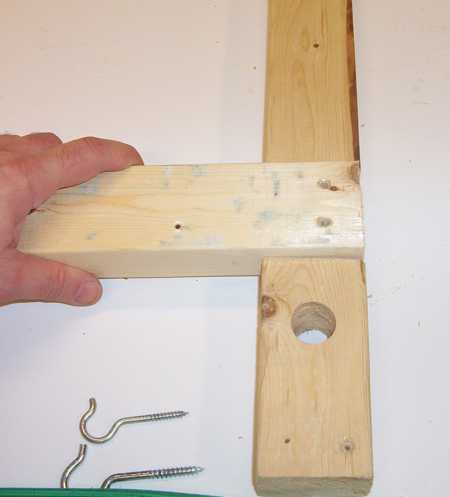 Okay, continue on and I will show you how to do this cut
---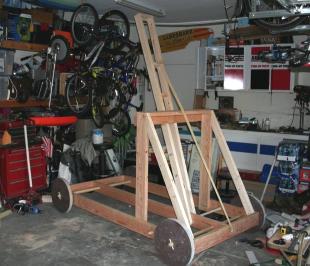 The annihilator! This is an eight foot long catapult built by a visitor to my website. He sent me pictures, a video and some tips on how he made this monstrous catapult! You can read learn more about it, see the pictures and watch the video of it launching here: Dr.Catapults Annihilator
BOOKS
Want to build a bigger, better, more powerful or fancier catapult? There are some great books available to you. These books, available at Amazon.com will help take your catapult building to new heights! Pun intended!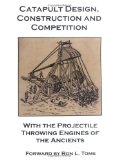 Catapult Design, Construction And Competition With the Projectile Throwing Engines of the Ancients
The Art of the Catapult: Build Greek Ballistae, Roman Onagers, English Trebuchets, and More Ancient Artillery
- Nice book that shows you how to build ten different catapult projects, moderate wood working and pvc piping kind of stuff. Good book with complete instructions and materials lists.
Buy from Amazon.com: The Art of the Catapult: Build Greek Ballistae, Roman Onagers, English Trebuchets, and More Ancient Artillery
Backyard Ballistics: Build Potato Cannons, Paper Match Rockets, Cincinnati Fire Kites, Tennis Ball Mortars, and More Dynamite Devices
Want to get a little more creative? This book is off the hook!
Buy From Amazon.com Backyard Ballistics: Build Potato Cannons, Paper Match Rockets, Cincinnati Fire Kites, Tennis Ball Mortars, and More Dynamite Devices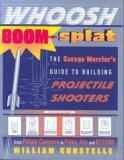 Whoosh Boom Splat: The Garage Warrior's Guide to Building Projectile Shooters
These are the homemade machines that you've dreamed of building, from the high-voltage Night Lighter 36 spud gun to the Jam Jar Jet, the Marshmallow Shooter, and the Yagua Blowgun. Including detailed diagrams and supply lists, Gurstelle's simple, step-by-step instructions help workshop warriors at any skill level achieve impressively powerful results.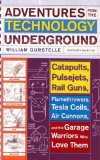 Adventures from the Technology Underground: Catapults, Pulsejets, Rail Guns, Flamethrowers, Tesla Coils, Air Cannons, and the Garage Warriors Who Love Them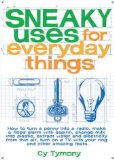 Sneaky Uses for Everyday Things: How to Turn a Penny into a Radio, Make a Flood Alarm with an Aspirin, Change Milk into Plastic, Extract Water and Electricity ... a TV with Your Ring, and Other Amazing Feats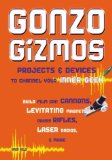 Gonzo Gizmos: Projects & Devices to Channel Your Inner Geek
- It's possible to use optics to roast a hot dog without electricity or a stove; to make a simple radio with just an iron, a few basic circuits and three shiny pennies; and to assemble a simple steam-powered boat with a plastic bottle, a candle, copper tubing and a nail. Of course, only die-hard science nerds would attempt these projects.
---
Kits and More Siege Engine Projects
Another Interesting Project: How to Build a Trebuchet

The Trebuchet was a unique siege engine of the middle ages. It was extraordinarily powerful and was easier for military engineers to build because it used gravity as the energy source. I also have a complete project on how to make the Little Dragon Trebuchet.
Amazon.com also has catapult kits you can build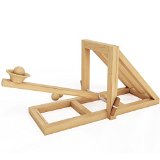 MOTA Catapult - Desktop Battle Kit -
Engage in a fun hands-on learning experience and build your own desktop catapult with the included easy-to-understand instructions and pre-cut wooden pieces
Test your precision and your catapult's power, or change the trajectory angle with the adjustable cord
Take aim and fire away with five lightweight wooden ammo that's safe for indoor use
Replicate the ancient art of war, or learn about the physics and engineering while constructing the catapult
Guaranteed fun for all ages, imagination and wood glue not included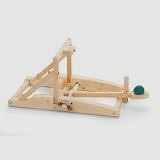 Catapult Kit
Lay Siege To The Doghouse! Right after you build your own working medieval catapult. All you'll need is glue, scissors and a steady hand to construct this wooden, Canadian-made siege engine kit. The finished catapult stands 6" tall x 5" wide x 10" long and will toss assorted stuff (meatballs?) 15 feet or further, depending upon the stuff. Comes with detailed instructions.
The Miniature Trebuchet
- The trebuchet was the ultimate artillery weapon of the medieval period and early renaissance. A large and unwieldy weapon, it was typically built on-site during battle, and tuned to lob great weights - such as the carcasses of rotting horses and pots of burning pitch, over the castle walls and onto its inhabitants. This is our newest and smallest trebuchet design in a long line of catapult kits. Designed by master trebuchet expert Ron Toms, this machine is ideal for the student on a budget or as a wonderful display piece for any desktop or bookshelf of any history enthusiast. Precision carved by computer controlled machinery for guaranteed fit and accurate joinery. The detailed instructions include loads of photos of each step of the construction process, tuning tips and safety notes. Included in the kit are four wooden projectiles, all the necessary components for the sling, trigger, and counterweight bucket as well as all the parts for the kit. The only thing you'll need to supply are 64 pennies for counterweight and a few simple tools - Scissors, a ruler, a utility knife, wood glue and a few rubber bands to hold the pieces together while the glue dries. Tools required: Scissors, Glue, Ruler, rubber bands and a utility knife. Sandpaper is optional. Additional Counterweight Required: 64 pennies. Range: About 10 feet.
What good is a catapult if you don't have a castle to attack!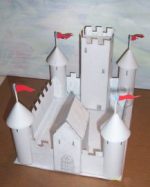 I have another project you might like. It is the Paper Castle and it has everything you could want in a castle making project including all the art work you can download. You just follow the instructions and make it yourself with some glue and cereal boxes. Build a Paper and Cardboard Castle It also has a learning sheet that helps to learn about castles when you are building it.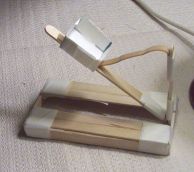 If you are looking for something easier to make you might want to try my project on making a popsicle stick catapult. Fast, easy and fun project! Goes great with the paper medieval castle. Make a popsicle stick catapult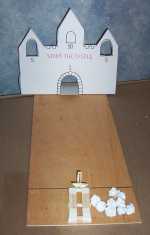 Storm The Castle Catapult Game - Build a Popsicle stick catapult and hurl paper balls at the castle. How to make the Game and the catapult are here