Blacksmithing on a Home Made forge
Ok, I have just begun the new art and hobby of blacksmithing and I have some definite goals with this pursuit. I want to make some decent medieval armor and weapons. But I don't want to spend a lot of money so I will be home brewing stuff as I can and I will show you these things and teach you how you can make them too. A lot of this will depend on what you have for materials, tools etc.
You are on the main page of the blacksmithing section so this is where you can come to check in on new tutorials, videos and projects.
For now you can see the various web pages for this section on the left in the orange column.
"Of the four elements, air, earth, water, and fire
man stole only one from the gods. Fire. And
with it, man forged his will upon the world."
-anonymous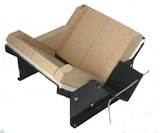 Whitlox Forges - There are two big problems when it comes to the hobby of blacksmithing. Getting a forge and getting coal! How about a mini forge that uses regular cord wood as a fuel! Yup, you have got to check out the Whitlox forges. Solves both problems of getting into blacksmithing. I have more information here. This small model is also available on amazon.com!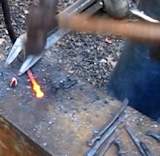 Make Nail Swords - Fun little project where you turn duplex nails into miniature swords. Make Nail swords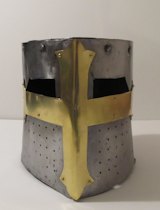 Forge a Medieval Great Helm - This is an interesting medieval armor project. I show you the process step by step. Note though that the helmet project isn't complete yet. I am waiting on some rivets to arrive so I can button it up and finish it. But you can check it out here: Make a Medieval Great Helm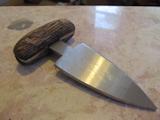 Make a Push Dagger, (Or push knife) - Interesting little weapon and pretty easy to make. But it does pose some interesting little challenges when making it.

Make a Karambit Fighting Knife- We use the stock removal method to make this vicious fighting knife. I also have the template for you.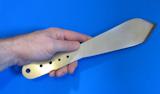 Make a throwing knife - This is a fun project to make and a fun project to use! I had a lot of fun with this. All you need is a piece of steel and some basic tools. And you don't need a forge. You can harden and temper this with a torch. Make a Throwing Knife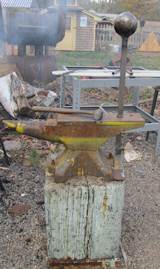 Make a planishing stake - In this case I call it a planishing ball. It is for shaping metal into curves and it is a standard tool for armor makers. Pretty easy to make this and I use a cast Iron Shotput. Make a Planishing Stake.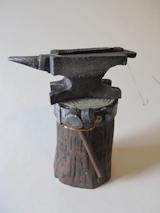 This is not exactly a blacksmithing project but... it is a fun little project on how to make a miniature anvil out of foam. It is part of a stop motion animation I have done. Check out how to make the foam miniature anvil here.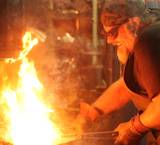 New show "Man at Arms" follows Hollywood Blacksmith Tony Swatton as he makes iconic movie weapons. In the premiere episode he makes the Jaime Lannister sword from Game of Thrones. Pretty darn cool and you can read more about it here: Man at Arms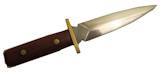 New Tutorial: How to make a dagger . It is very similar to making a knife. But there are a couple of differences. A dagger is edged on both sides and made for sticking not slicing! Make a Dagger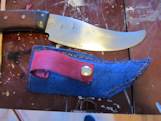 How to make a leather knife sheath - But we have a little fun with it and dye it. Great looking sheath. How to make a leather knife sheath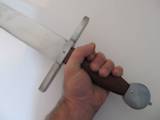 New Sword Making Tutorial - I take you through the whole process of making a sword. And this one is a good sized sword! Really beefy and feels good in the hands. How to Make a sword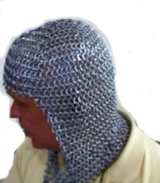 How to Make a ChainMail Coif (Headpiece) - Not a difficult project once you know how to make the chainmail loops. I show you the process to make a fitting coif step by step: How to make a ChainMail Coif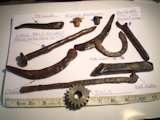 Check out this 700 Year old Blacksmith's Toolbox. This was found on what is believed to be the BannockBurn Battle site! Quite amazing. Technically it would be a Farrier's Toolbox.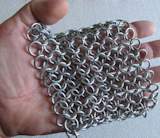 How to make chainmail: This is a tutorial that shows you step-by-step how to make chain mail. I show you which wire to use, how to create the rings and how to weave the actual mail. How to make chainmail. I will also be doing a tutorial on how to make a piece of chainmail armor.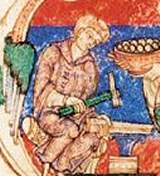 New: A look at some famous blacksmiths though the centuries. They have always held a special place in cultures because of their skills and sometimes because of the magical items they forged.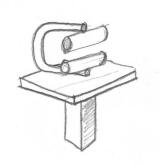 New Project started: Make a fullering tool. A fuller (also known as a cannelure) is a groove down the length of a sword or knife. It is on both sides. So, how do you do that neatly and evenly? You make a fullering tool. See that project here: Make a fullering Tool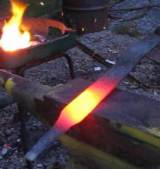 How to Forge a Sword - This is part 1 of a series of tutorials that take you through the whole process of blacksmithing a sword: How to forge a sword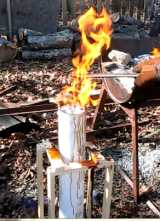 New Tutorial: If you are making swords you are going to need something to quench them in! I have a tutorial on how to make an easy quench out of some PVC pipe. How to make an Oil Quench for swords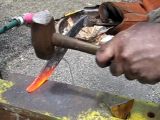 Tutorial on How to Forge a Knife - I take you through the complete process of forging a knife. All the way from raw piece of steel to finished knife. With lots of pictures and even videos. How to forge a knife

New: A look at Hardie tools and how they are used. They are an important part of the blacksmiths toolbox.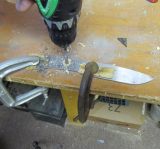 New Tutorial on Knifemaking - This tutorial is comeplete. It shows you how to make a real knife without all the forging! You just need some basic tools. making a knife using the stock removal method.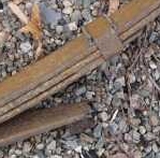 New Article: Scrounging up metal for your blacksmithing - Got a forge, tools and anvil? Well, that still isn't enough. You of course need metal! I have some tips on where to scrounge up metal without breaking the bank!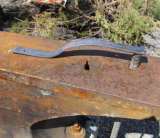 New Blacksmithing Project: Make an easy Pritchel Hole Clamp - terrific little tool for holding items down on the anvil and it is easy to make. The Pritchel Hole Clamp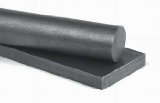 I am starting a new series of tutorials on knife making and the first part of this is a look at the various steels that are used. Includes a look at the popular steels and their characteristics: Steels for Knifemaking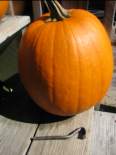 If You are a Blacksmith you can add a little panache to your Pumpkin Carving
With a little creativity and some scrap pieces of metal you can make yourself some unique pumpkin carving tools. It is kind of a neat little idea. Always great to find a reason to crank up the forge! More info and ideas here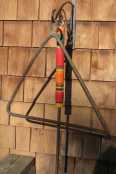 New Project: (easy) Make a Dinner Bell Triangle - You just need a piece of rebar and a few other things you can scrounge up and you have a home made dinner bell. Dinner Bell Triangle

New Tutorial: How to make coal for your forge. I show you several different methods for making a high quality coal. How to make coal
Blacksmithing Diorama - I made a diorama of a medieval blacksmith shop. Fun project. Has a forge that lights up with a red glow, a tiny anvil and an even tinier hammer that I carved out of a toothpick: The Blacksmithing Diorama

On my youtube channel I have been creating a series of videos on the art of blacksmithing. You can visit that channel here: Blacksmithing Videos

How to make a simple yet effective Blacksmithing Forge (The lawn mower forge -lawnmower not needed). I show you how to make a forge. This includes the concepts of how a forge works and how to make it. This is the forge that I use in all these tutorials and videos.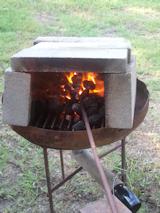 A web visitor built himself a backyard forge. You can check out pictures of it and his home made anvil here. JR's Forge and Anvil

New: A recent trip to a renaissance faire where there were two blacksmith shops. Want to see a real medieval smithy complete with stone forge and real working bellows? A look at the Blacksmiths and forges of a Renaissance Faire
The Blacksmith Courses - I have a series of courses on blacksmithing and most of them include videos so you can better understand the concepts and techniques of blacksmithing. Most lessons also include a video so you can see the technique in action.
New Section on Blacksmithing Tools available on ebay: There are a couple of obstacles you have when trying to get equipment. It can be rare because blacksmithing is a small community and it can be expensive. You can however find everything you need on ebay. I have direct real time ebay listings here.
Some upcoming stuff
I have a whole lot of blacksmithing stuff coming. here is a brief overview of some of it.
A closer look at the home made forge and how it is made, including pictures and videos
Some of the basic skills of blacksmithing which include the use of the hardy hole for hardy tools like hot cutting and bending.
An analysis and review of some of the more popular blacksmithing books.
The use of stranded cable to make solid pieces of iron. Stranded cable is easy to weld and forge together.
A closer look at the anvil and the various parts ( done located Here)
Making a knife -This tutorial is started but not yet complete
How to make a dinner bell triangle This is a neat little project that is easy to make