How To Make A Small
Torsion Catapult (Mangonel)
A torsion catapult is a bit different than the other catapults that we have made before. It is a type of catapult that is actually more true to the types that were used in the middle ages. Our catapults, up until now have primarily used rubber bands as a means of propulsion. Well, in the middle ages they didn't have rubber bands! Let alone rubber bands big enough to make a catapult that could hurl large rocks.
What they did have was rope and rope works well in a catapult. The principle of using rope is that when you twist up rope real tight it causes a lot of tension or (torsion) that when quickly released will give off a lot of energy in a quick burst and this quick burst can be used to hurl a projectile. This type of catapult is officially called a "Mangonel".
"A Torsion Catapult (or Mangonel) is more Medieval and More accurate to the Middle Ages.
It uses materials that were readily available in the Middle Ages".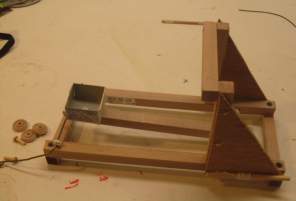 The picture shown here on the left is of our completed Mangonel Catapult. The base is twelve inches in length. This catapult is loaded and read to fire. Just need to put something like a marshmallow in the cup.
This tutorial takes you through all the steps necessary to make a nice Torsion powered catapult. I give you a complete parts list and complete assembly instructions. There is also a set of plans that you can print out. It is actually quite an easy project to complete and once you have all the parts it should only take you a couple of hours. The hardest part is taking your time to wind all the string into it.
(Note: I do have a video about ten minutes long that shows you the complete assembly process as I make this mangonel. Video: How to make a torsion powered catapult or Mangonel )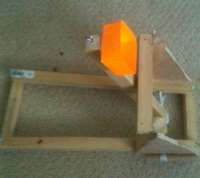 Abhinav made this catapult and it came out great! Here is a pic. And my thanks go to him for sending in the pic.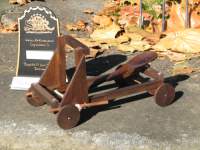 Here is another catapult that was made by a pair of web visitors (Eileen and Kate) They based it on this project and added some nice improvements including a wooden spoon for the throw arm and some wheels. This catapult is an official award winner! The Award Winning Torsion Catapult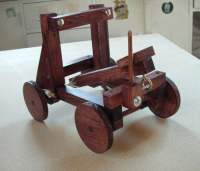 Have other people made a mangonel like this? Yup, Here are some pictures of a mangonel based on this project with the addition of wheels and some nice upgrades including staining of the wood. Submitted by Barry. Thanks Barry! Barry's Mangonel
---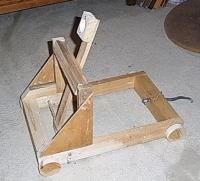 Can you make one of these catapults? You sure can and here are some pictures submitted by a web visitor who made one! It came out great and he made a modified release mechanism. This was done by Brendan H. (Thanks Brendan!) Brendan's Torsion Powered Catapult (Mangonel)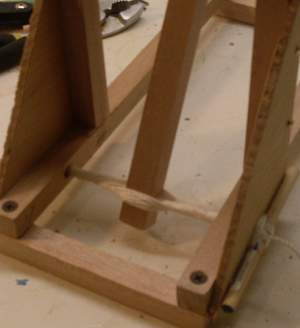 How this Catapult works - The picture at left shows the twisted strings. By spinning the wooden peg you twist the string tighter and tighter. This causes a lot of tension which can be used to fire off the catapult. It is a pretty effective thing and if you wind it up tight it can really fire off!
Let's Begin Making this Mangonel
The picture below shows all the parts and tools I used to make this catapult. You can vary some of this according to what you have and how you want your project to come out. Below the picture is the parts list.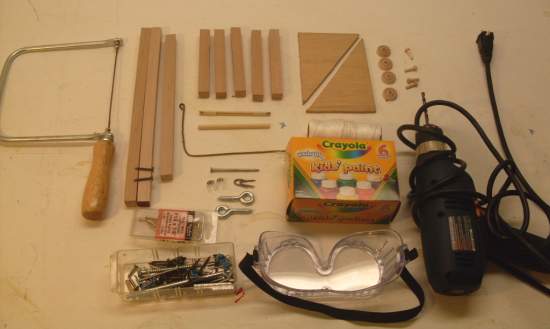 Parts List:
The structural pieces of wood are 5//8 square in the following lengths from left to right:
2 pieces twelve inches long
1 piece ten inches long
5 pieces that are five inches long
the flat board that is square but cut diagonally across was a square four inches by five and three quarters inches. Use some thin wood like paneling. Cut out the square then cut it diagonally so it is in two parts as shown.
2 thin dowels, directly underneath the 5 five inch pieces you can see two thin dowels. I used 3/8 inch round but you can use two nails or two pencils for this. These are what you twist the rope on.
1 piece of wire coat hanger, this acts as a release mechanism.
A variety of screws or nails - long enough to secure two pieces of wood together but not so long that they go all the way through.
Three small eye hooks, or heavy duty staples, large enough for the coat hanger to pass through. You will see how these are used.
String or twine, use the kind that is made up of multiple strands. Depending on the thickness of it you will need as much as twenty feet!
Marshmallows - Used as projectiles!
Toy wheels and axle pegs - strictly optional, you can see them in the upper right of the picture
Tools List
Power drill - You can get by without a drill but it makes it a lot easier
Drill Bits: 1/8, 15/64, 9/32 - These are the three bits I used but there is a lot of wiggle room in this and you don't have to have these exact bits.
Saw - to cut your wood, almost any kind of saw will be fine
Hammer - if you are using nails or small tacks
Screwdriver - if you use screws
Glue - optional but recommended for strength
Safety Glasses - always wear them when working with tools or when firing the mangonel
Paints - or anything else you want to decorate your mangonel with

Okay! Lets start building this Mangonel Catapult
Want to build a bigger, better, more powerful or fancier siege engine? There are some great books available to you. These books, available at Amazon.com, will help take your trebuchet or catapult building to new heights! Pun intended!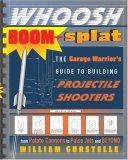 Whoosh Boom Splat: The Garage Warrior's Guide to Building Projectile Shooters

The Art of the Catapult: Build Greek Ballistae, Roman Onagers, English Trebuchets, and More Ancient Artillery
- Nice book that shows you how to build ten different catapult projects, moderate wood working and pvc piping kind of stuff. Good book with complete instructions and materials lists.

Backyard Ballistics: Build Potato Cannons, Paper Match Rockets, Cincinnati Fire Kites, Tennis Ball Mortars, and More Dynamite Devices
Want to get a little more creative? This book is off the hook!
Amazon.com also has catapult kits you can build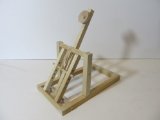 Catapult Kit - The Goblin
(Will's Catapult kit)
StormTheCastle.com has it's very own goblin catapult for sale on amazon.com You can check it out by rolling over the text or clicking to go to the amazon site.
The Desktop Onager: An Awesome all Wood and Twine War Machine
- Fiercely Fend Off Office Rivals -- Conveniently sized to sit on your desk, this intimidating little machine is an actual working reproduction of an onager. -- The weapon is all wood and twine with no metal parts, but it packs a big punch. Load it up with the included wooden balls or get creative with marshmallows, coffee creamers, erasers and more to see how many cubicles they can soar above before landing. -- Properly constructed, the onager has a range from 10 to 20 feet. The ancients were able to use nothing but wood and ropes to build machines that could hurl heavy stones great distances, now you can do the same to enforce peace in your office or dorm room. -- Build it yourself in under three hours, because this kit includes everything you need except for glue and a few simple tools like scissors, sandpaper, and a file. Colors may vary. -- Warning: This is a representative model of a real ancient military weapon. Use only with competent adult supervision.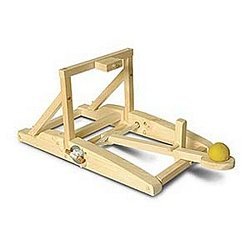 Working Wood Catapult Diy Kit, 6" X 5" X 10"
Expand your kingdom one cubicle at a time with this working replica of one of the most infamous and powerful siege engines... the catapult. When completed, the catapult can shoot a ball of soft clay more than 15 feet! Lay seige to your entire department with this formidable weapon and mercilessly crush cubicle uprisings. Includes all needed parts and soft modeling clay for projectiles. Requires knife and wood or white glue for assembly
What good is a catapult if you don't have a castle to attack!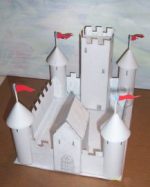 I have another project you might like. It is the Paper Castle and it has everything you could want in a castle making project including all the art work you can download. You just follow the instructions and make it yourself with some glue and cereal boxes. Build a Paper and Cardboard Castle It also has a learning sheet that helps to learn about castles when you are building it.