How To Make Dioramas
Making Dioramas is a wonderful hobby that can exhibit an extraordinary wide range of creativity. You can make a diorama of almost any scene your mind can imagine. Here are tips, tutorials and example dioramas that will help you to make your own dioramas. There is also a tutorial of "The battle for the treasure". It is a wizard battling three skeletons for a treasure and in this tutorial I take you through all the steps of making a really great looking diorama. There are lots of pictures and a clear explanation of everything you need to do from start to finish including wiring it up for lights!
How to Make a Diorama (The Official Tutorial is here)
Dioramas are a great way to express creativity. You work through manys stages of the creative process. You conceptualize then design a scene then you work with the materials to make it a reality.-great tutorial that shows you how to make a diorama from start to finish. It walks you through all the steps and techniques.
---
| | |
| --- | --- |
| The New Scenery Tips & Techniques (Model Railroader) Looking for a good book on how to make Diorama scenery? This book is not just for railroaders. It is perfect for the diorama maker. | How to Build Dioramas - Looking for a good book on how to build Military dioramas and how to paint the models, tanks, airplanes and other things? This book is terrific. I own it and love it. |
---
Lots of Diorama Projects and Tutorials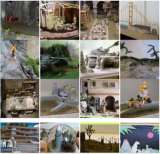 Diorama Image Gallery
I have put together an image gallery from many of the dioramas on this website. If you are looking for diorama ideas or just looking for interesting dioramas you can quickly look through this gallery of pictures and click on any image to take you to that tutorial. The Diorama Image Gallery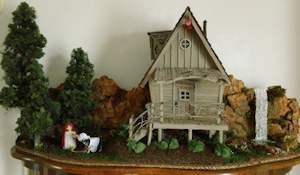 Little Red Riding Hood Diorama - You have got to see this diorama. It was made by a web visitor. And she uses a lot of standard diorama making techniques like trees, terrain, rocks and waterfall. The Little Red Riding Hood Diorama.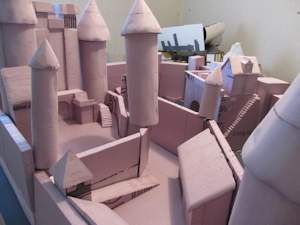 Storm The Castle Diorama -
This is a massive diorama of a big castle that is being sieged. Something like this is going to take quite a while. You can see how it is being made right here: The Storm The Castle Diorama.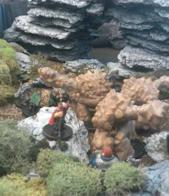 Hobbits Outside the Trolls Cave
A fun little diorama made by a web visitor. It depicts a scene from the hobbit. Check it out here.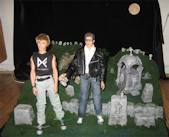 A Diorama for a comic book
A diorama can be a terrific addition for the marketing of a comic book, or anything else for that matter. Check out this diorama as a companion to a comic book.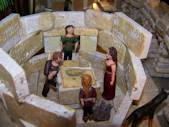 Egyptian Palace and Fantasy City
Here are two fun little dioramas with Polymer Clay figures that was submitted by a web visitor. Check it out here.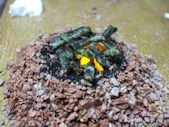 How to make a bonfire
This is a really ingenious tutorial on how to make a realistic looking bonfire.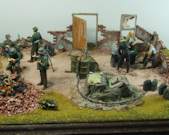 Germans at Rest Diorama
Here is a another diorama made by Glen. He captures a moment in time where: Germans are at Rest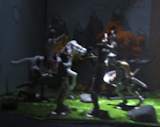 Pepper's Ghost Box diorama
Here's a fun project that fuses science with diorama's. In this tutorial we utilize something called Pepper's Ghost Illusion originally created by John Henry Pepper. This illusion which was used in theater, projects a translucent version of a person or object several feet from a glass pane. Pepper's Ghost Box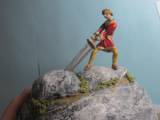 The Sword in the Stone
Here's a fun tutorial based around The Sword in the Stone. It depicts Arthur pulling the sword from the stone. I show you how to make the diorama and how to sculpt the miniature Arthur: The Sword in the Stone Diorama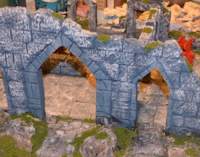 The Medieval Ruins
This is a terrific little diorama made just about all out of foam. Brian shows us pics and tells us some of his techniques for making the medieval ruins diorama..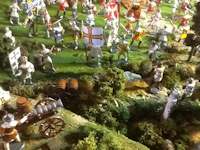 The Battle of Grunwald
I love everything medieval and I love everything diorama. So, you can imagine how crazy I am about this medieval diorama. It is the Battle of Grunwald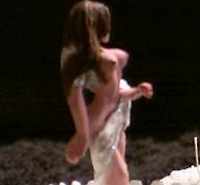 Auburn Venus This diorama was inspired by the famous Boticelli painting of the Birth of Venus. It's a wonderful and creative idea. Auburn Venus.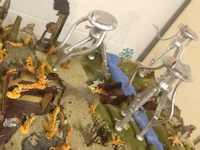 War of the Worlds Here is a fun little science fiction diorama. Joseph tells us a little bit about how he made this. War of the Worlds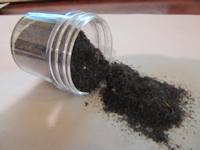 How to make terrain texture out of pencil shavings
Yup, great way to turn pencil shavings into terrain of any color and consistency. How to make pencil shaving terrain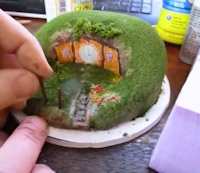 Make a Little Hobbit Diorama
This is a neat little hobbit diorama that you can make with just a piece of foam. This is Bag End. You can improvise all kinds of terrain features for this. Make a Hobbit Diorama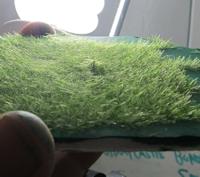 Tall Grass in a diorama
You can use an electrostatic tool to make tall grass that stands up. Its a great looking way to do grass in a diorama. I have the tutorial right here. Tall Grass Flocking in a diorama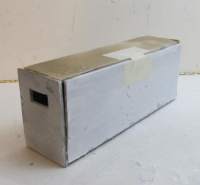 Illusion Diorama A neat little diorama project that uses mirrors to trick the eye. Fun and easy. You look inside the peephole to see a scene that is two feet away. The Illusion Diorama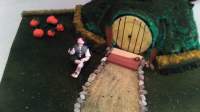 Hobbit Diorama Here is a neat little diorama made by Matthew. Its a hobbit diorama. See more pics here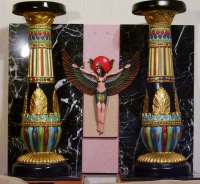 Isis Rising Diorama Here is a great example of buying a few unique items and turning them into an interesting diorama. Check it out here: Isis Rising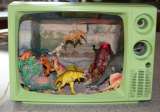 Dinosaur Diorama in a television set This is a seriously fun diorama project that was submitted by a web vsitior. Make a diorama in a TV. Hows that for recycling!! Dinosaur Diorama in a TV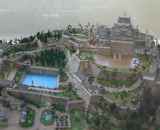 Japanese Castle Dioramas Here are pictures of two very elaborate dioramas of castles in Japan. I took these pictures while on a trip to Japan. Japanese Castle Dioramas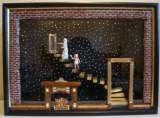 Diorama of a Dream A web visitor (John) had a dream and decided to build a diorama to show the dream. Pretty cool and this diorama definitely has a dream-like quality about it. Check it out here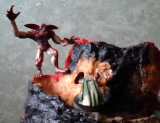 Volcano Diorama How about making an interactive diorama with a working volcano! Yup, this is exactly what Jeffrey has done. Check it out here: The volcano diorama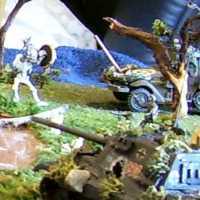 Desperate Allies Diorama German and American troops are forced to work together in a desperate attempt to fight off the onslaught of an undead army! A great blending of WW2 diorama and fantasy diorama! You have got to see this one! Desperate Allies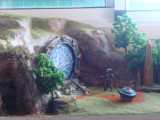 Stargate Diorama This is a terrific diorama made by a web visitor (Lee). He also gives us pictures and information about how to make a diorama like this. The Stargate Diorama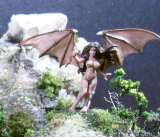 3 Succubi Diorama I have This is a desktop sized diorama that you have just got to see. Definitely one of my favorites. If you are looking to do some kind of fantasy diorama you might want to take a look at this one. The 3 Succubi Diorama And Marshall has made some other terrific diorama projects that you also might want to take a look at including: Aerial Battlefield - Dragon on the Bridge - Roman Warship - Rocky Cliff Shadowbox - YOu can see them all here: Marshall's Dioramas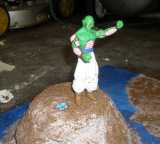 Dragonball-Z Diorama Here is a fun diorama you can make so a child can play with Dragonball Z Figures. The DragonBall Z diorama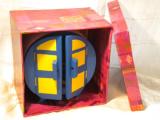 Gift Diorama
Making a diorama as a gift is a great idea. You can personalize the diorama to the recipient. Here is a terrific diorama made as a gift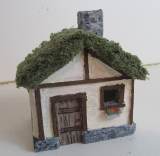 New series of Tutorials I have just begun work on a medieval village. This is going to be quite an amazing diorama. I have a main page for that whole project and have completed the first tutorial in that series called How tto Make a Medieval Peasant's House . Go to the medieval village page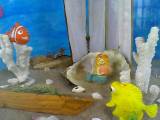 Nemo and the Mermaid Diorama Nice diorama submitted by a web visitor (Marc) An underwater scene with Nemo and a mermaid. Wonderful thing about this is using a glass container as the enclosure. It simulates a fishbowl Nemo and the Mermaid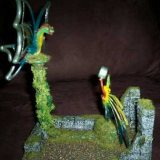 The Dragon Queen Diorama Terrific little diorama submitted by a web visitor. (Eric). He tells us how he transformed various materials into this diorama including the glass wings. Dragon Queen Diorama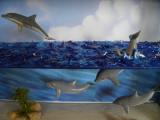 Make a Dolphin Diorama This is a beautiful diorama made and submitted by a web visitor. It uses some easy yet fantastic water effects. Check out the diorama and see how to make one here: The Dolphin Diorama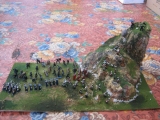 A Lord of the Rings Diorama (Battle of the Five Armies) Does it get any better than this! This is a lotr diorama made by a web vistior. Check out the pictures and more. LOTR Diorama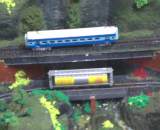 A Railroad Diorama Railroads, trains and tracks are just about the perfect subject for a diorama and this is one that was made by a web visitor (Swapnil) He improvised all the various terrain features. Swapnil's Railroad Diorama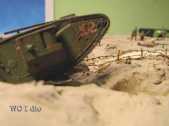 WW1 Diorama I All I can say about this diorama is WOW! It isn't complete but it is coming along amazing. You have got to see the realistic looking terrain and trenches in this diorama. This diorama is being made by a web visitor (Christophe I.) Amazing WW1 Diorama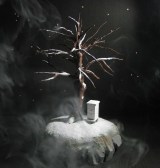 The Changing Tree Diorama I created this tree with some special effects that are different including smoke around the base and stars that light up in the background. I also made this diorama so that the tree could follow the seasons over the course of the year. The Changing Tree Diorama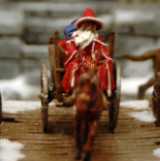 An Amazing Lord of the Rings Diorama -with a Christmas Theme (Gandalf is Santa!) I absolutely love this diorama submitted by a web visitor. It is stunning and was 280 hours of work. If you are a fan of dioramas or of Lord of the rings you have got to check this diorama out. The Lord of the Rings Christmas Diorama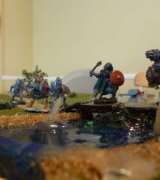 Make a Kids Castle Play Diorama I don't have a tutorial on how to do this yet but I do have some pictures of a nice kids castle diorama for kids to play with. Neat idea made by a web visitor> Kids Play Castle diorama
Make an Egyptian Diorama : A tutorial with lots of options on how to make an egyptian diorama.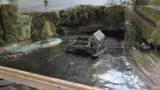 An amazing Boat Mill diorama - A Boat mill is a Mill that floats on a river. This is a terrific diorama with some amazing water work (submitted by a web visitor: Vic) See pictures of this diorama here: The Boat Mill Diorama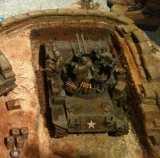 Vietnam Era Diorama - This is an amazing diorama of a vietnam scene. It has miniature soldiers and a group of excellent vehicles in 1/35 scale. It was made by Ron D. and my thanks go to him for submitting the pictures. Vietnam Diorama
Jack and the beanstalk bio diorama - Neat project with Jack and the giant and I used a real beanstalk. I call this type of diorama a "Bio Diorama" because they have a live component to them Jack and the Beanstalk diorama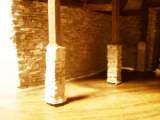 Is it real or is it a diorama? Well, this is a diorama but it looks pretty real. I have more pictures of some amazing diorama buildings.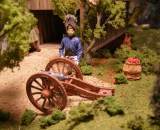 Colonial Times Diorama - This is an excellent diorama that shows you some great techniques like buildings, variety of landscape, water and more. (This diorama was submitted by Charles B.) The Colonial Times Diorama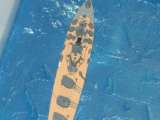 Inexpensive way to make water in a diorama These pictures and this tutorial was submitted by a web visitor (Ryan) He gives us some tips on how to inexpensively make water in a diorama. He uses caulk and paint. And in this naval scene diorama he even adds the water spouts for dropped bombs! Water in a naval diorama
Make a Bio-Diorama. This is a living diorama with caterpillars and butterflies.StaIt is an interesting idea where part of the diorama is alive! In the case of this one our adventurer is lost in a cave and stumbles upon some enormous cocoons. They are real butterfly cocoons. The Bio Diorama Project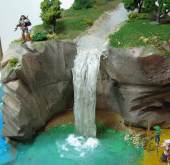 A Waterfall in a diorama
Actually pretty easy to make a great looking waterfall if you know the right tools and techniques. I have it right here: Make a waterfall in a diorama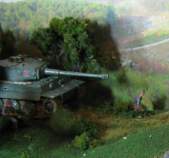 How to make a WW2 Diorama
This is an in depth tutorial with videos on how to make a WW2 diorama. I use 1/72 Scale How to Make a WW2 Diorama
Some wonderful new Diorama buildings. I have discovered a company named Conflix that makes some terrific 1/72 scale stuff for dioramas and wargaming. Here are six different items for Medieval And Renaissance dioramas: Conflix Diorama Buildings I really like these buildings.
Tips on making outstanding Diorama Terrain and adding water effects . I take a look at a battlefield-like terrain and a riverbed terrain and point out some useful tips on getting it realistic looking. Tips on making realistic diorama terrain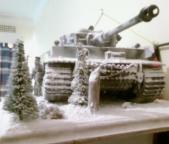 How to make snow in a diorama
How to make snow in a diorama Here is a great tutorial submitted by a web visitor. It shows you how to make realistic (and durable) snow from scratch.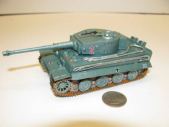 WW2 Diorama Stuff I have started a whole new section on WW2 Models, miniatures and dioramas. This section is currently growing and it will feature a How to make a WW2 tank Battle diorama tutorial. WW2 Models, Miniatures, and Dioramas
Return of the Cursed Legion Diorama This diorama was made and submitted by a web visitor (Jeff). It is a game system and sometimes a game system is terrific just for the diorama! . Return of the cursed legion
Home Made Dinosaur Diorama This diorama was made and submitted by a web visitor. It is a good example of finding materials around the house and being creative! Pozdrav's Dinosaur Diorama
1/72 Diorama stuff You probably have seen that I have some really nice models and tutorials in the 1/72 scale. I do like this scale for several reasons. I have a tutorial that shows you some of the strong points (inexpensive) and some of the weak points of this scale. I also have ideas on dioramas you can make in this scale and resources to where you can buy stuff. About the 1/72 Scale Diorama
Insect Maker Diorama Here is a stunning diorama made by a guest artist (Alberto A.) It is called "Insect Maker" and Alberto calls his work "Visionary Chambers". In this tutorial he lays out how to preserve insects and other natural objects like plants and leaves to use them in your diorama. He also gives us some great tips on making miniature furniture and fabrics: The Insect Maker Diorama
How to make a diorama out of Paper Mache Don't have the materials for a diorama? You can make one out of paper mache which is just flour and water. I show you how in this tutorial where I make a scene from the Lord of the Rings Castle Helms Deep. How to make a paper mache diorama
Make styrofoam diorama landscaping Here are some great pictures and tips on how to make professional looking diorama's using styrofoam. Styrofoam Diorama Making
WW2 is a great subject for diorama making and lots of people make dioramas in this period. Here is a series of pictures of a small WW2 Diorama that a web visitor has made. The visitor also has included some great tips on how he made this unique and creative diorama including a tree, water effects and some great tufts of grass How to Make a WW2 Diorama with tips, tricks and hints
Foam terrain for wargaming or dioramas New Tutorial on how to use foam to make wargaming terrain or a diorama. This tutorial, which includes a video, shows you types of foam, good and bad foam, the tools used, including regular tools and hot wire tools. And it shows you the process for making terrain from foam. The project shown here is completely made out of foam -castle and all. How to use foam to make wargaming terrain and dioramas
An Empty Diorama Box (downloadable) An Empty Diorama box that you can print up and assemble. Half the fun of a shoebox diorama is the shoebox. This is a complete download that you can print and assemble so you have your own fancy box. The Printable Diorama Box This is the box I use in the tatebanko castle diorama shown below.
Tatebanko: The Lost Japanese Art of Paper Dioramas - This is a wonderful way to make dioramas just with paper. I have a complete download of this tatebanko castle, pictures of a professional tatebanko and a download of the empty box if you want to fill it with your own diorama. Tatebanko Paper Dioramas
How to make realistic miniature trees- This tutorial (with a video) shows you how to make great looking miniature trees. The focus here is on using clay to sculpt the trunk. Make realistic Miniature trees
Interested in Miniatures?
Want to make them? Sculpt them? Paint them? I have a whole section devoted to the art of sculpting and painting miniatures. Miniatures -
D & D, Ral Partha and lots more. No diorama is complete unless it has some fantastic miniatures!
Make a spectacular Wall diorama for your miniatures
This is an on going project that takes you through the construction of a wonderful wall diorama How to make a Big Wall Diorama for your fantasy miniatures
Castle inside a lightbulb diorama
This is a creative little diorama that has a castle and a dragon right inside the lightbulb. I also show you how to add a tiny light to the tower of the castle and the easy way to hollow out the light bulb. Lightbulb Diorama
Make a Trench Warfare Diorama
This is a wonderful little trench warfare diorama submitted by a web visitor (Alika). I show you the diorama and also show you a tutorial on how to make trenches for your diorama. If you like Military Dioramas this is for you. Trench Warfare Diorama
How to sculpt fantasy miniatures:
This is an in- depth series of tutorial including videos that shows you how to sculpt fantasy miniatures and gives you the practice, techniques, skills, and tips needed to do a good job of it. How to Sculpt Fantasy Miniatures
Make a foam based diorama with a river
This is a great diorama submitted by a web visitor. It shows all the steps taken to make this wonderful scene from the past on the Mississippi River. The Diorama
How to use cork to make great looking rubble on your diorama
This is terrific for battle scenes, or broken down and run down towns and areas of your diorama. Cork is very useful and looks great. Here is the complete tutorial including painting tips and a video. Rubble Diorama
Make a cemetary Diorama
This is a nice spooky diorama with gravestones, a creepy fence and a small mausoleum. I show lots of tips on using everyday materials like popsicle sticks and toothpicks. I also have a video with this tutorial. Cemetary Diorama
How to make a Dinosaur Diorama - This is an active diorama - The meteor flashes across the sky and the volcano erupts. Easy to make and teaches about the theories of dinosaur extinction. Nice learning shoebox diorama. The Active Dinosaur Diorama
Wizard's Tower Diorama that I also made a video game of! This is a tutorial on using foam to make dioramas. Here is where the tutorial starts and here is the video that also shows about a minute of footage with me playing the video game. I have to get into the tower, get the fire staff, and slay the dragon.! Fun, multi-discipline project.
I used the motor from a ten dollar remote control car to automate the drawbridge. It goes up and down. Neat project and I show you how to do it. I also have a video that shows it in action. Motorizing a Diorama Tutorial
How to make rubber molds for your diorama How to make rubber molds for your diorama. A great way to make rocks, cliffs, cliff formations and castle walls. Easy to do with latex rubber. You just brush it on. How to make rubber molds
Castle Siege Diorama Project This is a terrific diorama project built and submitted by a web visitor (Krzysztof O.) My thanks to him for sending us these terrific pictures. The project includes a big castle with a main gate, a battering ram, a trebuchet and a mantlet. You can see pictures of this project here: The Castle Siege Diorama
How to make miniature trees for dioramas and model railroads How to make miniature trees for dioramas and model railroads. I show you the traditional way to do it and I show you some improvisations so you can make trees with materials found around the house. How to make miniature trees
How to make trenches in your diorama How to make trenches in your diorama. Particularly good for military and battle scene dioramas - Just plan ahead and build the structure around the trench. Video shows how to do it.
The Battle of Thermopylae (300) diorama the Battle of Thermopylae where the 300 Spartans made their last stand. I have also transformed it into a tutorial that shows all the basics of how to make a diorama. It is not complete yet but there is quite a bit of great diorama making information there. The Battle of Thermopylae Diorama
Medieval Castle Diorama A Video of my six foot Medieval Castle Diorama - This video shows my diorama which has a working waterfall and lights in both the castle and the evil mountain. Medieval Castle Diorama Video
Ocean Diorama This is a unique little ocean diorama shaped like the porthole of a submarine and made out of a cookie tin. I have full instructions and artwork for you to print and make. Easy and fun project. A new take on the ocean diorama. Imagine looking out the porthole of your submarine and discovering Atlantis! Now you can. Ocean Diorama
Firefly Diorama This is a great little shoebox diorama that uses tiny blinking lights as fireflies. Battery operated and you can make it. See the project tutorial and the video of it in action Firefly Diorama
Here is a seven foot Diorama complete with castle, waterfall and working lights and sound. You can see more pictures of this diorama model here.
This model diorama is part of a free tutorial on how to make dioramas. It is complete from start to finish. It shows you how to design it, create the landscape shell, add the terrain and trees then add the miniatures. This tutorial has all the basic steps to making a model diorama. See the tutorial
Shoebox Diorama of a knight and dragon- See the tutorial on how to make this nice diorama of a knight battling a dragon. The dragon is suspended in mid-air. One of the unique things about this diorama is that the shoebox is in the vertical position. This tutorial has everything you need including all the art work that you can print and color. A fun project.
ShoeBox diorama of knight and dragon battle
ShadowBox diorama of a dungeon scene- This is a nice project that gets framed and hung on the wall. You can show off your miniatures in this shadowbox.
The Shadowbox tutorial
Painting Miniatures Tutorial: If you are making dioramas and you have miniatures, whether it be military miniatures, Dungeon and Dragon Miniatures or just Fantasy Miniatures you know that painting them is one of the most important parts of the process. I have put together a tutorial on how to paint miniatures. Miniature Painting
Here is a scratch built diorama of a covered bridge. This project was built and submitted by a web visitor (David O.) It shows some great uses of popsicle sticks and in particular is the thatched roof and the old fashioned wooden fence. Thanks Dave! See more pics and get tips here: Covered Bridge Diorama
A guest artist has combines his love of painting with the art of Diorama making. He has put together a nice tutorial on how to take a painting and transform it into a shadowbox style diorama. But this isn't as far as he goes. He also shows us some really nice trick of the eye techniques for making the diorama extra special Dioramas from your paintings
Check out these dioramas submitted by a visitor to the website. They are a great example of creative use of materials.
Some tips on building a diorama like this awesome halo diorama. This isn't my diorama. Somebody asked me for tips on how to build one like this. I lay out some solid help that shows how to make the base using sculpting foam. Nice looking diorama and really sets a great scene. Here is the tutorial on how to do something like this
A couple of WW2 Dioramas submitted by a web visitor. Here are two videos with tips on making a WW2 trench like the one shown in the pic and a diorama with a Tiger tank. WW2 Diorama stuff
Here is a beautiful diorama of a christmas Holy land scene. This was submitted by a web visitor (Juanamie P.) Thanks Juanamie! Christmas Holy Land Diorama
A user submitted creative suggestion. Being creative when using materials to make landscapes. This diorama landscape came out superb. I have more pics and suggestions on being creative with your diorama making here. Creative Diorama Making
Here is a beautiful Wildlife diorama made and submitted by Heather D. My thanks to her for this great project. She gives us some great tips on how she made this including what products she used. Wildlife Diorama: Elephant at an Oasis.
---
Model Dioramas
Check out the Diorama and Miniature store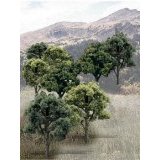 Want to take your diorama making to new heights of realism? I have put together a selection of materials you can buy from amazon.com. These are great materials that hobbyists use to make really life like dioramas. The trees you see here are one of the kits. They look real don't they?
Woodland scenics Trees and more at Amazon.com They have all the materials you could need.
Diorama making is an extremely rewarding hobby and if you are looking for a way to learn even more and expand your skills to new heights here are a couple of books on the art and craft of diorama making.
From Graves to Caves:: Modeling Your Diorama!

Do you like making projects and a exploring a variety of hobbies?

Sign up for my free newsletter. I give you regular updates on hobbies and projects you can make. it is totally free and I don't share your email with anybody.