1 72 Diorama making
The 1 72 diorama scale is an excellent diorama making scale for a few different reasons. First off there are a lot of kits available in the scale and they are reasonably inexpensive. You can add a lot of great stuff to your diorama without adding a whole lot to the cost of the diorama.
And, because the scale is small you can get a bigger scene into a smaller space. You can get a whole lot of stuff onto a diorama that is only 1 to 2 feet in size. that means you can have buildings, figures, airplanes, or whatever else you want. And it will still look very natural in terms of the relationship between the various things.
What is the 1/72 Scale? - This is a pretty simple question to answer. The ratio is 72 to 1 and this means that an object in the real world that is six feet in height would be 1 inch in this scale! So, a human being say that is six feet tall would be a miniature that is 1 inch tall in this scale. You can see some soldiers in this scale in the second picture below.
Making the 1/72 Diorama
I do have a complete tutorial that shows you how to make a World War 2 diorama in this scale. It depicts a tank battle. The picture below shows the diorama. The total size of this is 23 inches by 9 inches. And you can see that in a small space you can get a lot of activity and action on a diorama. (This picture is part of a complete 1/72 scale diorama project where I show you how to do everything from make the base and terrain to making the models and even the special effects. That tutorial is here)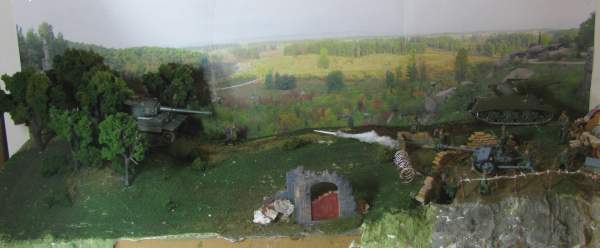 This is one of the reasons why if you are new to dioramas you might want to consider starting in the 1 72 scale. You can get a lot of detail and a very interesting scene without spending too much money.
And
There is a lot of stuff available in this scale. You can pick just about any subject and find lots of models that you can build into a diorama.
Okay, There are a few drawbacks to this scale (minor ones)
First off, you do lose some detail in the models. It's only natural but you do save quite a bit of money on this. But, I think the detail of the scale is amazing. The picture below is of a couple of tanks, an anti tank gun, and two groups of soldiers in the 1/72 scale and they look terrific.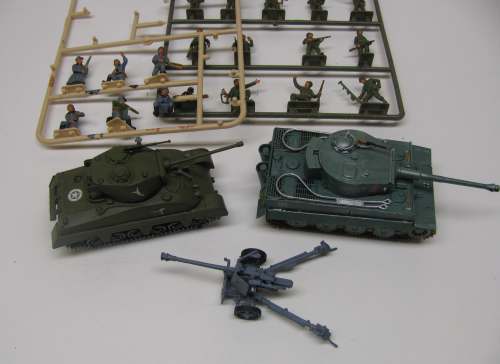 Secondly, it does take a bit more focus and attention to detail. You are working with stuff that is small and you have to really focus on the tiny details if you want the models and the diorama to look good. And, if you can, you should use some kind of a magnifying lamp to do a lot of the model building work. It's what I do. It isn't necessary but it does help. You have to glue together some small parts and to keep it all looking really clean and neat you should get a close up look at it.
Model Options - One really nice thing about the 1/72 scale is that you have the option of making your own models out of plastic kits or buying them already made and ready to install on your diorama. The two tanks and the anti tank gun in the picture above are examples of models that I built. The kits cost around ten dollars each and I enjoy this particular part of the process. But, if you want something that looks even better you can get pre built and pre painted models in this scale. Below is an example of a couple of these. The Panther tank and the Japanese zero are prebuilt and ready to install on your diorama.
Ideas for a Diorama - I have already taken a look at a ww2 diorama and that is a great option. There are a limitless number of scenes that you can create from winter to beachhead, foxholes, tank battles, air battles, and well just about anything you have seen in a movie or a book. But here are some other great ideas. I love epic fantasy and medieval stuff. And if you have browsed around my website here you have probably seen some of my stuff with dragons, knights, castles and more. And I think this is a great theme for dioramas in this scale. And there is a company called Conflix that makes a group of wonderful medieval buildings in the 1/72 scale. You can this below.
text
---
RESOURCES AND MORE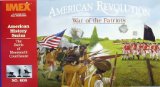 1/72 Revolutionary War Diorama Complete IMX609
The Battle of Monmouth Courthouse was the longest battle of the war, occurring on June 28, 1778. Included in this kit are over 122 American Militia figures in various poses with 2 riders and horses and over 130 British Redcoat figures in various poses with 4 riders and horses, Also included is 1 General Washingon Figure on horseback and 1 diorama base.
1/72 Su-85M Soviet Tank with Diorama
This is made by a company called Conflix and they have a whole bunch of great little medieval buildings like this including a merchants house, blacksmith forge and more. You can see them on amazon here: Amazing Conflix miniature medieval buildings
.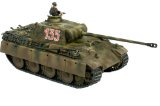 Unimax Forces of Valor 1:72nd Scale German Panther Ausf. G
Forces of Valor 1:72nd Scale German Panther Ausf. G is an accurate replica crafted in die cast metal and plastic. The Panther is one of the best-known German tanks of WWII. The Panther was also considered one of the best tanks of all the armies in conflict. The Panther was a great engineering success, as it proved reliable on cross-country terrain, fast, with great armor design, and a potent 75 mm gun that had better penetration than the awesome Tiger's 88 mm gun.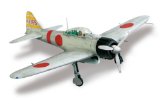 Unimax Forces of Valor 1:72nd Scale Japan Mitsubishi Type Zero
Forces of Valor 1:72nd Scale Japan Mitsubishi Type Zero is an accurate replica crafted in die cast metal and plastic. The Mitsubishi Zero was a lightweight fighter aircraft operated by the Imperial Japanese Navy Air Service (IJNAS) from 1940 to 1945.

Lots more 1/72 scale stuff on amazon.com right here: 1/72 scale models and dioramas