How to Make a Shoebox Diorama
The Fantasy Diorama we will be making is called "The Battle With The Dragon" and it is pictured to the left. It shows a fire breathing dragon battling with a knight. The knight has his shield up to protect him from the fire. In the background you can see a castle.

This is an easy and fun project and you should be able to complete it in 1-2 hours. But take your time! There is no rush. Enjoy it!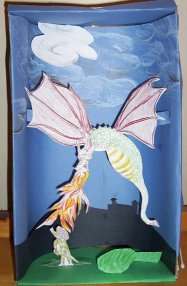 I have included a printable page with this project. It has the dragon, the knight and the dragons wings right on it. You can print this out and color it yourself.
Some of the unique things about this shoebox diorama: It is laid out in the vertical position. Most diorama's are laid out horizontal. This vertical layout is good for the dragon. It allows us to depict the whole dragon and bring the energy of the battle into the scene.
This diorama also takes advantage of the space in the box and this is one of the most important things about a diorama. It is not flat like a picture, it has three dimensions. The dragon is suspended right in the middle of the box it is not laid flat against the back. It gives the dragon a sense of flying.
Let's Get started - The materials you will need
1 Shoebox
An assortment of Construction paper (I used Green, blue, and black)
Scissors (If you are too young for scissors or are unsure about scissors ask an adult to help with cutting)
Crayons or colored pencils
Glue (Elmers glue or something similar works great)
some cotton swabs (Q-tips) to apply the glue (optional but neater)
Step 1. Create your background
Glue two pieces of blue construction paper together then draw clouds on them. I used colored pencils but you can use crayons if you prefer. Artists notes: Clouds are darker on the bottom than on the top so use a darker color and highlight the bottoms of the clouds. This will also make the scene a little bit more ominous. It is a battle after all.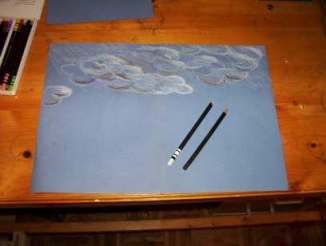 Remember that this is your project so you don't have to do everything exactly like I do it. Here is an example. You could make your clouds out of white construction paper then glue them to the background. You could even suspend them in the middle of the diorama later. Here is a paper cloud I made. I used colored pencils to touch it up a bit. Remember that the bottom of the cloud should be darker.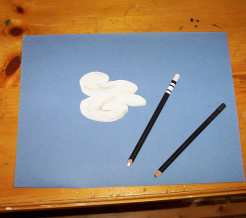 Continue on with the tutorial
---
More Shoebox Dioramas you can make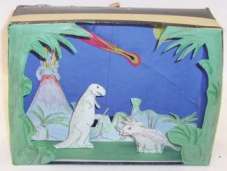 Dinosaur Diorama- This is an active diorama - The meteor flashes across the sky and the volcano erupts. Easy to make and teaches about the theories of dinosaur extinction. Nice learning shoebox diorama. The Active Dinosaur Diorama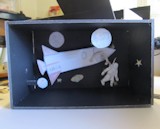 Space Diorama (Shoebox)
You can make a fun Space diorama where the astronaut is floating in space. I give you all the artwork. And you don't even need a shoebox. I show you how to make one out of cardboard or foamboard. Make a Shoebox Space Diorama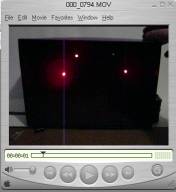 Firefly Diorama
This is a great little shoebox diorama that uses tiny blinking lights as fireflies. Battery operated and you can make it. See the project tutorial and the video of it in action Firefly Diorama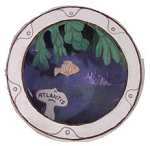 Ocean Diorama
This is a unique little ocean diorama shaped like the porthole of a submarine and made out of a cookie tin. I have full instructions and artwork for you to print and make. Easy and fun project. A new take on the ocean diorama. Imagine looking out the porthole of your submarine and discovering Atlantis! Now you can. Ocean Diorama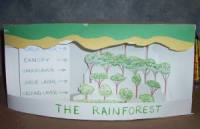 RainForest Diorama. This easy project uses the concept of the 5 layers of the rainforest canopy as its building structure which is a nice way to learn about the rainforest The Rainforest Diorama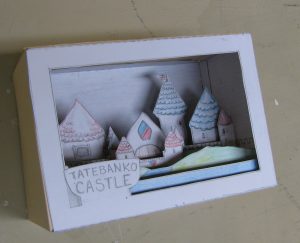 Tatebanko: The Lost Japanese Art of Paper Dioramas - This is a wonderful way to make dioramas just with paper. I have a complete download of this tatebanko castle, pictures of a professional tatebanko and a download of the empty box if you want to fill it with your own diorama. Tatebanko Paper Dioramas
---
Will's Book on Diorama Making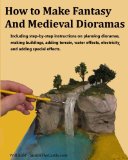 How to Make Fantasy and Medieval Dioramas
This books shows you how to make fantasy and medieval dioramas using many commonly available tools and materials. There are over 100 pictures and illustrations showing you how to make great dioramas in fantasy and medieval styles. Chapters include basics, water effects, terrain tips and special effects like electricity and small motors. Tutorials include how to use foam, plaster of paris and paper mache to make great looking dioramas.