Tatebanko - The lost art of Paper Dioramas
Tatebanko is the Japanese art of making dioramas out of paper. Typically the diorama is housed inside a paper box and portrays some kind of scene. It was very popular in the 17th century but fell to the wayside and was almost lost to time. But, in recent years it has gained a revival and you can enjoy this wonderful pursuit with very little materials. You generally need a ruler, scissors, and glue or glue stick.

Download the Tatebanko Castle pdf here, print it out and make it.

This project is copyrighted©2009 Stormthecastle.com All Rights Reserved You can print this up for personal or classroom use without restriction but you cannot reproduce this project with the intent to make a profit or post it to a website without express written consent of the author Will Kalif. Please email for requests.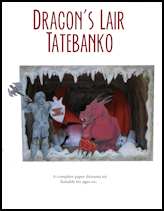 We have our very own tatebanko project that you can buy on amazon.com. It is the Dragon's Lair and suitable for children and adults ten years and up! You can check it out on Amazon here: Tatebanko Paper Diorama - Dragon's Lair
Or read more about it on this page here: Tatebanko Dragon's Lair

I also have an empty tatebanko box that you can download and assemble if you want to make your own project. This is a fun way to get started in the hobby. The Empty Tatebanko Box
I also have a selection of Tatebanko Paper Dioramas that you can purchase of Amazon.com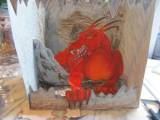 Scene Box Tatebanko
This is a fun and easy tutorial that goes along with our rolling paper theatre of whimsy. These tatebanko's can be added to scenes in your theatre. In this tutorial we show how to make a tatebanko that's a little different from previous ones we've had. These boxes can really bring some life to your theater and the epic tales being told.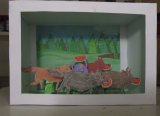 Adventure Time Tatebanko
Here's a tatebanko that's exciting and full of adventure. Based upon the television show adventure time we have made a tatebanko that is fun and exciting to create. This is a great project for the whole family. Adventure Time Tatebanko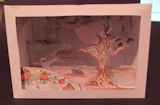 Halloween Tatebanko 2
This is a fun little tatebanko project that is complete. You can download the packet, print it up and put it together. This is a haunted house tatebanko, which makes for a great Halloween project. Halloween Tatebanko 2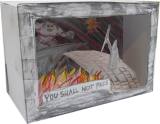 You shall not pass tatebanko
You shall not pass tatebanko, this is with Gandalf and the Balrog on the Bridge. This project also has a bonus little section on the back.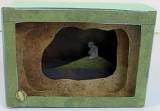 Gollum Tatebanko
New Tatebanko Project: Gollum in his cave. This is a neat little tatebanko project that shows gollum in his underground lair with the lake. A scene from the fellowship of the ring. It is a complete project. All you do is download the packet and assemble it. Gollum Tatebanko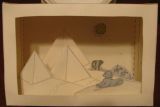 Egyptian Tatebanko
Egyptian Tatebanko: This is a nice tatebanko project in Egypt. It shows the sphinx and the pyramids and it has a little caravan of camels walking across the desert. Egyptian Tatebanko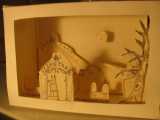 Halloween Tatebanko
Tatebanko Halloween This is an easy and fun to make tatebanko project of a cemetary. Nice halloween project. It is a pdf that you can download print up and put together. And you can add your own halloween stuff to it like skeletons, ghosts etc. The Halloween Tatebanko
---
Our Tatebanko Project on Amazon.com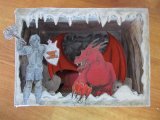 Available on Amazon.com here: Tatebanko Paper Diorama - Dragon's Lair
Tatebanko, or paper dioramas, often depict traditional scenic perspectives but can be used to create almost any amazing diorama. Uniquely combining two-dimensional materials to create and three-dimensional space, this ancient Japanese art and hobby originated in the Edo period (17th century) and remained popular into the 20th century before it was nearly forgotten. StormTheCastle.com has revived this wonderful pastime for your enjoyment! Enclosed in this package you will find everything you need to create your very own tatebanko box! This Tatebanko project is easy to make and looks spectacular. Picture a red dragon sleeping upon his treasure trove in its dark, deep lair with the remains of adventurers past scattered about the cave. Suddenly, it smells something... delicious-it smells a knight-our knight, bravely entering the lair where the awakened dragon is biding his time, waiting in the dark for a hero to emerge and rise to the challenge!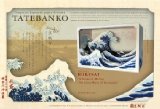 Paper diorama Kit - Tatebanko: Hokusai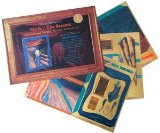 Edvard Munch the Scream DIY 3D Paper Craft Kit (Tatebanko Japanese Paper Art Diorama)
---
New tatebanko project for Halloween: The Halloween Tatebanko Project
I have here a complete tatebanko project that you can download, print out and put together yourself. It is a castle.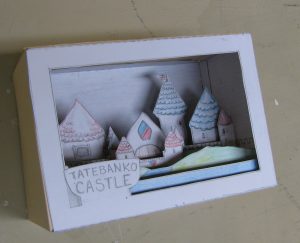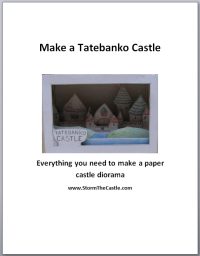 The Picture at left shows the seven page workbook you print up and cut out to make your castle. It is in Microsoft Word format. You can download it by clicking here: Tatebanko Castle Workbook - I also have this in a PDF
How to Build this Castle: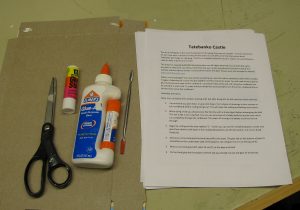 You need to print up the seven page workbook and then you will need scissors, glue or glue stick, some kind of an object to score the fold lines (optional) and some very thin cardboard. You can use the cardboard from a cereal box but thinner careboard would be better. I used a box that held bags of tea and I used some old file folders which work perfectly if you don't mind the manila color.
What's in this package? You have almost everything you need to make a tatebanko castle which includes 5 pages of drawings to cut out and put together and this instruction sheet. You will need scissors, glue or glue stick and some type of thin cardboard. Card stock really works well and Cereal box cardboard can be used but is a bit thick. To make the best tatebanko castle possible try to find a thin cardboard that is thinner than cereal box cardboard.
Assembly Directions: When cutting out the items a solid line means cut and a dashed line means fold. Do not cut the dashed lines!
Note: You can follow the numbers starting at #1 but after doing #12 do #14 next then finish with #13.
I recommend you glue down, or glue stick down, the 5 sheets of drawings in their entirety to your cardboard before cutting things out. This will make the cutting and folding much easier.
When doing a fold you should score the fold line with a sharp object before attempting the fold. This will make a nice crisp fold. You can use some type of a hobby knife but just be sure not to cut completely through the cardboard. The object of scoring is to deeply score but not cut through.
Begin by cutting out the base labeled "1". To this you cut out the numbered pieces in order and glue them down to the base in the numbered positions. Do this for parts 2, 3, 4, 5, 6,7, 8 and finally 8a.
Next you cut out and glue the back piece #9 to the base. The glue tab on the bottom of piece 9 should be on the underneath side of the base #1. Do not glue it so it is on the top of #1.
Next cut out and glue both sides 10 and 11 to the base and back.
Cut out and glue the front piece 14 then last you should cut out and glue 13 to the top.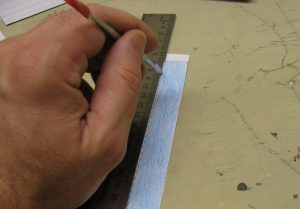 Some Further Tips: When folding the paper it is good to score a deep line in it first using some kind of tool and a ruler. This will make it much easier to fold and will make your folds much crisper and sharper.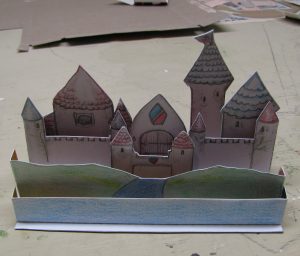 The general way of building a project like this is to glue all the pieces down to the bottom then add the back, sides, front and top.
A Web visitor has made this tatebanko diorama kit and created a video. Here it is:
I have lots of other Paper Projects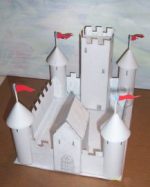 Make a Paper and cardboard Castle
If you are looking for an easier castle to make you might want to try this one! - Make a castle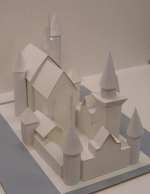 I have a more challenging Paper Castle. It is the famous Neuschwanstein Castle. If you are looking for a more dramatic castle this project is for you. The Neuschwanstein Paper Castle Project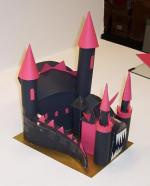 The Black Dragon paper Castle- This is my latest paper castle project and currently the castle is completed but the tutorial is not. You can check on the progress of this project here: The Black Dragon Paper Castle
Looking for another castle to build? Here are some great projects

Make This Model Medieval Castle (Usborne Cut-Out Models) I was given this project as a gift and thoroughly enjoyed it. You need to have some paper working skill to make it come out really good. I used a little too much glue when attaching the parts to the base so the base came out just a little wrinkled. When you do a project like this always be sparing with the glue. The subtle colors of this model are really nice.

Castles to Cut Out and Put Together
Cut & Assemble a Medieval Castle: A Full-Color Model of Caernarvon Castle in Wales
Make This Medieval Village (Cut Outs)
Diorama of Quebec City: Scale Architectual Paper Model
Easy-to-Make Castle (Models & Toys)
Days of Knights and Damsels: An Activity Guide (A Kid's Guide series)