Entomologist Diorama (Insect Maker)
This outstanding diorama is more than just a diorama. It is also a wonderful lesson on how to use and preserve and cure natural objects. This diorama, which is technically a miniature set, was created by Alberto J. Almarza). and he calls them Visionary Chambers. You can check out more of his stuff on his youtube channel here Visionary Chambers He also gives us some great tips on how to make miniature furniture and miniature fabrics and how to make it all look realistic.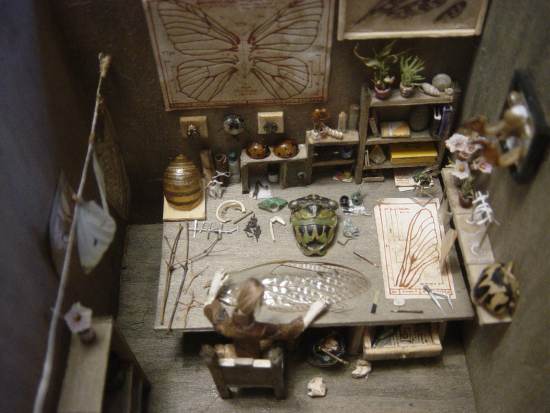 Here is how he uses natural objects and preserves them for his work:
I guess one good tip is that many of the biological elements in my dioramas ) are actual specimens that I have "cured". To do this, say with plants, or many other organic things that would otherwise deteriorate, I first hang them to dry, usually upside down inside a ventilated paper bag (this removes the moisture quickly and thoroughly). Then, I freeze them for 48 hours. This kills any bacteria of living things in them. Finally I coat them with several layers of Matte finish Polyurethane spray. It is important to do one layer at a time allowing each layer to dry. This works great for insects too, but the polyurethane many times affects the colors and irradescence of wings, etc. There is no way I have found around this problem, so I usually just go back and retouch them with gouache paint, and then varnish again. Also for insects you have to freeze first and dry second. Different specimens react differently, and some plants just don't work because they wither.

Another cool tip is the furniture. I use balsa wood because it is lightweight and very easy to shape and cut. to give it a more realistic look I paint it with walnut ink. Once this is dry I use powdered chalk to weather it and make it look dusty, as it is done with model railroads.

To make "miniature fabric" I don't use fabric because the woven pattern and folds give away the scale. Instead, I wrinkle and rub paper until the fiber becomes soft. I use watercolors or inks to dye it.
Here is the general Process for curing biological specimens:
Hang the object upside down in a ventilated paper bag to dry
Freeze for 48 hours to kill bacteria
Coat with several layers of Matte Finish Polyurethane Spray (allow it to dry between layers)
Touch up the colors with Gouache paint and varnish again
(For insects you should freeze first and dry second)
Creating furniture
Use balsa wood to build it (light and easy to work with
Paint it with walnut ink for a natural wood look
Weather it with chalk , gives a great dusty look
Creating Fabric
Don't use real fabric because it gives away the scale
Wrinkle and rub paper until the fiber becomes soft
Dye with watercolors and ink