How to Make a volcano
| | |
| --- | --- |
| | Here is a tutorial on how to make a volcano. I have several versions of the volcano so you can decide which type is best for you. There is the dough volcano, and the plaster of paris volcano, and the Papier Mache volcano. This way you can choose the tutorial that fits your needs and the materials you have on hand. |
Once you have gathered all the materials for this project it will take you about two hours to make it. There is a period of time that you have to sit it aside and let the volcano shell dry.
Some of the unique features of this volcano:
Easy to make with common materials
Made out of a box which forms a nice container to keep it mess free
The actual bottle where the eruption occurs is removable. This makes it very easy to use, clean and re use.
The back of the volcano is where you can draw a diagram of a volcano which makes it a nice little learning tool.
Lots of options on how to make it depending on what materials you want to use and what materials you have on hand.
The Volcano Fact Sheet is Here - Right Click and download it to your computer. Its a microsoft word document. I also have this fact sheet in a pdf if you prefer: PDF Volcano fact sheet
---

I also have another volcano project you might be interested in. This project doesn't use any paper mache or plaster so it is much less mess, easier and faster to make and it looks great. It uses posterboard to form the cone of the volcano. The Easy Posterboard Volcano Project
---

I also have the Mentos and diet coke volcano which shoots a blast a foot or more into the air. This one is spectacular, easy to make but requires adult supervision. The Mentos Volcano
---

A web visitor (Kenny T. of Texas) made this volcano with flour and water. This is a fast and easy volcano tutorial and I show you how to do it! The fast and easy dough Volcano
---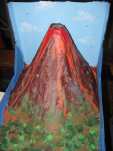 Andy S. and his son made this wonderful volcano for school. It came out great and it has some real height to it. See a larger picture here, also see the great volcano chart they made that shows how a volcano works.
---
Making The Volcano Part1: Creating the Frame
Materials Required:
These are the basic Materials:
Bottle, can be snapple, plastic soda, just about any size
A Cardboard box
Scissors, Tape,
A Plastic bag
First Lets Make the Volcano Shell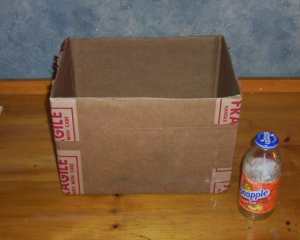 Start out with your box and your bottle. Use a corrugated box because it is nice and strong. Just about any bottle will do, plastic or glass. The box should be taller than the bottle.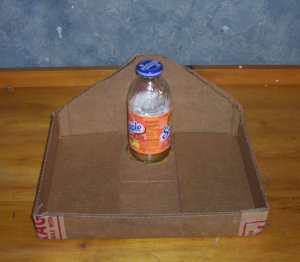 Put the bottle in the box and cut out the box just like shown in this picture. The slanted part in the back, behind the bottle will be where you can draw a nice diagram of the volcano and how it works.
Cut a hole out under the bottle. This will be so you can easily take the bottle out for cleaning and reuse of the volcano.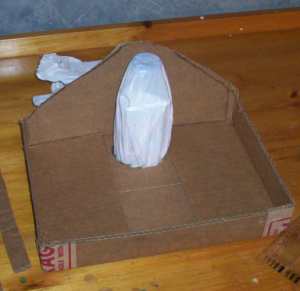 Now cover the bottle with a bag. This will keep the plaster or dough from adhering to it. Makes it much easier to get in and out.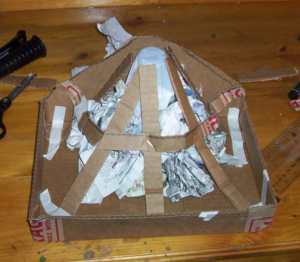 Now make your volcano shape using strips of cardboard from the excess parts of the box that you cut away.
Tape them together, glue them, staple them. Do whatever is comfortable and easy for you.
Stuff the frame with crumpled up pieces of paper or newspaper. This will give it strength.

We are ready to make the shell of this volcano and I will show you pictures of how I make it and give you some easy alternatives so you can choose which way is right for you. Lets continue and make the shell of the volcano
I also have a series of tutorials on how to make things. They are called the How to Make a.... tutorials and you can see the list of them here. How to make a.....
Amazon.com has some great volcano making stuff too!
Looking for some Great Volcano Kits?
Amazon.com has some great volcano making stuff too!
Curiosity Kids Lava Rock Volcano
Build your own volcano, add lava rocks and color, and squeeze it to erupt!
Recommended for Ages 6+
Perfect for science fairs or home crafting projects!
Volcano Making Kit
- Make your own volcano and watch as it erupts with bubbling, fizzing "lava". Kit includes fast drying plaster, volcano mold, paint, paint brush and stir stick. Requires baking soda and vinegar for eruption (not included).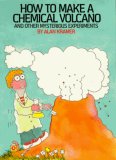 How to Make a Chemical Volcano: And Other Mysterious Experiments
In recent years, the fascination among kids with chemistry sets has seemingly dwindled. And after all the terrorist bombings worldwide, many parents are probably reluctant to have their kids messing around in the basement with the test-tubes and chemicals that used to be de-rigeur in adolescent development. But here's a delightful book of simple chemistry experiments that any kid can do with household compounds like baking soda, vinegar, and whatnot -- perfectly safe, and highly educational as well (and the volcano seems like it would be very cool). And, I was pleased to find out that it was written by a 13-year-old! Recommended.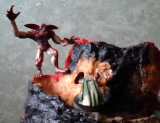 Volcano Diorama How about making an interactive diorama with a working volcano! Yup, this is exactly what Jeffrey has done. Check it out here: The volcano diorama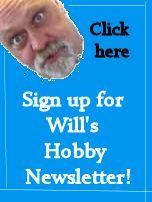 Do you like making projects and exploring a variety of hobbies?
Sign up for my free newsletter. I give you regular updates on hobbies and projects you can make. it is totally free and I don't share your email with anybody.