Some WW2 Diorama and Model stuff
Here is a couple of terrific videos submitted by youtubes 208stroker. Check out his youtube channel. He does a lot of WW2 Diorama and model making and he has been doing it for around 25 years. It takes time and patience to get this level of realism but with some practice you can do it too. . The first video is a 1942 Tiger 1 Tank battle of the bulge...bastonne...1944 and the scale is 1/16th. The paint job is outstanding and the detailing is great. My thanks to him for these great videos.

A Note from Will about this Tank diorama. It is a great example of how you can make a diorama that has one model as a centerpiece. A tank makes the perfect subject for something like this. And, getting the camouflage painted on the tank takes some skill. If you are going to be doing a WW2 tank you should look up camouflage patterns so you can get it to look as realistic as possible.
The second video is of a waffen SS soldier with an MG-42 Machine Gun. The scale is 1/16 and this is a perfect example of how to make a trench in a diorama. He used my trench making tutorial as inspiration for this diorama. Some things to notice about this diorama are the use of sandbags which are realistically placed, the use of barbed wire, and the way the terrain changes. It is something you might not think about but what happens when you dig a foxhole like this? Well, all around the trench there is dirt that is different than the rest of the soil. He has achieved this effect perfectly. It looks like the soldier dug the hole and spread out the dirt around the trench! And, don't forget to add some of the soldiers gear inside the trench just like in this video. You can achieve this with a few different colors and some terrain materials. You can check out my trench making video tutorial here: How to make Warfare trenches for a diorama
Here is a fantastic video with some outstanding tips on making a WW2 Diorama, specifically how to make a trench diorama. But, this video is just filled with outstanding tips on how to make any kind of WW2 diorama. The video was made by 208stroker of youtube . Some of the tips he gives us include the importance of adding the little details to make the diorama much more interesting and he shows us a tiny army radio that he improvised out of the parts from an old modem.
He also gives us a fantastic diorama making tip where you use the carousel and plate from an old microwave as a base to put your diorama on. This makes it so much easier to work on your diorama. With that you can just rotate it and work on all sides of it from all angles.
Here is a video with music of the completed trench warfare diorama:
More World War Diorama Stuff: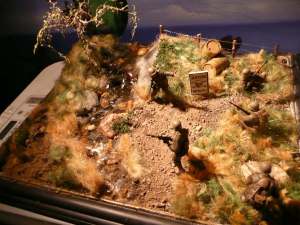 Here is some more great information with pics and techniques on making a World War II Diorama: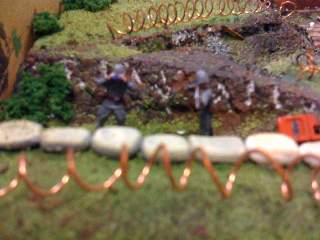 Here is the wonderful trench warfare diorama made and submitted by Alika. Thanks Alika for the great pics and the information on making a wonderful diorama!
---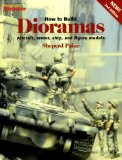 How to Build Dioramas
- Looking for a good book on how to build Military dioramas and how to paint the models, tanks, airplanes and other things? This book is terrific. I own it and love it.