How to Make a WW2 Diorama
Here are some pictures of a WW2 Diorama that was made by a web visitor. His name is Steven C. and he has also given us some great tips on how he improvised in the making of this terrific diorama. Steven Advocates the "Trial and error" method of diorama making which is exactly what I have been doing and telling you about. You have got to try a small technique and see how you like it. Then try another technique and so on. This experimentation will improve your diorama making.
This diorama is a small and terrific example of many solid improvisation techniques in the art of diorama making. It has a terrific tree, great water effects, stones, soil, grass and even barbed wire.
I also have created a whole new section of this website devoted to Military Dioramas.
---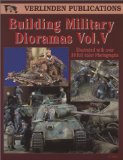 Building Military Dioramas Vol. V
- This 5th installment in VP's popular Building Military Dioramas series features 9 new articles covering the art of making military dioramas & vignettes. Three new articles from the workshop at VP studios include Coffee with Milk, Please, a peaceful scene set in the Normandy countryside, Deadlock, a comprehensive urban diorama set on the Eastern Front in WWII, and Payback Time Afghanistan 2001, featuring the consequences of the new war on terrorism. Greg Cihlar is back again with 3 stunning new WWII themes, including a massive German industrial complex with lot's of action entitled Evacuation, Breakfast at the Front, a cold winter scene with the Tamiya Marder III, and Directions, an American M10 finding it's way through a frosty forest. Young Jin Won returns with another pair of figure-painting masterpieces, both taking place in Berlin, April 1945. The first detail-packed vignette entitled "Running Scared" animates a trio of Germans leaping from a quad 20mm Flakvierling 38, while the second, entitled From the Inside has another trio of desperate German soldiers taking cover within a destroyed house corner. Finally, newcomer Robert Dopp from Germany debuts with a spectacular Tiger track-repair scene appropriately entitled Minenschaden. This latest book again promises to inspire & amaze both novice and expert modelers, as well as non-modelers.
---
Here are his tips:
The diorama was trial and error. do a bit dislike it pull it up, stick a new bit down etc until i got that result. .


The tree is real roots from a real tree. I put glue on the ends of the "branches" and dipped them into woodland scenics grass powder to give a lightleaf look.
The grass is trial and error. On your video you say use woodland scenic long grass I think it was I looked it up and i didnt want to spend so much money on my first project so I used jute garden rope. the stuff for tying flowes to posts. it came as green rope, I bleached some to give the golden look then i just cut small lengths of green and gold combed them with a brush until the fibres separated then super glued them to the paper mache base.
The water is scenic water. I used nail polish gloss to start with. it just soaked through the diorama then clear glue and it soaked through again so I went for scenic water. It was perfect and quick setting.
The fence is photoetched wire with cocktail sticks as posts with an oil paint wash to weather them.
The earth is real soil from my garden.
the Skeleton is from verlinden. its the only thing i really spent money on
I was getting bored of making tufts after tufts of grass so he takes a wee bit of "grass" space up lol.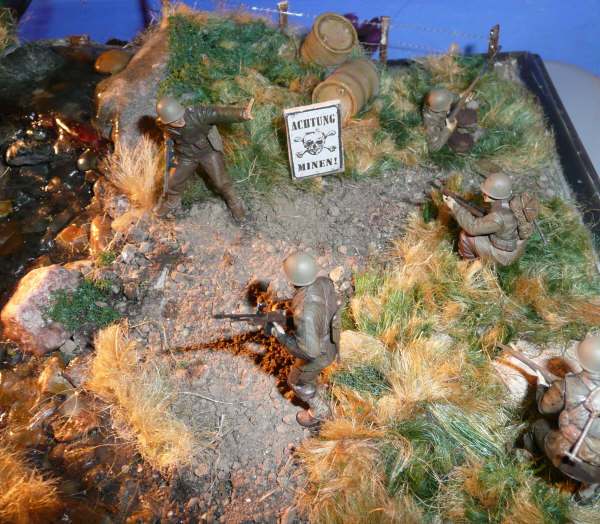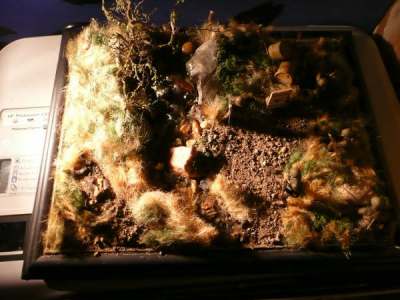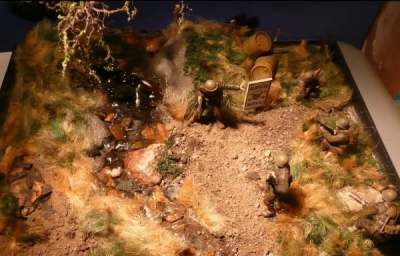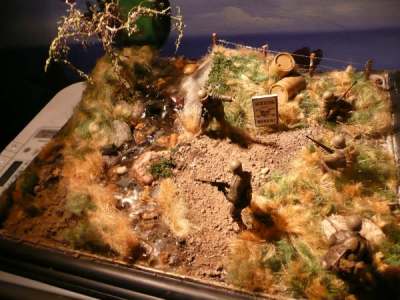 Want to learn Step by Step how to make a military WWII diorama? I have a complete tutorial that shows you absolutely everything from the bare base to creating the terrain, mud, and more. Check it out here: How to make a WWII Diorama The picture below is the project I make for you.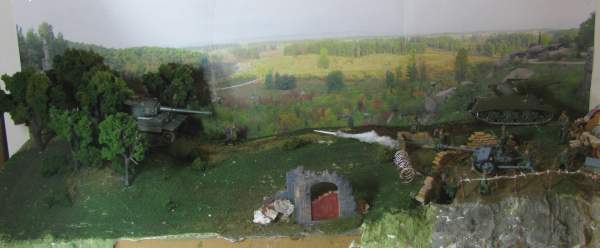 Custom Search
Types of Dioramas to Make
STORES
Plastic Models
Check out the Diorama and Miniature store
*Short Diorama Tutorials*
OTHER PROJECTS
Make a cardboard Samurai Sword
Make a Cardboard Medieval Shield
How to make a fantasy shadowbox
---------

All Materials, unless otherwise stated are Copyright©2001-2014
Kalif Publishing and StormtheCastle.com


Hi, Thanks for visiting my website. My name is Will and if you have questions
or would like to
contribute you can


---------