I have a youtube channel with over 700 Videos!


Hi, Thanks for visiting my website. My name is Will and if you have questions
or would like to
contribute projects or ideas you can contact me

Make a Shoe Box Diorama - How to
| | |
| --- | --- |
| | This tutorial takes you through the process of making a shoebox diorama. It shows you everything you need to do and everything you need to have. Complete with pictures. This diorama uses all common items you can find around your house. If you want to make this exact diorama I am including the drawings so you can download them, print them and use them yourself. |
Before Beginning your shoebox diorama - some things to think about
Its a three dimensional work - A shoebox diorama is a complete world and it is three dimensional. This is one of the appeals of a shoebox diorama. When you are designing and making it keep in mind that it is not a flat piece of art. It is three dimensional. Don't be afraid to take up all the space from front to back. This adds a level of excitement to it.
It should tell a story - A shoebox diorama is not just a pretty scene. You should try to take it to another level and create a story with it. Picture in your mind one particular moment in time in the life of the character or characters in the scene. What is happening? What is the story? Adding a story to your diorama gives it a little something extra that people will enjoy. It gives them something to think about.
Your only limit is your imagination - There are no real rules with making a shoebox diorama. Use whatever materials you would like to use. Create whatever kind of scene you would like to create. Don't be bashful.
You can't just start making one - Before you can start making your diorama you have to have a plan. And this means you have to draw out some rough sketches. Get a sketch pad and pencil and start drawing ideas of your scene. Move the objects in the scene around. Remember that it is three dimensional. Look for unique perspectives.
A good tip - Draw a variety of objects for your scene then cut them out. Lay them out on a piece of paper and rearrange them to see what the would look like. Remember that you are making a three dimensional scene so overlap items. Look for unique perspectives.

Let's go to Make a Shoebox Diorama Part 1: Designing on paper
---
Will's Book on Diorama Making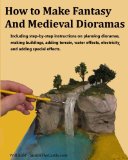 How to Make Fantasy and Medieval Dioramas
This books shows you how to make fantasy and medieval dioramas using many commonly available tools and materials. There are over 100 pictures and illustrations showing you how to make great dioramas in fantasy and medieval styles. Chapters include basics, water effects, terrain tips and special effects like electricity and small motors. Tutorials include how to use foam, plaster of paris and paper mache to make great looking dioramas.