I have a youtube channel with over 750 Videos!


Hi, Thanks for visiting my website. My name is Will and if you have questions
or would like to
contribute projects or ideas you can contact me

How To Build the Wyvern Catapult - This is a floor size torsion catapult (36 inch base)
| | |
| --- | --- |
| | This is a powerful mid-sized catapult called "The Wyvern". This is something you can easily build with a little bit of lumber and some rope. It is made for outdoor use only and you can use it to lauch a variety of things like tennis balls. You just need some simple tools and some basic skills to make this catapult and the hardest thing is winding the rope. But, I do have a video that shows you exactly how to wind the rope. And using twisted rope for torsion can generate quite a bit of power. This is one of the more powerful catapults you can easily build. If you are looking for a blueprint for this catapult I have it on this page here: Catapult Blueprint |
Here are two youtube videos on this catapult:
A fast-motion assembly of this catapult
How to wind the string:
Here are the parts, wood and tools you need to make this catapult: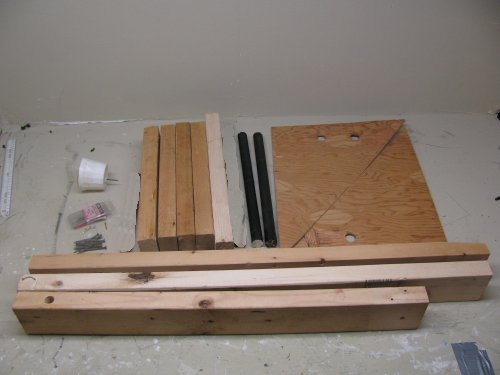 2 x 4's:
2 pieces 36 inches long (sides)
1 piece 30 inches long (Swing arm)
4 pieces 15 inches long (Cross pieces)
1 piece 18 inches long (Swing arm stop bar)
Other Wood:
1 square piece of plywood anywhere from 1/4 inch thick to 1/2 inch thick. It is 15 inches by 18 1/2 inches in size and cut it diagonally so it makes two triangles as shown in the picture above.
1 broom stick cut into two pieces approximately 15 inches long each (These are the handles for twisting the rope)
Hardware and tools needed:
Hammer
Drill with a variety of bits
a 1 inch drill bit
a 1/2 inch drill bit
screwdriver
Screws
Small nails or tacks
Rope (around 20 feet should be good)

Okay, lets start the assembly of this catapult
Can You Make this Catapult? You sure Can. Here are two pictures from Stephane who made it with his children. It came out great and he got a little over 52 feet distance with it!! And his kids had a lot of fun throwing water balloons with it. In the first weekend they went through over 150 water balloons.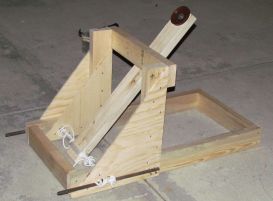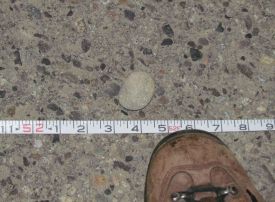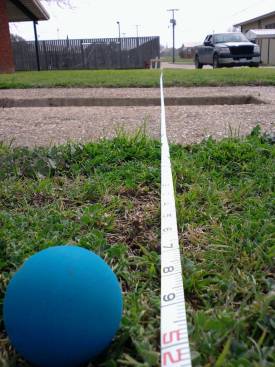 Can you make the Wyvern Catapult? You sure can. These two pictures are from Travis who made the wyvern! The first picture shows the distance it throws.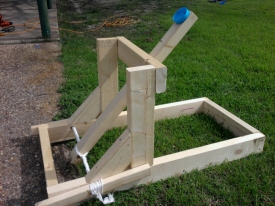 Here is a picture of the Wyvern Built by web visitor Lucas Parks! Great job Lucas and it launched a potato 42 Meters!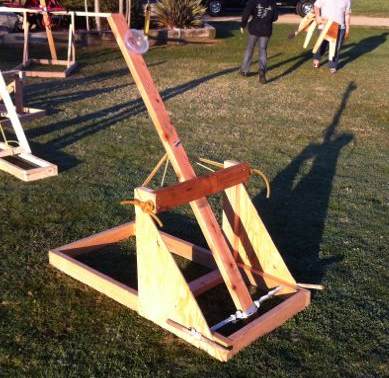 And here is the Wyvern made by David. He did a spectacular job and the paint scheme is terrific!