Make The Teeny-Tiny Catapult
This is a complete tutorial that will show you how to make the teeny tiny catapult. It's a really fun project that you can use in a lot of different ways. It lends itself to creating games of your own and one of the games I made with this catapult is the storm the castle game where I made a paper castle with window and door holes that you can shoot through for points. You can set up cups at varying distances and get points by shooting into them.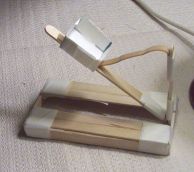 Let's Make This Catapult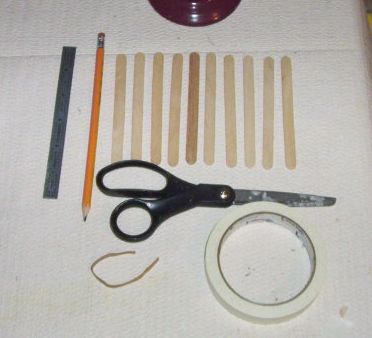 Here are the materials you need to make this catapult. Ten popsicle sticks, a ruler, a pencil, scissors, a rubber band, and a roll of masking tape. The rubber band, when cut, should be at least 5 inches in length. Before you start making the catapult take a look at the popsicle sticks and make sure they aren't cracked or weak.
Some Masking tape Tips before you begin
There are some neat tricks that I use when applying masking tape and you should use these techniques.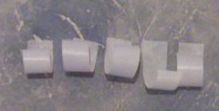 First off, cut yourself ten pieces of masking tape and stick them lightly to the table or the wall. This will make it easy to grab and use them.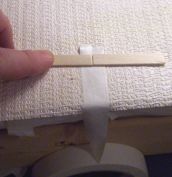 Another great technique for using masking tape is to lay it on a table with the sticky side up. Then you can apply the craft sticks to it easily. And it makes taping two sticks together very easy.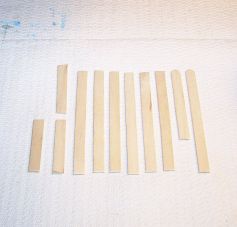 Now cut the popsicle sticks so you end up with what you see in the picture above:
3 pieces that are two inches long
6 pieces that are four inches long
1 piece that is three inches long (leave one rounded end on it)
1 piece that is four inches long (leave one rounded end on it)
Now take two of the four inch pieces and two of the two inch pieces and tape them end to end so it looks like one big long stick. The sequence should be short stick, long stick, short stick, long stick. (like this picture):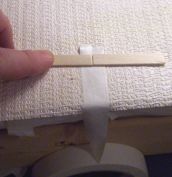 I tape them using the technique I described in the taping technique above. I lay a piece of tape on the table with the sticky side up then press the two ends of the sticks onto it. Wrap the tape around them with three solid and tight wraps.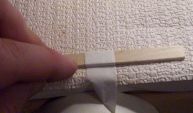 Now fold the assembly into a square and tape the final joint together. It should look like the picture here on the left. Use plenty of tape.

Let's Continue with this tutorial on how to make a catapult

Popsicle sticks have been a staple of easy and creative fun for as long as there have been popsicles. A little glue, paint or other things can really set the creative wheels in motion. Here is a book of more projects with craft sticks
Look What You Can Make With Craft Sticks: Over 80 Pictured Crafts and Dozens of Other Ideas (Craft)
BOOKS
Want to build a bigger, better, more powerful or fancier catapult? There are some great books available to you. These books, available at Amazon.com will help take your catapult building to new heights! Pun intended!
The Art of the Catapult: Build Greek Ballistae, Roman Onagers, English Trebuchets, and More Ancient Artillery
- Nice book that shows you how to build ten different catapult projects, moderate wood working and pvc piping kind of stuff. Good book with complete instructions and materials lists.
Buy from Amazon.com: The Art of the Catapult: Build Greek Ballistae, Roman Onagers, English Trebuchets, and More Ancient Artillery
Backyard Ballistics: Build Potato Cannons, Paper Match Rockets, Cincinnati Fire Kites, Tennis Ball Mortars, and More Dynamite Devices
Want to get a little more creative? This book is off the hook!
Buy From Amazon.com Backyard Ballistics: Build Potato Cannons, Paper Match Rockets, Cincinnati Fire Kites, Tennis Ball Mortars, and More Dynamite Devices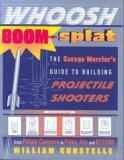 Whoosh Boom Splat: The Garage Warrior's Guide to Building Projectile Shooters
These are the homemade machines that you've dreamed of building, from the high-voltage Night Lighter 36 spud gun to the Jam Jar Jet, the Marshmallow Shooter, and the Yagua Blowgun. Including detailed diagrams and supply lists, Gurstelle's simple, step-by-step instructions help workshop warriors at any skill level achieve impressively powerful results.
---
Kits and More Siege Engine Projects
Looking for a catapult kit?
Amazon.com also has a catapult kit you can build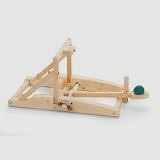 Catapult Kit
Lay Siege To The Doghouse! Right after you build your own working medieval catapult. All you'll need is glue, scissors and a steady hand to construct this wooden, Canadian-made siege engine kit. The finished catapult stands 6" tall x 5" wide x 10" long and will toss assorted stuff (meatballs?) 15 feet or further, depending upon the stuff. Comes with detailed instructions.
The Desktop Onager: An Awesome all Wood and Twine War Machine
- Fiercely Fend Off Office Rivals -- Conveniently sized to sit on your desk, this intimidating little machine is an actual working reproduction of an onager. -- The weapon is all wood and twine with no metal parts, but it packs a big punch. Load it up with the included wooden balls or get creative with marshmallows, coffee creamers, erasers and more to see how many cubicles they can soar above before landing. -- Properly constructed, the onager has a range from 10 to 20 feet. The ancients were able to use nothing but wood and ropes to build machines that could hurl heavy stones great distances, now you can do the same to enforce peace in your office or dorm room. -- Build it yourself in under three hours, because this kit includes everything you need except for glue and a few simple tools like scissors, sandpaper, and a file. Colors may vary. -- Warning: This is a representative model of a real ancient military weapon. Use only with competent adult supervision.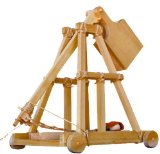 Desktop Trebuchet
Defend your desktop! The mere presence of this striking machine on your desk will induce fear and respect among your peers. Take charge and besiege your opponents with a fully functional, genuine trebuchet for your desk! It really works! It takes about two to four hours to assemble, which is a joy in itself with the hand selected wood and computer-controlled, precision cut parts. The professionally designed kit and fully detailed instructions - 10 pages of descriptions and tips, with of photos of every step - makes assembly a breeze. All you really need is some glue and a pair of scissors. For a more refined look, a little sandpaper and a small, round file would be helpful, but are entirely optional. Performance! This mighty desktop artillery is capable of hurling the wooden ball projectiles (included) over twenty feet! Just load-up the counterweight bucket with about 150 pennies and you are ready to go!
The Miniature Trebuchet
- The trebuchet was the ultimate artillery weapon of the medieval period and early renaissance. A large and unwieldy weapon, it was typically built on-site during battle, and tuned to lob great weights - such as the carcasses of rotting horses and pots of burning pitch, over the castle walls and onto its inhabitants. This is our newest and smallest trebuchet design in a long line of catapult kits. Designed by master trebuchet expert Ron Toms, this machine is ideal for the student on a budget or as a wonderful display piece for any desktop or bookshelf of any history enthusiast. Precision carved by computer controlled machinery for guaranteed fit and accurate joinery. The detailed instructions include loads of photos of each step of the construction process, tuning tips and safety notes. Included in the kit are four wooden projectiles, all the necessary components for the sling, trigger, and counterweight bucket as well as all the parts for the kit. The only thing you'll need to supply are 64 pennies for counterweight and a few simple tools - Scissors, a ruler, a utility knife, wood glue and a few rubber bands to hold the pieces together while the glue dries. Tools required: Scissors, Glue, Ruler, rubber bands and a utility knife. Sandpaper is optional. Additional Counterweight Required: 64 pennies. Range: About 10 feet.
What good is a catapult if you don't have a castle to attack!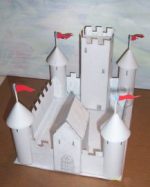 I have another project you might like. It is the Paper Castle and it has everything you could want in a castle making project including all the art work you can download. You just follow the instructions and make it yourself with some glue and cereal boxes. Build a Paper and Cardboard Castle It also has a learning sheet that helps to learn about castles when you are building it.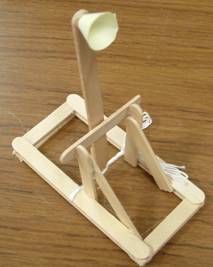 Here is a fun and easy little Onager Project. An Onager is a catapult that uses twisted string or rope for its power. This one is made out of popsicle sticks. Nice and fun project: The Popsicle Stick Onager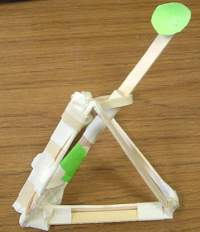 Here is a terrific little catapult built out of popsicle sticks and a rubber band. If you are looking for a powerful yet easy little catapult to build this one is it. Complete instructions with pictures here: How to build a popsicle stick catapult