The Rubber Band Powered Catapult
Here is a great little catapult project based loosely on my popsicle stick catapult and designed by Tom Wilson. He also put together this whole tutorial. My thanks to him for this! It's a fun and easy project. With just a few materials you can build this powerful little catapult in no time at all.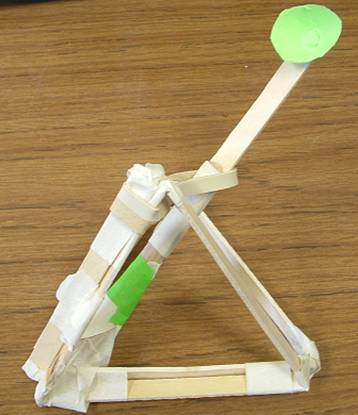 Note from Will: I also have this neat little catapult project made from popsicle sticks:

The Teeny-Tiny Popsicle Stick Catapult - The Hobbit Fun little project that comes with a video of me shooting a projectile into a Lord of the Rings Mug. This little catapult is great for having little competitions with friends. Build two and make a game of this project.
Pros :
--Fairly simple to build
--Fairly powerful, High trajectory, great "hang time"
--Fairly durable if built correctly; easy to repair
Cons :
--Not historically authentic
--Can self-destruct if not made correctly!
--Less accurate than more complicated models
Materials :
11 Sticks
Masking Tape
1 ½" square piece of paper
Rubber band
Hot glue
Scissors

1. Make the Base.
Lay three sticks end to end. Tape them together.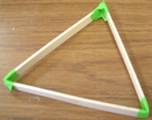 • Fold into a triangle and tape.
• Repeat steps 1-3.
• Repeat steps 1-3 again. You now have three triangles.

• Place two triangles side by side. Tape together one side.

• Open un-taped ends; place the third triangle between them.
• Tape this third triangle in place to complete the pyramid.
• Notice that three sides are made of double sticks. These are the "strong sides." The place where the three strong sides join is the "strong corner." Locate these places before continuing.
2. Make the Throwing Arm

• Tape or glue two sticks together so they overlap and are approximately 6-7" in length.
?? How might changing the length of the arm affect velocity and trajectory?
• Make a cut to the center of your paper.
• Fold paper into a cone. Glue or tape in place.
• Trim corners round.

• Smash point of cone flat with your finger. Glue to end of throwing arm.
3. Attach arm and rubber band.
• Fold rubber band around strong side of pyramid.
?? How might using thicker, thinner, longer, or shorter rubber bands affect performance? Are there any risks to using a stronger band?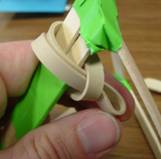 • Pull outside loop down through the inside loop.
• Insert throwing arm through rubber band loop, with cone pointing up.
• Using two 6" long pieces of tape, attach arm to strong corner of pyramid.


• Wrap one piece of tape around arm to secure tape.

?? How might attaching the arm more loosely affect velocity? Are there any risks to doing this?
4 Firing
Hold base at strong corner with one hand
Place projectile in cone.
Pull arm down all the way. Release.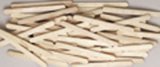 Craft Sticks - Natural 150 count by Chenille Kraft

Popsicle sticks have been a staple of easy and creative fun for as long as there have been popsicles. A little glue, paint or other things can really set the creative wheels in motion. Here is a book of more projects with craft sticks
Look What You Can Make With Craft Sticks: Over 80 Pictured Crafts and Dozens of Other Ideas (Craft)
---
BOOKS
Want to build a bigger, better, more powerful or fancier catapult? There are some great books available to you. These books, available at Amazon.com will help take your catapult building to new heights! Pun intended!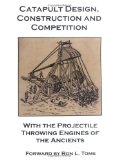 Catapult Design, Construction And Competition With the Projectile Throwing Engines of the Ancients
The Art of the Catapult: Build Greek Ballistae, Roman Onagers, English Trebuchets, and More Ancient Artillery
- Nice book that shows you how to build ten different catapult projects, moderate wood working and pvc piping kind of stuff. Good book with complete instructions and materials lists.
Buy from Amazon.com: The Art of the Catapult: Build Greek Ballistae, Roman Onagers, English Trebuchets, and More Ancient Artillery
Backyard Ballistics: Build Potato Cannons, Paper Match Rockets, Cincinnati Fire Kites, Tennis Ball Mortars, and More Dynamite Devices
Want to get a little more creative? This book is off the hook!
Buy From Amazon.com Backyard Ballistics: Build Potato Cannons, Paper Match Rockets, Cincinnati Fire Kites, Tennis Ball Mortars, and More Dynamite Devices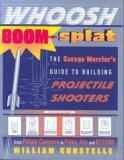 Whoosh Boom Splat: The Garage Warrior's Guide to Building Projectile Shooters
These are the homemade machines that you've dreamed of building, from the high-voltage Night Lighter 36 spud gun to the Jam Jar Jet, the Marshmallow Shooter, and the Yagua Blowgun. Including detailed diagrams and supply lists, Gurstelle's simple, step-by-step instructions help workshop warriors at any skill level achieve impressively powerful results.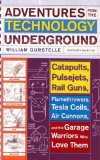 Adventures from the Technology Underground: Catapults, Pulsejets, Rail Guns, Flamethrowers, Tesla Coils, Air Cannons, and the Garage Warriors Who Love Them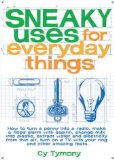 Sneaky Uses for Everyday Things: How to Turn a Penny into a Radio, Make a Flood Alarm with an Aspirin, Change Milk into Plastic, Extract Water and Electricity ... a TV with Your Ring, and Other Amazing Feats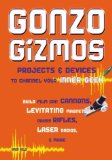 Gonzo Gizmos: Projects & Devices to Channel Your Inner Geek
- It's possible to use optics to roast a hot dog without electricity or a stove; to make a simple radio with just an iron, a few basic circuits and three shiny pennies; and to assemble a simple steam-powered boat with a plastic bottle, a candle, copper tubing and a nail. Of course, only die-hard science nerds would attempt these projects.
---
Kits and More Siege Engine Projects
Another Interesting Project: How to Build a Trebuchet

The Trebuchet was a unique siege engine of the middle ages. It was extraordinarily powerful and was easier for military engineers to build because it used gravity as the energy source. I also have a complete project on how to make the Little Dragon Trebuchet.
Catapults and Siege Engines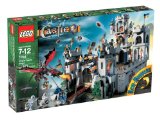 LEGOŽ Castle King's Castle Siege
- From this mighty Castle, the good King rules over all he surveys - Help him defend the kingdom against the skeleton warriors and their mighty dragon! Firing catapult flings boulders at evil attackers, and moveable walls within the castle help keep the knights safe Moveable walls for multiple build and play scenarios, working drawbridge, firing catapults and oulders and Knock-Down bridge --Includes heroic king and knights, skeleton warriors and constructible dragon --974 Pieces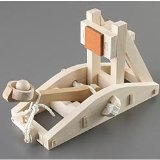 The Desktop Onager: An Awesome all Wood and Twine War Machine
This awesome little machine is the perfect desktop item to enforce the peace in your cubicle or dorm room. It really works!
This all wood and twine machine has no metal parts! Find out how the ancients were able to use nothing but wood and ropes to build machines that could hurl heavy stones great distances.
Simple and easy to build. This kit includes everything you need except for glue and a few simple tools like scissors, sandpaper, a file (a utility knife would be helpful too) and about two or three hours of your time from start to finish.
Designed and made in the USA for better quality, better performance!
Ballista Wood Kit
Tre'bu'het: (tré-buh-shay) a fifteenth-century military engine used for hurling heavy weapons and rocks. Made from high quality knot free Basswood, this Ballista is a great addition to any homemade artillery collection. Inspired by Alexander the Great's Artillery of the Macedonian Soldiers, this ballistic firing machine is a working model easily assembled from pre-cut and pre-drilled pieces. Includes laser cut plywood wheels. A fun group or family project, once completed you and your friends and family will be experiencing the thrill of flinging projectiles like those medieval machines, but focusing on height, velocity, and distance rather than on knocking down the enemys fortress. For the truely daring, you can alter characteristics of the trebuchet such as the mass of the clay, the string length, or the amount of the counterweight and can see how the results are affected. You will also see these concepts in action: levers, inertia, counterweights, friction, and more. This kit includes all materials for construction -- Size: 11-1/2" long, 9" wide, and 5-1/2" tall. Ages 16 and up, 10-16 with adult supervision.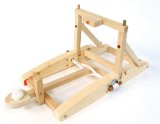 Catapult Kit
- Lay Siege To The Doghouse! Right after you build your own working medieval catapult. All you'll need is glue, scissors and a steady hand to construct this wooden, Canadian-made siege engine kit. The finished catapult stands 6" tall x 5" wide x 10" long and will toss assorted stuff (meatballs?) 15 feet or further, depending upon the stuff. Comes with detailed instructions. Note: Please don't propel small mammals, and please don't put anyone's eye out.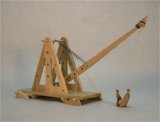 Science Project Experiment Catapult Kit (S.P.E.C.K.)
The Ultimate Science Project Experimenter's Catapult Kit! It's fully adjustable, multi-configurable and repeatable. It's a perfect model for learning the scientific method! All in all, there are more than 400 different configurations and tuning options possible with this kit. Suitable for hundreds of experiments and learning opportunities. The completed frame is 14.5 inches long, 7 inches wide and 11 inches tall. The arm measures 20.25 inches long with multiple axle and power attachment points. This machine can hurl projectiles up to 40 feet, depending on configuration, tuning, and lots of other variables! What you can learn: This kit provides a real world, hands on example of many aspects of basic physics. It exposes the student to concepts of mechanical advantage, levers, gravity and energy, to name a few. It can demonstrate the storage and conversion of potential energy to kinetic energy through levers, and it is equipped with optional wheels, to demonstrate conservation of momentum. All in all, the concepts of efficiency, power and work can be demonstrated and applied. This kit is useful for teaching engineering, science, design of experiments, problem solving and cause-effect relationships. It was designed to get students to think about physics in a real world, tangible context. Theories can be made and tested; this process, and analyzing why the observed results occur can ultimately lead to other, more advanced concepts in physics, mechanics and mathematics. Analyzing the data can make use of statistical methods from basic averages to much more advanced topics if desired. With 18 pages of instructions including assembly of every basic configuration, suggested experiments, tuning guidelines, independent and dependent variables to record and measure, data tables, historical information about trebuchets and catapults, and more, it should be easy to get started with this Ultimate Science Project Kit!
Looking for a great Catapult Game?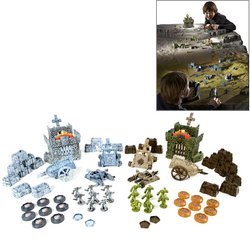 Battleground: Crossbows and Catapults War Chest Starter Set
Build your fortress and position your weapons to protect your kingdom. Battleground is the game that puts you in the heart of the battle between knights and orcs. The War Chest unleashes the epic battle right into your home. Includes castles, crossbows, cannons, figures, building bricks and more -- 80 pieces in all ; Read the great reviews about this game.
What good is a catapult if you don't have a castle to attack!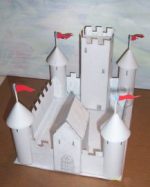 I have another project you might like. It is the Paper Castle and it has everything you could want in a castle making project including all the art work you can download. You just follow the instructions and make it yourself with some glue and cereal boxes. Build a Paper and Cardboard Castle It also has a learning sheet that helps to learn about castles when you are building it.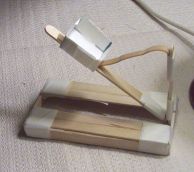 If you are looking for something easier to make you might want to try my project on making a popsicle stick catapult. Fast, easy and fun project! Goes great with the paper medieval castle. Make a popsicle stick catapult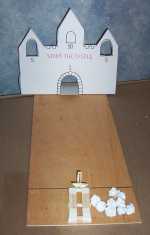 Storm The Castle Catapult Game - Build a Popsicle stick catapult and hurl paper balls at the castle. How to make the Game and the catapult are here