How to Make an Origami Gift Box
This is a fun and relatively easy origami box project. I show you exactly how to make this box step by step and with a video. All you need to do this project is eight squares of paper. They can be almost any size and the three boxes in the picture below use four inch, five inch or six inch squares. If you never tried origami before this is a nice place to start. It is not very difficult and it comes out looking great.
I used paper that I purchased in Japan but you can use just about any paper including printer paper. Just cut yourself eight squares and make them as square as possible. It will make a difference in how easy it is to fold.
I have more Origami Projects, and I have a lot more coming. I have an Origami Home Page here so you can view the projects. On that Page I also have resources to buying books and paper and I have information and projects on the Japanese art of Tatebanko which is the art of paper dioramas. I also have a page of Origami Books and Papers.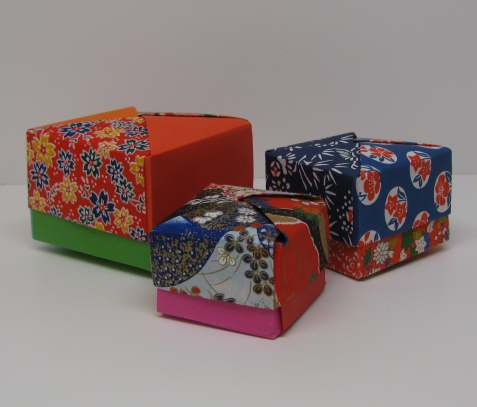 Books, Paper and More Origami Resources & Stuff
(Lots more Origami Books, paper and projects here)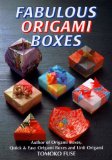 Fabulous Origami Boxes
- Imagine a box made of paper! Boxes are one of the most popular formats of the age-old papercraft of origami. This delightful book is entirely devoted to the creation of origami boxes-plain or fancy, playful or practical, and elaborate boxes topped with cranes, butterflies, lilies, stars, and more.
FABULOUS ORIGAMI BOXES includes designs for nesting boxes, simple triangle and square boxes and more complex hexagonal and octagonal boxes. Detailed illustrations provide step-by-step instructions on the correct way to crease and fold origami paper. Many of the designs are made of one sheet of paper, but some combine individual units with intriguing results.
Both practical and lovely, these boxes can be used for gift-giving, storing trinkets, or simply for display.
Yuzen Chiyogami Origami Paper- Set of 30 Sheets
- Yuzen Chiyogami- Set of 30 Sheets Gorgeous origami papers from Japan. These are high quality rice papers with brightly printed patterns; highlighted with metallic gold. This set includes 15 patterned sheets and 15 solid color sheets. They measure 3-15/16"x3-15/16".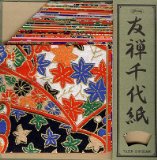 Mini Yuzen Chiyogami Origami Paper
- Mini Yuzen Chiyogami Origami Sheets These mini sheets of origami paper are absolutely beautiful! Each pack comes with 20 sheets of brightly patterned paper accented with metallic gold. This is very high quality mulberry based rice paper. Also included are 20 solid color sheets for a total of 40 sheets per pack. The sheets measure 2-3/8"x2-3/8". The image shown is enlarged to show detail.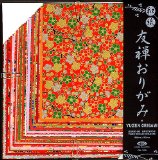 Yuzen Origami LARGE Set of 30 Chiyogami Papers
- Yuzen Origami LARGE Set of 30 SheetsThese incredibly detailed and beautiful Origami papers are of the highest quality. The intricate designs are printed in a rainbow of bright colors and outlined in metallic gold and silver. The base paper is heavy duty professional grade rice paper. Each set includes 15 different patterned sheets and 15 contrasting solid color sheets. Each sheet is 5-7/8 inch square. This is a perfect packet for all decorative paper appications- scrapbooking book making collage decoupage Kirigami and Origami folding. We have another set that includes 40 sheets of paper... Both sets have different patterns in them so if you purchase them both you will get different papers in each set. Our last shipment of this Origami pack had different papers in every pack- they are all gorgeous sheets! If you buy two of the same item number you are not likely to get repeat papers.