Make the Assassin's Creed Chest Piece
This is a tutorial showing how to make the assassins creed chest piece that you can wear. I show you how to make it so it fits you. It is a large piece but it is pretty easy to make. And, you don't have to use vinyl to cover it like I have done. You can apply duct tape to the inside of the armor then paint the outside.

I also have a video tutorial showing you how to make this. It is at the bottom of this page.

This project took me 3-4 hours to make. And I had to figure it out along the way so you can do this project in no time at all.
Here is the completed leather chest piece that we make in this tutorial. But without the shoulder pieces. I have a tutorial on how to make those separately. The link for that project is just below the picture.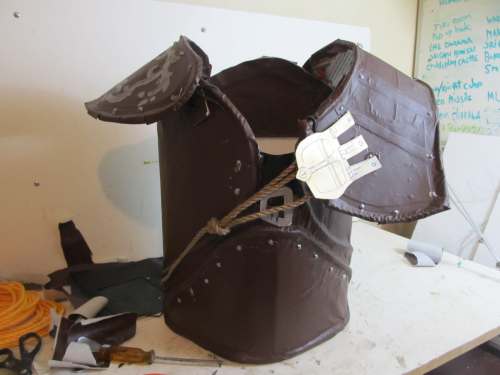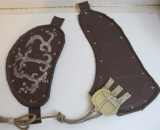 Make Assassin's Creed Spaulders
These are the leather shoulders armor from the video game. Make the Assassin's Creed Spaulders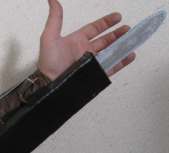 Make an Assassin's Creed Hidden Blade that works!
This is a fun project that just uses cardboard or foam board with a rubber band. It really works quite nicely. Make an Assassin's Creed Hidden Blade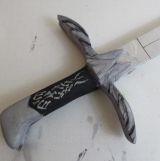 Make the Assassin's Creed Altair Sword
Easy project that looks great. Just need some foam and a single piece of foamboar. I have the template you can print up and make. Make the Altair sword from Assassin's Creed
Materials Needed for this Project
2 sheets of posterboard
Duct Tape
Brown Paint
Glue Gun or some kind of strong adhesive
3 yards of vinyl (not mandatory, you can paint this rather than use the vinyl)
Scissors
1 small piece of cereal box cardboard to make the buckle
a length of 1/4 inch rope, or clothesline rope, or wire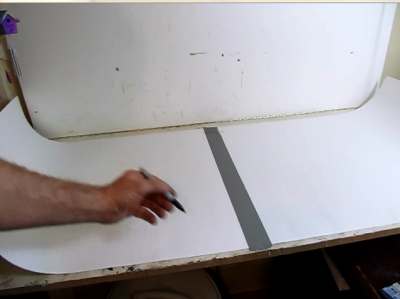 Layout the two sheets of posterboard side by side and tape them together with the duct tape. Tape both sides to make the joint nice and strong.
Measure your waist with a piece of rope or string and cut the string to 4 inches longer than that measurement.
Use this string to determine the length side to side of this posterboard assembly.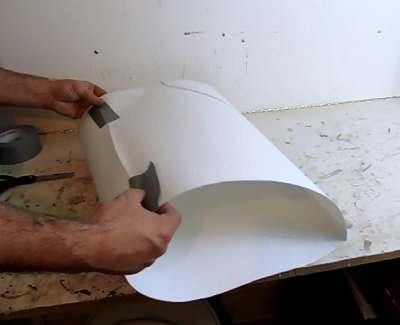 Roll it into a tube and tape it up real well. Put a whole strip of tape on the outside and a whole strip of tape on the inside.
Try fitting it on to see if it fits ok.
You can trim the height of it too. So it fits from your collarbone to just bellow your naval. You can trim it now or wait a little bit and trim it after you start getting some of the patterns on it.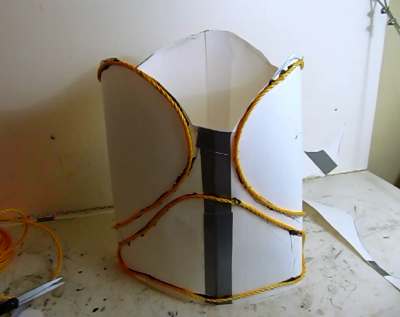 Now you are going to draw the shapes on the chest piece. The ropes here show you how to draw the shapes. First there is the pattern on the belly. That goes about half way around. Then there are the two pectoral shapes. those go all the way around and connect in the back. The next picture shows that.
You can cut the posterboard to fit the shapes you draw. And be sure that it will fit on you. Try sliding it on and adjusting it. Particulary the height. The pectoral shapes should be over your pectorals and the waist is well, at your waist!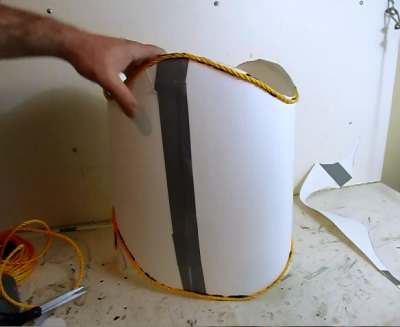 This picture shows the back of the piece. Now you can go ahead and hot glue gun the rope all the way around just like shown in these last two pictures.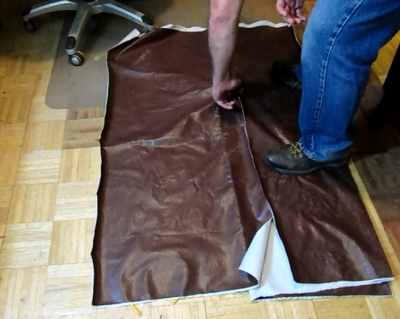 Now cut yourself a piece of vinyl large enough to wrap around the whole chest piece and top to bottom too.
If you are not using this vinyl method that is ok. Just skip this step and the next couple of steps.
You can cover the whole inside of the chest piece with duct tape. More than one layer if you want it super strong. And then you can go ahead and paint the outside of the chest brown.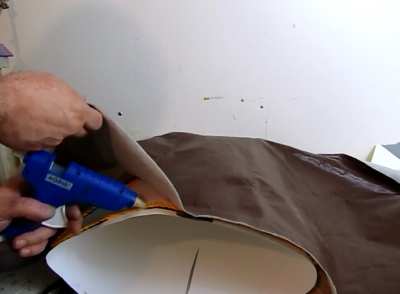 Ok, hot glue the vinyl right to the chest piece. No need to apply the glue to the big flat sections of the chest, just apply glue against the ropes and press down the vinyl.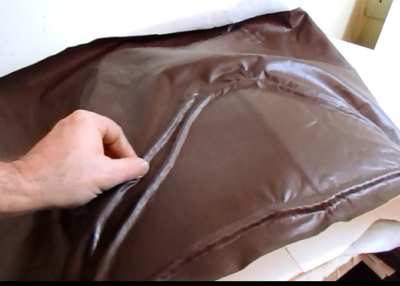 This picture gives you a really good look at the glueing. The most important thing is to glue along both sides of each piece of rope. It gives you that nice look. Do this around all the ropes on the whole chest piece.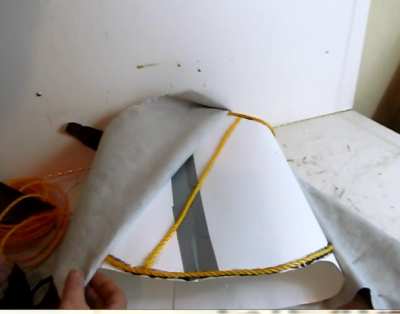 This was kind of an after thought for me but I went ahead and glued a piece of rope diagonally across the back like this.
It makes the back look more authentic. And it makes for a good glue line. You can cut the vinyl to just go over the rope. Then you can cut the other half of the vinyl to match that line and seal off the back.

Okay, this chest piece is just about done. Let's finish it up!!
---
---
---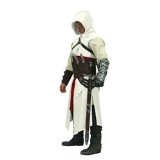 Assassin's Creed Altair Under Tunic
This under tunic is from Assassin's Creed and worn by Altair the Assassin. His long sleeve under tunic is a soft gray and made of 100% cotton. Coordinates with the Altair Over Tunic with Hood. Choose from sizes S/M or L/XL.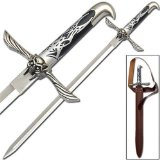 Assassins Creed Altair Majestic Sword
Great for fans of Assasins Creed. This is a serious weapon, with significant power, and ideal for display. This 440 stainless steel replica has beautiful black and silver detail: Winged-shape blade guard and goblin head pommel. * Includes stunning belt sheath * Great for cosplay or display * Brand new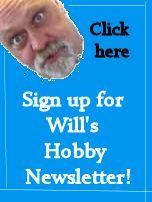 Do you like making projects and exploring a variety of hobbies?
Sign up for my free newsletter. I give you regular updates on hobbies and projects you can make. it is totally free and I don't share your email with anybody.