How to Make a Spartan Spear (Hoplite Spear)
This is an easy to make spartan spear and I give you the template you can download and print up and full instructions with pictures and video so you can make your own spear just like the ones in the movie 300.
To make this spear you can follow along with this tutorial or you can watch the video tutorial at the bottom of this page.. If you have a good handle on how to make it all you need is the template I have drawn. This template is for the Point and the butt of the spear and it is located here: Spartan Spear Template Just right click and save it to your computer then print it up.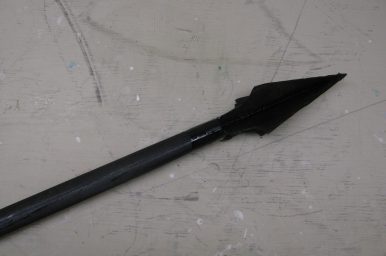 Note From Will: I also have a Spartan Helmet project that you can make out of paper mache. It is located here: How to Make a Spartan Helmet
The picture below shows the tools and materials needed to do this project.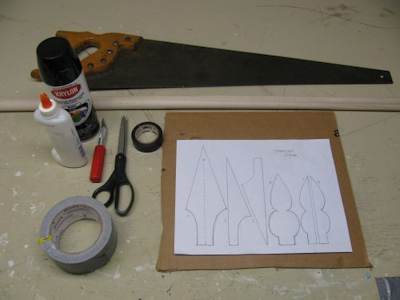 Materials & Tools:
Template - Can download and print up here: Template for Spear Point and Butt
Piece of Cardboard
A wooden dowel or broomstick - about 1 inch thick and up to 72 inches long
Black paint and brown paint, paint scheme is optional
Saw
Scissors and hobby knife
Glue, white glue or carpenters glue
Electrical or Duct Tape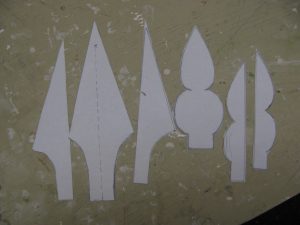 Print up and cut out the six pieces of the template. These pieces make up the Spear Point and the Spear Butt.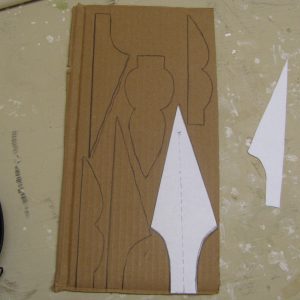 Put the six pieces of the template on your cardboard and trace the patterns. Then cut out the six cardboard pieces.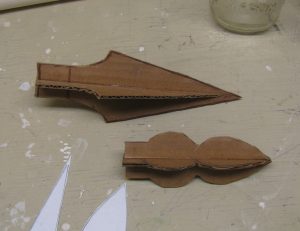 Glue together the Spear Point and the Spear Butt.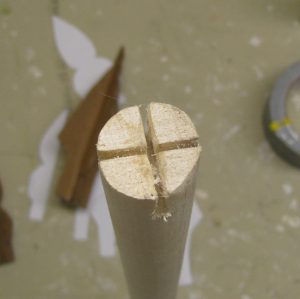 Cut notches in the broomstick or the dowel. Do this in both ends. And make the notches approximately one inch deep.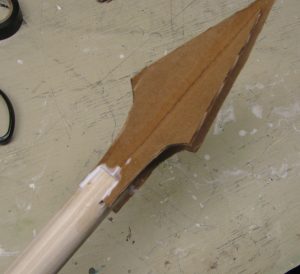 Glue the Spear Point and the Spear butt to the handle. Allow the glue to dry thoroughly before proceeding.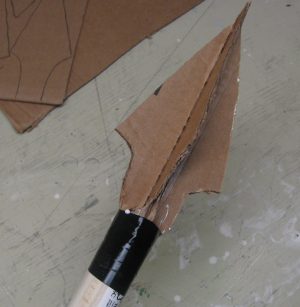 Wrap electrical tape around both ends of the spear to make the point and butt stronger.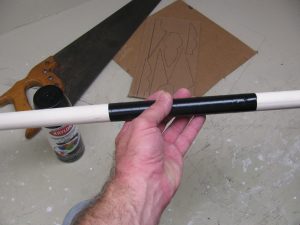 Wrap tape around the center of the spear. This is the handle. You can use black electrical tape or duct tape.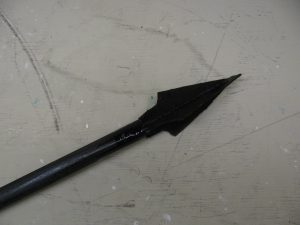 Here is a picture of the completed spear. Remember that this is just an ornament and even though the tip is cardboard it can still be very dangerous. You should never point it at anyone or throw it at anyone.
---
Here is the video tutorial showing how to make this spear
Interested in More Spartan Weapons and Armor?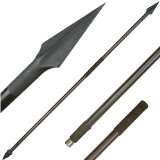 Spartan Warrior Spear Sectional
The Spartans were one of ancient histories greatest armies, willing to fight to the last man, willing to fight even when the numbers were greatly against them. They were great swordsmen, and just as dangerous with a spear. This is a replica of the spear Spartans would carry into battle. The tip is 10 inches of razor sharp steel. The handle is wrapped in suede and the butt of the spear also has a spike on it. A flat black finish has been used over this item. This spear is 83 inches overall, but can be broken down into two sections for easy transportation.
King Leonidas 300 Spartan Greek Replica Shield Pro New
This is the Poly Resin 300 Replica Shield. The shield features a handle and arm band. This shield weighs in at a whopping 12 pounds and comes with hand and armstrap. And it is made with a battle worn appearance.
Frank Miller's 300: Spartan Helmet Replica
The incredible vision of Frank Miller which was previously featured in a mini-series from Dark Horse comics is now brought to the silver screen by Warner Bros. in 2007! Monsters and men with metal clash to the death in this awesome film which looks to re-define action and adventure for great timepiece cinema. If you have a penchant for acquiring movie-accurate memorabilia that commemorates great films in motion picture history, then you'll want to check out these exact prop replicas that bring the power of 300 to your home or office!