How to Make a Secret Geode
A secret Geode is a hollow rock that you can make. Inside the rock is some kind of secret little object or scene that you make. This makes a unique gift to give to someone and it looks terrific on display. In my secret geode I make a little scene from the movie "Tangled". It is Rapunzel's Tower.

You can put anything you want inside. You could wrap a present and just put it inside or put pictures, sparkle or anything you can think of.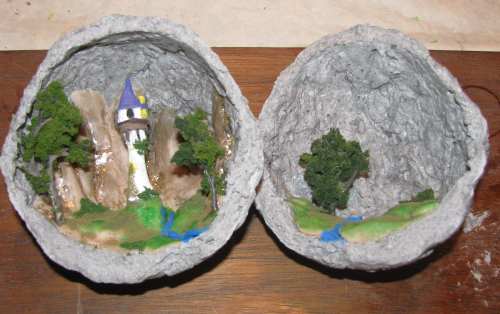 And this is what it looks like on the outside. Just a plain old rock :)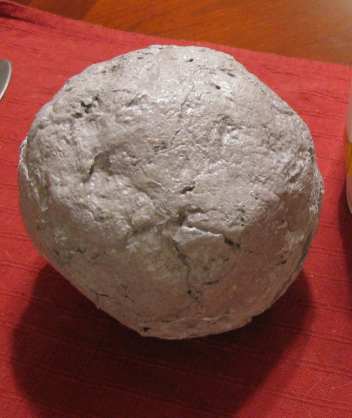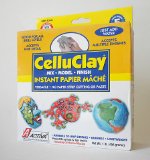 To make this project I use a product called Celluclay. It is a type of paper mache for arts & crafts and I really love it. All you do is add water and it is ready to go. I am sure there are other options to make this project but I do like the celluclay. It is available on Amazon.com: Activa Celluclay Instant Papier Mache, 1-Pound, Gray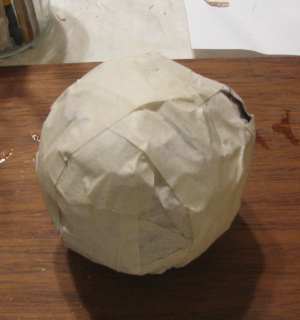 Step One: Make a ball of newspaper and wrap it with masking tape so it keeps its shape. Make the newspaper ball nice and tight and any size you want. Mine is about the size of a softball.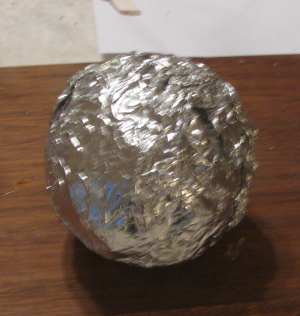 Now wrap it in two layers of aluminum foil. This will allow you to easily separate this inner ball from the Celluclay shell that you make.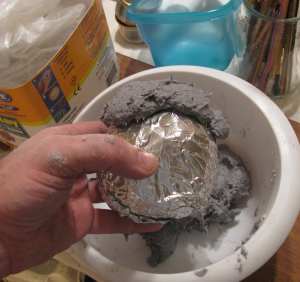 Mix the celluclay by adding water to it then apply it to the ball. Put it on nice and thick (At least 1/2 inch thick.
Then set it aside to dry. You might want to rotate it every few hours if you don't want a flat spot to form. And you can significantly speed up the drying process by using a fan on it.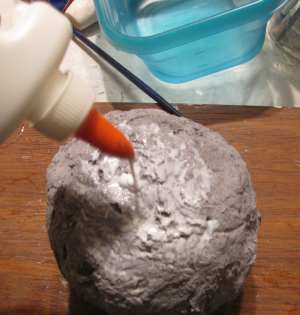 Now apply white glue to the complete outside of the geode and let that dry. This will strengthen it.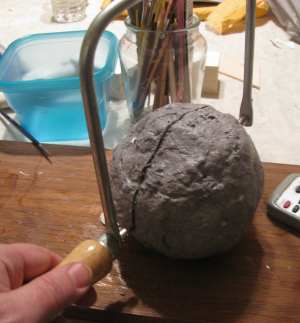 Once the glue is dried cut it in half with a saw. You won't be able to do this with a knife, the shell is too hard.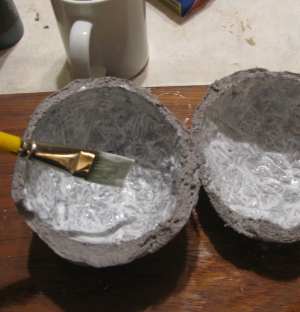 Next apply a coat of white glue to the complete inside of the shell. This is the final step in making the shell. Now we can put something inside then seal it up!
From Here you put your object or gift inside. Or you create your little scene. If you have certain types of arts and crafts skills then you might want to do something like that. I make a little diorama scene from the movie "Tangled".

If you want to see how I made the Tangled diorama and then how to seal it up then continue on with this diorama.
This is the video tutorial for this project. And I have lots of other interesting projects on my youtube channel.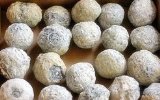 Break your own geode
Geodes are round stones, usually hollow filled with crystals or layers of agate. Your "Break at Home" geode should have either quartz or calcite crystals inside.
To crack your geode, first place it inside an old sock. Lay sock on concrete floor or sidewalk, and tap geode with hammer
1 dozen package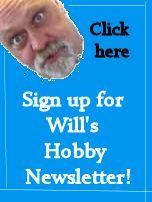 Do you like making projects and exploring a variety of hobbies?
Sign up for my free newsletter. I give you regular updates on hobbies and projects you can make. it is totally free and I don't share your email with anybody.