How to make a homemade egg incubator for chickens
This is a tutorial on how to make a home made egg incubator out of a few basic materials. It is not a hard project to do and it can be very rewarding when those chickens hatch!
First let me give you some quick guidlines on what to do and how to care for your chicken eggs so they will incubate successfully.
There are two important things that you have to monitor if you want your incubator to be successful. The first is the temperature inside and the second is the humidity inside. And both these things can easily be achieved with a simple incubator made out of styrofoam.
A note about this incubator project: One of the eggs did hatch and the chicken (Moe) is doing great. You can see a video of him two months after hatching here
Can you make this incubator successfully? You sure can! Here are some pics by a web visitor who did this.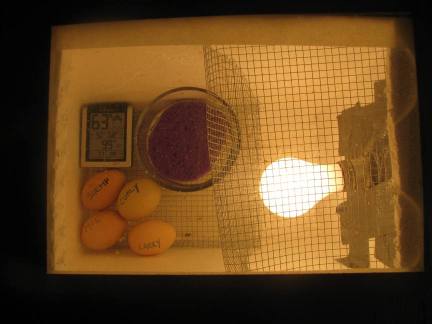 Guidelines for Successfully incubating chicken egges
Keep the temperature between 98 and 101 fahrenheit (The optimal temperature that you are striving for is 98.5)
Keep the humidity between 55 and 70%
It will take 21 days for the eggs to hatch
Gently rotate the eggs 1/4 to 1/2 turn three times a day for the first 18 days
For the last three days of incubation do not rotate the eggs
Don't wash the eggs before putting them in the incubator, leave them as they are
You can't use store bought eggs, you have to get them from somebody that raises chickens, ask for fertilized eggs because you want to incubate them. There is no way to guarantee fertilization but the chicken raiser will give you good eggs that have probably been fertilized
It is quite ok to keep the humidity on the low end of the scale 55-65 for the first 15 days but try to get the humidity up to around 65-70 for the last few days. This will help the hatching
This video shows you how to make the incubator and I go over the important points. Below the video I also have the web based tutorial on how to make this incubator.
How to Make an Egg Incubator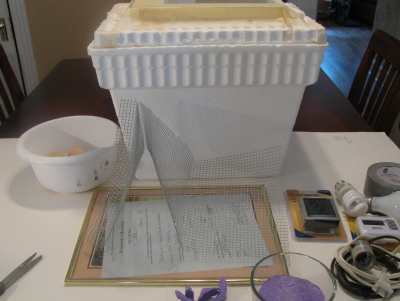 The Materials I use (as you work through the tutorial you will see how you can adapt to a variety of materials. Just remember that the goal is to keep both the temperature and humidity in range.
1 styrofoam cooler (You can use a plastic one if you are willing to cut holes in it.
1 typical wall picture frame with glass or plastic
1 25 watt lightbulb
1 lamp or light that the bulb fits into
roll of duct tape
a digital thermometer and humidity reader. Can be bought at walmart for 8 dollars
a small bowl and sponge for water
Some chicken or fence wire. The type with 1/4 inch squares is perfect (optional)
a few chicken eggs (I have four)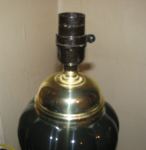 The lamp I use is an old lamp. Often times you can take apart a lamp like this to get the socket and wire out. That setup will simply plug right into the wall.
The first thing to do is make the observation window. Take the glass or plastic out of your picture frame and put it right on top of the cover of the cooler. Use this as a guide and cut a square hole out of the cover that is almost as large as the glass. It should be at least an inch smaller on all sides. You don't want the glass to fall through. Tape the glass down to the cover with duct tape. You now have an observation window you can look down into the incubator through.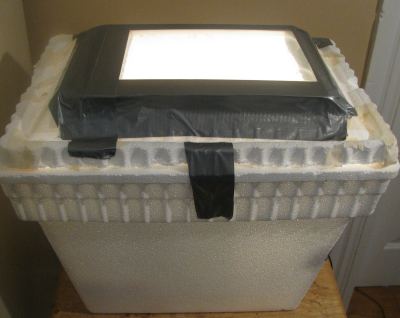 Now let's install the bulb then the screen. Cut a hole in one end of the cooler and insert the socket for your bulb then screw on the bulb. (You should firmly tape this in place with duct tape both on the inside and outside. I wil show you this in a minute. But for now let's also bend and place our screen.
The flat part on the left is where the eggs,water and thermometer go. This part is up off the bottom of the cooler by about an inch. This will keep the chicks clean as they leave droppings. The screen forms just a safety enclosure for the bulb on the right. You don't want your bulb contacting anything. It could cause undue heat or possibly a fire. This is why you tape it firmly in place and put this screen around it.
The screen is optional though, you could build your incubator without it.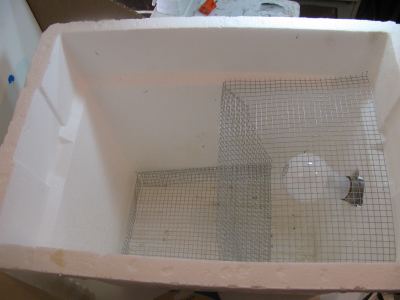 Now put your sponge and waterbowl in and fill it half way with water and place your thermometer. In this picture now you can see how I have taped the bulb socket in place.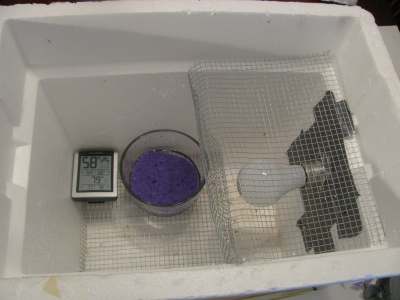 Now, Put the cover on it and monitor the temperature and humidity. It might be just fine as it is. Give it a couple of hours so you can be sure. If the temp and or humidity need to go up you can start sealing off some of the cracks with duct tape. Or you may possibly have to go with a brighter bulb. Once you tape it up a bit then let it acclimate again and see how it goes.
If the temp then goes too low you can adjust things by removing some tape or poking a couple of pencil sized holes in the side of the cooler. And you can always tape them back up. So, tinker with this a bit until the temp and humidity are in range. Then you can place your eggs.
Place your eggs in a clutch together. (they will help each other maintain a constant temp) and as far away from the bulb as possible and near the thermometer.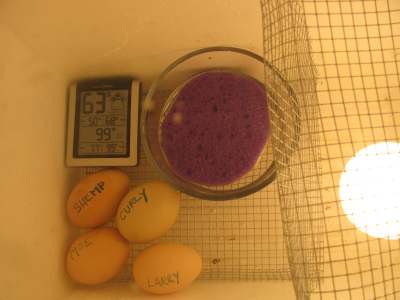 Now, it will take 21 days before they start hatching. Monitor the temperature/humidity often in the first few days and gently rotate the eggs 1/4 to 1/2 turn three times a day every day for the first 18 days . After those 18 days do not rotate them!

Let's continue on to three weeks later - you can see a video of the chick hatching and learn about the brooding box
Can you make this incubator? You sure can. here are two pictures of an incubator that Jasmin made. My thanks go to her for sharing the pics with us!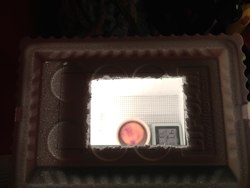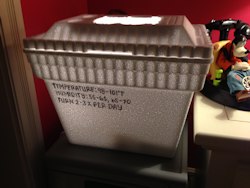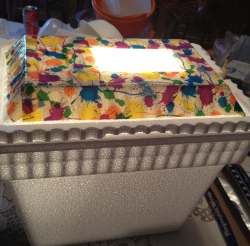 Monica used this tutorial to make her own incubator and it came out great. She also decorated it! She had a 100% hatch rate with her first batch of Silkie Chickens. You can see more pictures of this incubator and the baby silkies right here
Here is what she says about this project:
." I am so excited because I really didn't have high hopes for them hatching since this was my first time making anything like this. I Did everything Just like u said and it worked perfectly. It wasn't as hard as i thought it was going to be. Thanks so much..."

---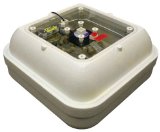 GQF Hova-Bator #1583 Picture Window Turbofan Egg Incubator
Top has a large clear plastic window for best viewing of the incubation and hatching process. Picture window is double plate plastic with air space insulation to help eliminate moisture buildup, which would obstruct viewing. Large viewing area is ideal for classroom work, science projects, advertising and promotional work, and for group observation of the hatching processes. The No. 1583 ia a circulated air model. Without a turner in place all Hova-Bators will hold any size egg, from 130 small Quail eggs, up to 50 large duck eggs. Dimensions: 18' x 18' x 9 1/2', 110 Volt AC,, 25 Watt All Hova-Bator incubators include a sanitary plastic liner (item No. 1765). Like all incubators, these models require a stable room temperature and should not be used in barns, sheds, etc.

Acu Rite Indoor Humidity Monitor
Indoor Thermometer with humidity reading. This is the exact thermometer that I use in my incubator you see in this tutorial.
NEW Brinsea Economy Mini Incubator: 10 Egg
The Brinsea Mini incubator is a small, high quality, low cost, egg incubator combining ease of use, performance and exceptional value. The Mini Eco holds 10 hens eggs (or equivalent) and provides the fine temperature control to ensure consistent and reliable hatches. Temperature is monitored on a purpose built liquid-in-glass thermometer and although factory set, the electronic temperature control allows fine tuning of the temperature setting if required. Humidity is provided for with central water reservoir and the Mini Eco operates at low voltage (from mains adapters supplied) for safety. The Brinsea Mini Eco incubator is designed to use for the education of children although they are not toys and should be used only under adult supervision. Maximum egg Capacities (approx) Quail 24 Pheasant 12 Hen 10 Duck 8 Technical Specification Weight Eco - 0.85Kg (1.9lbs) Advance - 0.95Kg (2.1lbs) Power Consumption 18 Watts Max, 12 Watts typical average Dimensions H x D 165 x 222 mm (6.5 x 8) Electrical supply 115V 60Hz as specified Unit is shown at left in picture next to the autoturn, Mini Advance version.
GQF Hova-Bator Thermal Air Flow Egg Incubator
Invented by GQF over 30 years ago, the Hova-Bator is still the world's best small incubator and the Thermal Airflow model is the most economical & most popularly selling incubator available. The radiant heat tube gently warms the inside of the incubator and draws fresh air in through the bottom vent. This thermal air flow also assists in drying of the chicks after they hatch. The wafer thermostat is time tested, proven, accurate technology. Suitable for all breeds of poultry, gamebirds, waterfowl as well as for tropical birds and reptiles. Automatic egg turner is available separately. In peak hatching season (March through July) allow 15 to 21 days delivery.