Make a Paper Mache Animal Pinata
This is a tutorial on how to make a paper mache pinata. And I do the tutorial in a way that leaves it open for just about any shape or animal that you want to make. You could make a dog, cat, elephant, or just about anything else.

And, This particular pinata has an added little thing that you don't see very often. This pinata, when you strike it, talks!

I have added a little electronic device to this so that when it gets hit it talks! That is a totally optional thing and will be part of an upcoming tutorial.

If you just want to make a paper mache pinata this tutorial takes you through all the steps and I also have a video showing how to do this.
This picture shows the completed pinata that we make in this tutorial.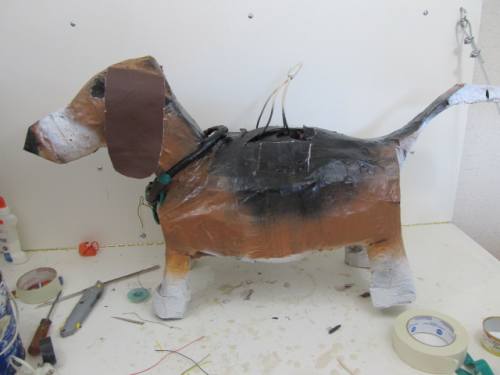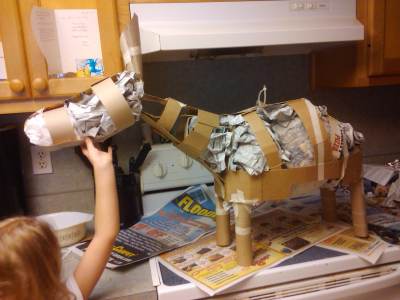 Can you make this pinata? Yes. And you can make all kinds of different animals. Here is a picture of a Horse Pinata that was made by a web visitor (Karen) following this tutorial. She made it for her daughter's 5th birthday party!
Let's Get Started!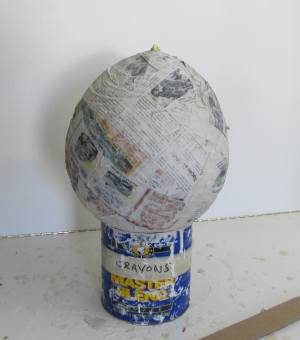 The first thing you should do is to make this paper mache balloon. This is the basic structure of the pinata and all of the candy will go in here.
Blow up a balloon and put it on a container like the coffee can shown. Then cover it all in strips of newspaper dipped in paper mache.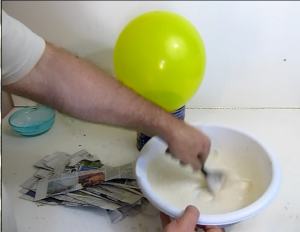 Let's make the paper mache -
Mix two cups of water and two cups of flour in a large bowl. And cut yourself a bunch of strips of newspaper. The strips should be roughty 2 inches wide.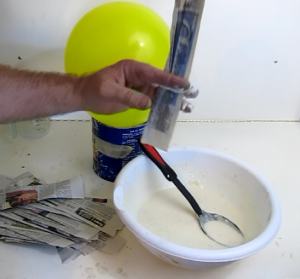 Dip the strips in the paper mache and wipe off the excess with a scissor like action of your fingers. (This is shown in the picture) . Apply these strips to the balloon. And do a lot of overlapping so it creates a strong layer of paper mache on the balloon.
Once the balloon is completely covered let it dry over night. It will dry in an hour if you point a fan at it.
Then, to make your pinata stronger I recommend you do this again - applying a second coat to the whole thing.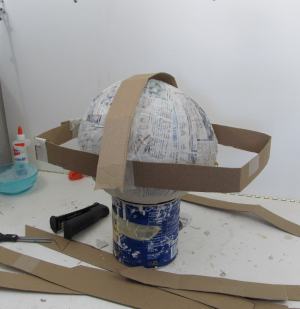 Now make the cardboard frame of the animal pinata. It usually works pretty good if you start with the horizontal piece as shown in the picture. You can use tape and a stapler to put this frame together. Just be sure to leave a good part of the bottom of the balloon exposed so it can break open and spill candy!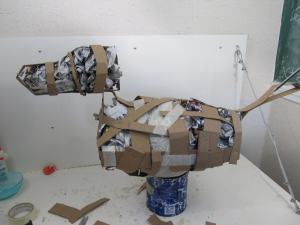 Continue making the frame and once you think it is done you can stuff it with balls of newspaper. Don't hesitate to add more strips of cardboard to fill out the frame nicely.
Reinforce anything that seems weak or that you think might sag under the weight of the paper mache.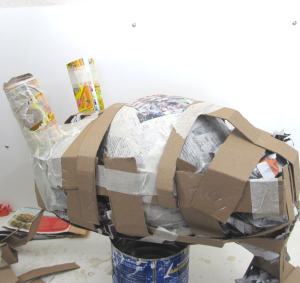 Be creative and add anything you think it needs. This picture shows the legs being added. And the picture also shows how I have left a good section of the bottom without cardboard strips so that balloon can break open and spill candy.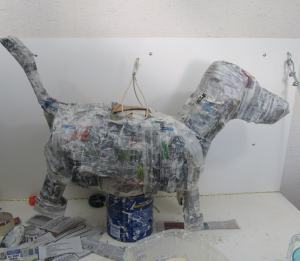 Now mix up some more paper mache and coat the whole frame. You will only need to do one coat this time. No need to make it that strong. We want it to break open!
But, before you coat it in paper mache put a couple of pieces of string or wire under the cardboard frame so you can hang the pinata. Putting it under the cardboard frame will insure it is nice and strong.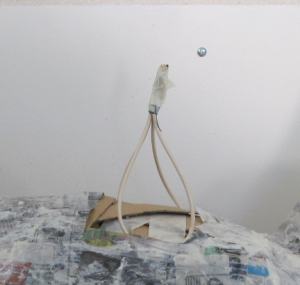 This picture shows the wires I put in so the pinata could be hung.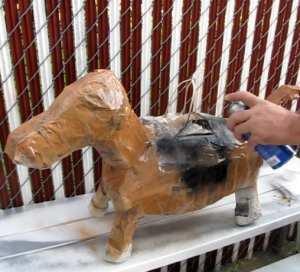 Once the paper mache dries you can go ahead and paint it. Use spray paints, acrylics, brush on paint, Anything you want.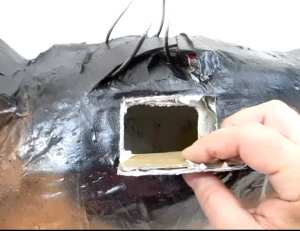 Just a little bit more to do. First stick some kind of a sharp object into your pinata to pop the balloon! Then use a knife and cut a trap door like shown in the picture. This is so you can fill it with candy.
Congratulations! Your Pinata is done. If you make one be sure to send me a pic so I can put it on my website!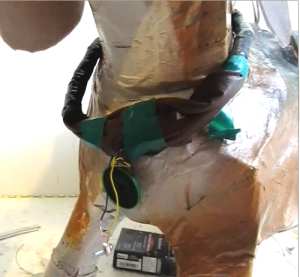 Extra - I added a talking collar to this pinata. This is a little electronic project that I did. Every time somebody hits the pinata it talks. This is another tutorial that will be coming soon. I also show a little bit of this in the video below.
The tutorial for the electronics of this project is here
Here is the video Tutorial showing how to make the Pinata.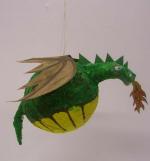 How to Make a Dragon Pinata
All it takes is a balloon, some paper mache and a little creativity and you have a great themed pinata. Add a sword and your party is transformed! How to Make a Dragon Pinata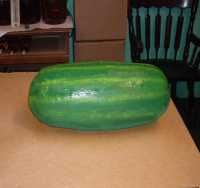 How to Make a solid, heavy, and realistic looking paper mache Watermelon
This is basically rolled up newspaper that is covered with paper mache and with paint. Add a coat of clear spray and it looks real! Here is the tutorial on how to do it. Make a Paper Mache Watermelon
---
'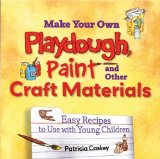 Make Your Own Playdough, Paint, and Other Craft Materials: Easy Recipes to Use with Young Children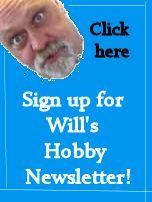 Do you like making projects and exploring a variety of hobbies?
Sign up for my free newsletter. I give you regular updates on hobbies and projects you can make. it is totally free and I don't share your email with anybody.