I have a youtube channel with over 20 Mead Making Videos
Articles
How to stop the ferment of mead
Should you make 1 gallon of mead or 5 gallons?
Mead Making and Alcohol Content
The Secret Art of Mead Making Revealed
New: 5 Tips for the beginner mead maker
It's all about the Honey - A dramatic look at how important honey is in mead making
For Beginners: How to make your first and easy 1 gallon batch of Mead honey wine
How to make a sparkling champagne style mead
How much does it cost to make a batch of mead? I have the cost breakdown here
How to make a batch of mead today! The fast, easy, and cheap way to your first batch of honey wine
The difference is the honey! A stop motion animation showing two different honeys side by side and how the fermented brew looks
Thinking about designing or buying your wine and mead bottle labels? Here is some information about labels and bottles that will help you
The Magical Transformation of water into wine with pics
How and why to use a hydrometer
How to use a wine thief to test your wine or mead
Dispelling the Myths about Mead
Thoughts about Mead and Wine Making
Important note about Sanitizing your Mead making and wine making equipment
Learning the art of Patience when making wine or mead
How do you know the ferment is working?
Checking the PH of your Mead to insure good fermentation (video)


Hi, Thanks for visiting my website. My name is Will and if you have questions
or would like to
contribute projects or ideas you can
The Ken Schamm Limited Series of Meads
If you are a mead maker, or even if you just dabble a little bit you probably have heard of Ken Schramm. He is the meadmaker who wrote the book on mead making. The book is called "The Compleat Meadmaker" and its a standard that should be on every mead makers bookshelf.
B.Nektar and Ken Schramm
B.Nektar Meadery has teamed up with Ken to make a signature series of Meads. The first mead in this series is called "Heart of Darkness" and it is to be released in a very limited number of bottles (110) each one signed. If you want to get one of these bottles you are going to have to reserve one. I recommend you act fast. Here is what B.Nektar has to say about this mead:
"Meadmaker Ken Schramm crafted the Heart of Darkness exclusively from his home grown fruit. This mead represents a true labor of love. Hand-picked and hand-pitted morello cherries were fermented with black currants, red raspberries and Michigan honey from Larry Yates' Sawmill Lake Apiaries. Virtually all of a season's fruit production was used in this inaugural batch, limiting its production to a small number of individually signed and numbered bottles. The Heart of Darkness was free run, unfined and unfiltered, yielding a deep, intense character. It pairs beautifully with grilled meats, bleu cheese, and dark chocolate. "
Read more about this Mead here
Note: The Heart of Darkness Mead has been officially released!! (As of July 03, 2009)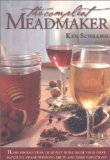 The Compleat Meadmaker : Home Production of Honey Wine From Your First Batch to Award-winning Fruit and Herb Variations