I have a youtube channel with over 20 Mead Making Videos
Articles
How to stop the ferment of mead
Should you make 1 gallon of mead or 5 gallons?
Mead Making and Alcohol Content
The Secret Art of Mead Making Revealed
New: 5 Tips for the beginner mead maker
It's all about the Honey - A dramatic look at how important honey is in mead making
For Beginners: How to make your first and easy 1 gallon batch of Mead honey wine
How to make a sparkling champagne style mead
How much does it cost to make a batch of mead? I have the cost breakdown here
How to make a batch of mead today! The fast, easy, and cheap way to your first batch of honey wine
The difference is the honey! A stop motion animation showing two different honeys side by side and how the fermented brew looks
Thinking about designing or buying your wine and mead bottle labels? Here is some information about labels and bottles that will help you
The Magical Transformation of water into wine with pics
How and why to use a hydrometer
How to use a wine thief to test your wine or mead
Dispelling the Myths about Mead
Thoughts about Mead and Wine Making
Important note about Sanitizing your Mead making and wine making equipment
Learning the art of Patience when making wine or mead
How do you know the ferment is working?
Checking the PH of your Mead to insure good fermentation (video)


Hi, Thanks for visiting my website. My name is Will and if you have questions
or would like to
contribute projects or ideas you can
What do you need to make mead?
Mead is a very easy thing to make. The yeast that you add does the yeomans share of the work and you do very little.
Added Note: This tutorial has been turned into a video lesson where you can watch me make mead from start to finish Making Mead Video tutorial
This is, in effect, what you do when making mead. It proves my point.
Mix honey and water together
Add yeast
add some food for the yeast
let it sit until it is done!
You can see that the process is really quite simple and you can even leave out step three. So, as a bare minimun you need honey, water, yeast and some kind of yeast food. That's everything. From there you need equipment to make it all in and you can fudge this by using any num ber of things.
Let's Get a little more professional and fancy - So What do you need?
You can buy a beer/wine brewing kit that is perfectly suited for brewing mead. And it will have almost everything you need.

The First thing you need (And the most important thing) is the honey. Here we have twelve pounds of honey. This will make a dry mead. It should also be quicker to ferment. If you want to make a moderate mead you boost this up to 15 pounds and if you want to make a sweet mead you boost this up to 18 pounds.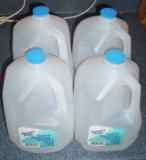 Four gallons of spring water. Do not use tap water for your mead! Mead is a food product and a very fine one at that. Don't use tap water. Pay the five bucks and get spring water.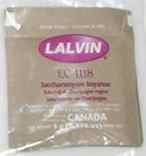 1 Package of yeast. There are many different types of yeast you can use for your mead and almost any type will be fine. Here I am using Lalvin EC-1118. Munton's yeast is also a very popular yeast for making mead.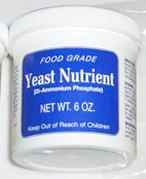 Some Yeast Nutrient. This is a little container of nutrient and it will be good for many batches of Mead.
Nutrient, while not necessary, is a good idea because the yeast will be feeding on your brew of water and honey and the nutrient insures the yeast has some really good variety of food to grow on and develop. This jar cost me five bucks and worth the price. You could substitute a variety of things for food and tea leaves or orange peels work well.
Equipment you need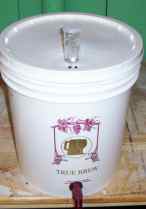 A Six Gallon Fermantation bucket and and airlock. The airlock is the clear plastic thing on the top. (The airlock insures the gases created from the brewing can escape without any impurities going into the brew.)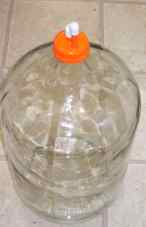 A Six Gallon Glass Carboy - you will also need some kind of a stopper for the top of it. The stopper must be able to accommodate the airlock. When you siphon the must out of the bucket and into this carboy you will move the airlock too. The airlock is still needed because the brew will continue to create gases.
More Stuff -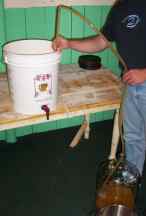 You are also going to need some tubing so you can siphon the must out of the bucket and into the glass carboy. Six feet should be enough.
There are other things that you might want to think about. These things will make your mead making easier, more professional and increase your odds of turning out an awesome mead.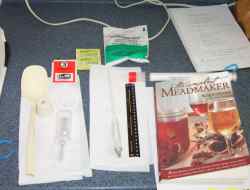 A large spoon for stirring inside the bucket

A book on mead making

A thermometer for checking temp

A hydrometer for checking the liquid density

Sanitizing chemicals for cleanup afterwards

A Notebook to keep track of everything (Especially if you want to experiment and try different recipes)

Yeast energizer - this is like a yeast food but specially designed to get your yeast off to a fast start.