Fun and Interesting Learning about Astronomy and Telescopes
Astronomy and telescope Toys and Kits for kids

Discovery Exclusive Remote Control Moon In My Room
Bring the beauty of the moon right into your room with this authentic, remote control, model moon. Features: Built-in-light sensor illuminates moon when it gets dark. Rotates through 12 lunar phases. True-to-life, detailed lunar moonscape. Easily mounts to wall with three different hanging angles. Includes: Calendar with moon phase charts. Audio CD with guided tour to the moon and beyond. Detailed instructions. Get a real-life, under-the-moon experience from the comfort and safety of your own bed.
Nightscapes is a unique kit that has everything you need to transform a plain ceiling into an accurate starry night sky. The patented star projector guides you in applying the proper size dots of glow paint to reproduce the celestial nightscape of the summer sky. The 12 page booklet contains complete instructions, including a sky chart showing the names of the major stars and constellations. Additionally there are fascinating facts and ancient legends about 13 of the predominate constellations. Batteries are included for the star projector. Box dimensions: 13.75"x11.25"x2.5". Ages: 8,9,10,Adult

Discovery Exclusive Ultimate Star Childrens Planetarium
View the night sky as it would appear anywhere in the world with this motorized indoor planetarium. Project 88 constellations. 12 celestial objects, including 8 planets, Pluto and its moon, Charon. Uses super bright bulbs to project over 600 stars. Searchable database with over 600 star facts and myths. Interactive talking computer and backlit navigational screen. Features five modes for a variety of astronomy tours and settings. Features a one-hour timer so you can fall asleep under the stars. Includes AC power adaptor and 24-page, full color instruction manual. This accurate, computer-aided, motorized planetarium transforms an ordinary room into a truly stellar display. Safety warning: This product contains small parts that may present a choking hazard for young children.
Grades K - 6. A giant high quality cardstock mobile kit featuring actual NASA photography. Set includes 9 planets plus the sun and measures 40" across. Facts are included about each of the 10 NASA images.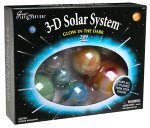 3-D Solar System
Watch the Universe from your own room. Nine colorful glow-in-the-dark planets, over 200 adhesive stars and a Solar System Guide are included to recreate the solar system. Simply hang the glowing 3-D Solar System from the ceiling, turn out the lights and watch the Universe come alive. What a stellar set! Bring a splash of science to your decor with these gleaming planets and stars. A special phosphorescent formula will give your universe long life and all the accessories you need to hang and stick everything into place are included in the kit. Comes with nine glow-in-the-dark planets, 25 feet of string, 200 glow-in-the-dark adhesive stars and a planetary guide.

Discovery Planetary Challenge
This interactive 3-D model demonstrates the motion of the solar system and challenges kids with over 600 cosmic questions.
Rotating 3-D solar system
Built in lights and speech
Human voice leads interactive journey
Over 600 questions and answers
Fun facts on each planet and the sun
Easy-to-read control panel
Solar system guide book & planetary address chart included
Pictures and words can go only so far in describing how the planets and sun interact. This 3-D model demonstrates concepts so kids can understand at a deeper level.