I have a youtube channel with over 700 Videos!


Hi, Thanks for visiting my website. My name is Will and if you have questions
or would like to
contribute projects or ideas you can contact me

The Warcraft Free Trial
Somebody sent me a free 10-day trial to World of Warcraft so i had to give it a whirl. I downloaded all the sofware and updates yesterday and it took me about 4 hours! I just let it run in the background while I did other thing - thank goodness for cable modem. If you are on a dial up this is probably not a game you want to play or let alone download!
A little about my first impressions: I played it for a couple of hours today My first impression is that the graphics are just a tweak too youngling for me. I tend to like the darker and more realistic games but this game has a player subscriber base of 5 million ! So you can see in the graphics that they wanted to get a look that appealed to a very wide audience and this is true.
Gameplay: If you are familiar with online game then you are familiar with the system, it is pretty standard when it comes to choosing worlds, alliances, characters, skills etc. It is all very nicely done and the User Interface is clean and comprehensive. So big thumbs up for game play and interface. Smoothness: Playing an online game on a saturday afternoon is a real tricky proposition because I am guessing this is the time when all the servers are at max capacity. But I had no problems at all! It ran smooth as silk!
Big Plus: I really love doing quests in games and my first impression playing this game just for one day is that it is very very quest oriented and that is great! Big thumbs up for that. It just makes the game much more enjoyable because instead of just grinding out the experience by farming the same creatures over and over you are working toward goals (quests) All in all - I simply love the total involvement and immersion of online games. I have played quite a few of them from Ultima Online, to Shadowbane, Final Fantasy XI and even Runescape and Eternal Lands. This is a game you can really get involved in! If you are looking to get yourself a christmas present then this game is a good choice - Beware though; after your initial trial period it will come to about $15 bucks a month which seems a bit steep to me. If you want to take a peek at Warcraft you might want to check out my post on Southpark and Warcraft. Southpark did a wonderful parody with real game footage. Look in the Game categories of this blog or scroll down. And about Warcraft: Amazon.com has got it cheap: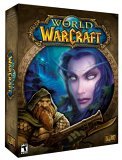 World of Warcraft