Video Game Swords
The video game world is a game of pixels, bits, and imagination. But you can take a little bit of this into the real world. In many games the sword is an important part of the game and the world. These swords are often reproduced and offered to fans of the game. here is a selection of some of the popular swords from video games.
World of Warcraft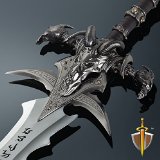 High Quality Handmade 1:1 Replica Stainless-Steel Frostmourne Lich King Arthas Sword From World of Warcraft WOW With Display Plate
100% brand new and high quality WOW Frostmourne Lich King Arthas Sword
This 1:1 replica sword is made of Stainless-Steel with very detailed craftsmanship, Great for collection or cosplay
Alloy Tsuba (Guard) with exquisite craftsmanship design, Comes with a wall mount kit
Mosaic pattern into the steel surface, convex, concave and distinct
Overall Length: 120cm/47"; Nagasa Length: 80cm/31.5"; Weight: 4.5kg/10lbs
Assassins Creed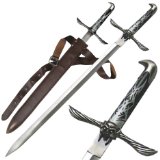 Assassins Creed Altair Majestic Medieval Sword
Assassin's Creed fans will love the detail on this medieval style sword. Inspired by Altair's favorite close range weapon, this sword features a double edged 440 Stainless Steel blade, hard wood handle, and cast metal guard and fittings. The winged skull is one of the most terrifying guards we have ever seen! The tribal artwork on the handle followed by the clawed pommel complete this work of art. For those times when you need this trusty sword by your side, we include a stunning belt sheath, designed specifically for this sword.
The Legend of Zelda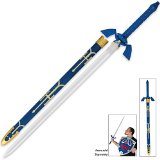 Legend of Zelda Twilight Princess Replica Sword
We present to you The Master Sword, used by Link in the epic Legend of Zelda video game series! Best known for its role in Ocarina of Time, the Master Sword allows Link to control the flow of time, traveling between the future and present. With this sword, you must travel to the Sacred Realm and banish the King of Evil, Ganon, into exile. Complete with the Triforce seal engraved on the blade (aka The Golden Power seal), this sword will impede evils ability to act.
About the Video Game:
GameCube: Legend of Zelda: The Twilight Princess
Nintendo Wii: The Legend of Zelda: Twilight Princess
Final Fantasy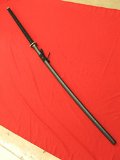 Final Fantasy FF7 Massive 78" Steel Sephiroth Masumane Samurai Katana Sword
EXTREMELY RARE Massive 78" Sephiroth Nodachi Sword
50" Stainless Steel Blade
Black Wood Constructed Saya (scabbard)
Extremely large and unique sword.
This is the most accurate version of Sephiroth's Masamune sword from RPG Playstation hit Final Fantasy 7. Stretching a massive 68", this sword is extremely well made and features the same guard as seen in Advent Children. Why buy an inaccurate replica? Now you can own the most accurate version of Sephiroth's Masamune sword from Final Fantasy VII.
About The Final Fantasy Swords: The Sephiroth Masamune is the most popular of the FF swords but there are quite a few swords in the collection. Here are some of them. And if you want to check out more I have put together a big page full of them! More Final Fantasy Swords
Bloodrayne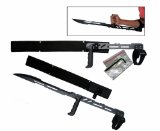 Blood Rayne Ninja Forearm Vampire Zombie Machete Sword Blade
A replica of the weapon used in the video games BloodRayne and BloodRayne II, this Vampire full-tang arm blade sword looks and feels great. The sword--which was wielded by Agent BloodRayne in her battle against Nazis, mutants, and vampiric abominations--features a single solid piece of hard-anodized black stainless steel that stretches an impressive 17-3/8 inches long. The handle is even more impressive, with an ergonomic grip and a hi-tech strap that wraps around your forearm. Simply close the strap on your arm, grab the handle, and you're ready to go. Also equipped with a nylon sheath, the Vampire replica sword is sure to become a fast favorite in your weapons collection.
The Chronicles of Riddick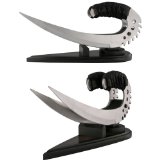 Riddick's Saber Claws with Desk Display
From the movie "The Chronicles of Riddick" These blades were used in the scenes while Riddick was escaping the prison planet of Crematoria. Riddick's Saber Claws are replica twin daggers that are full tang 12" overall and are 440 J stainless steel. Features ray skin leather wrapped handles and saw back serrations. Includes a display stand for both daggers. A great gift, weapon and conversational piece.
Lord of the Rings (2001-2003)
There are of course many swords and other weapons in the Lord of the Rings movies. And these movies have done much to forward the hobby of collecting swords. But of all the weapons in the movie one rises above them all. It is the small sword of Frodo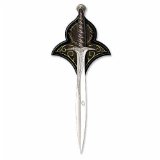 Baggins which was given to him by Bilbo Baggins. The sword is of course "Sting" and it glows when an Orc is near. This sword has magical powers. If you want to learn about some of the other swords in the Lord of the Rings movies I have put together a whole section devoted to these weapons. You can learn the names of the weapons and who wielded them. Lord of the Rings Swords
There are many Lord of the Rings Swords and here are some of the more popular ones. If you are interested in these swords I have a large page with many of the swords Lord of the Rings Swords

Want to Make a Sword or Other Weapon from Your Favorite Video Game? I have over 100 Tutorials right here: Video Game Weapons, Armor and More