Lord of the Ring Swords
LOTR is often considered to be the greatest epic fantasy story ever told and of course swords play a major role in the story. What swords are there and what do they do? Here is an overview of the swords and links to where you can purchase them and/or learn more.
Here are the major swords in the Lord of the Rings.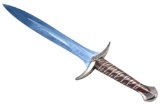 Glowing Sting FX Collectible Lord of the Rings Sword-Toy
This electronic replica of Frodo's Sting sword emits an eerie bluish glow whenever Orcs are nearby. This authentic Sting sword replica was cast from molds used to create the original movie prop used in Lord of the Rings trilogy.
Crafted in the ancient Elven tradition, the Sting sword blade has a brushed metal finish with a trans-reflective silver coating that looks like metal when it is not activated. The core of the permanently attached polycarbonate blade glows brightly when activated with the flick of a switch.
The die-cast metal handle has a wood-grain pattern and silver leaf filigree accents, reminiscent of third age Elfish decoration.
The sliding switch on the handle toggles among 3 modes: "OFF," "ON," and "ORC." If the switch is in the "ON" position, the Sting sword emits clash and clang sounds when struck. In "ORC" mode the Sting sword hums and glows blue as a warning that Orcs are in the vicinity.
Frodo's Sting sword is replicated in the exact "Hobbit" proportions as the original prop. Approximate replica dimensions are: 27" long x 5.5" wide x 1.5" thick. The Sting sword runs for several hours on a fresh pair of two "123" 3 volt lithium batteries (not included).
The display base looks like carved stone with stands that look like medieval wrought iron to hold the sword in place. It can be adjusted so that your collectible can be displayed on a flat surface or hanging on a wall.
This official Lord of the Rings prop replica is fully authorized and licensed by New Line Cinema.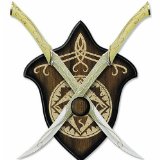 LOTR Fighting Knives of Legolas, Wood Display Plaque
Features: 15.75 in. 420 J2 stainless steel blade, deep etched with gold tone color. American oak handle with Elven vine design. Overall length of 22.38 in. Includes a parchment certificate of authenticity and wood plaque adorned with the badge of the Greenleaf family of Legolas.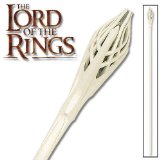 Lord of the Rings Staff of Gandalf the White
This staff is a licensed collectible from the hit motion picture trilogy. Stretches 72" overall and constructed with solid metal crown, cast with intricate details and a solid wood shaft with bone white finish. Includes stainless steel wall mount with embossed design and antique iron finish. Hardware and instructions included along with a parchmnet certificate of authenticity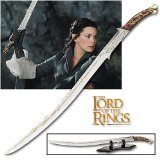 The Lord of the Rings Hadhafang Sword
We are please to offer another officially licensed reproduction sword from the epic trilogy The Lord of the Rings. This is Hadhafang, the sword of Arwen Evenstar, the daughter of Elrond and betrothed of Aragorn. This licensed recreation measures 38 1/8" overall and offers a 30" 420 stainless steel blade with sharp edge and laser etched runes. The solid wood grip is accented with metal pommel and unique vine design. Includes wood display stand and certificate of authenticity. United Cutlery, UC1298.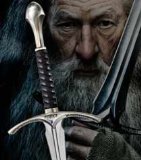 Lord of the Rings Glamdring
1) Officially authorized by Warner Bros. 2) Full size prop replica. Stainless steel blade. 3) Comes with diecast metal wall display. 4) Sword measures 47 Inch long. For ages 18+.
---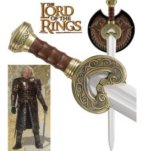 Herugrim This is the sword of King Theoden
Herugrim Product Description
UC1370 Herugrim - Sword of King Theoden Blade Length: 27-1/2" Blade Thickness: 1/4" Blade Material: Tempered, 420 J2 stainless steel with a double fuller grind, false-edged. Overall Length: 36-1/2" Handle Material: Solid metal crossguard and pommel, antique metal finish, genuine leather-wrapped grip, rat-tail tang construction. Plaque: 11" x 10-1/2" x 3/4" wood with a silkscreened design.Hardware, instructions included. Includes a parchment certificate of authenticity.
---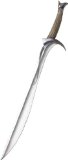 United Cutlery Orcrist - Sword of Thorin Oakenshield
The United Cutlery HOBBIT ORCRIST SWORD OF THORIN OAKENSHIELD Sword are an amazing product from United Cutlery. This is a must own product for your hunting or sporting needs. But don't take our word for it, pick up your own copy today and see the United Cutlery advantage for yourself!.
CHECK OUT THE LORD OF THE RINGS BLADE STORE AT AMAZON.COM The Lord of the Rings Knife Store