I have a youtube channel with over 700 Videos!


Hi, Thanks for visiting my website. My name is Will and if you have questions
or would like to
contribute projects or ideas you can contact me

Wooden Swords
You have a passion for Lord of the Rings or maybe epic fantasy and you have watched all the movies, played the games or read the books. Now it's time to move into the real world. You want something tangible that you can hold in your hands or mount on the wall. But you don't want to be swinging a steel sword around. Those things are dangerous.

Steel swords are fantastic and they look great hanging on the wall. People really admire them. They make great conversation pieces. But they should never be swung around by anyone other than a trained professional.

So you want to get into some combat action with a sword? You should get yourself a wooden sword. They are perfect for what you want. Now you can work up a real sweat like the heroes in the books do.
Fantasy Swords Main - Movie Swords - Final Fantasy Swords - Kill Bill Swords - Fantasy Swords - Dragon Swords - Cheap Swords - Wooden Swords - Medieval Swords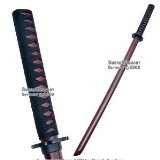 Ace Martial Arts Supply Kendo Wooden Bokken Practice Samurai Katana Sword, 40-Inch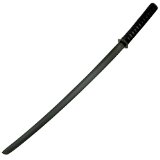 BladesUSA Wooden Samurai Training Bokken
Black Cord Wrapped Boken Daito Wood Practice Sword
Wood practice sword patterned after classic katana swords
Sturdy oak build with dark-stained finish
Comfortable cord-wrapped handle for heavy use
2-piece guard design protects hands and guard itself
Blade measures 30 inches; sword measures 39 inches total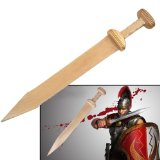 True Grip Design resembles real Sword
Low Price
Ideal for Practice
Real Wooden Construction
Classic Roman Sword Reproduction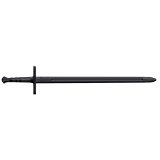 Cold Steel Hand & A Half Training Sword with Polypropylene Handle with Blunt
N/A
Imported
Blade Length: 34"
Handle: 10" Long
Overall Length: 44"
Material: Polypropylene
Virtually unbreakable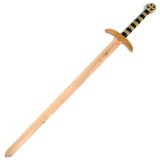 47 Inch Wooden Medieval Crusader Practice Waster Sword
This is the Robin Hood Long Sword Waster.The Sword has been constructed of close fitting pieces.
A ridge runs down the center of the swords blade.The tip of the sword has been rounded off for safety.The guard is built tough with the classic design of the Long Sword.
The sword is built with two sections, the handle and a separate piece for the pommel.Overall Length: 47.5 " Material: Wood
Blade Length: 34.5 " Balance Point: 2.25 " from Guard Handle Length: 12 "
Looking for a Wooden Sword?